Report of the Global High - Level Panel on Water and Peace
Published on September 7th, 2017
To celebrate the launch of the report of the Global High Level Panel on Water and Peace, a public event is taking place at the Maison de la Paix on Thursday 14th of September 2017, from 17:00 to 19:30, followed by an aperitif.
Programme
Welcome: Geneva Water Hub - Strategic Foresight Group
Introductory speech: Federal Councillor Didier Burkhalter
Signature Memorandum of Understanding: Yves Flückiger, Rector, University of Geneva; François Longchamp, President of the State Council of Geneva
Keynote speeches: Christine Beerli, ICRC Vice-President; His Royal Highness Prince El Hassan bin Talal
Presentation of the Report: Dr Danilo Türk, Chairman of the Panel and panellists
Dynamic exchange with the public: Moderated by John Sibi-Okumu, broadcast journalist
« Symphony for Water and Peace »: Presented by François Münger, Geneva Water Hub Director; Performed by the Blue Peace Orchestra
Closing remarks: Dr Danilo Türk
---
The Symphony for Water and Peace will be played for the first time in its entirety by an orchestra.
This event will be the occasion for the Panel's members to present their report and their recommendations to reinforce the global framework for promoting water cooperation as an instrument for peace.
It will also be the occasion for representatives of co-convening Countries, representatives of the Group of Friends on Water and Peace, International Organizations, NGOs and private sector representatives to express themselves and have an interactive exchange with the Panel.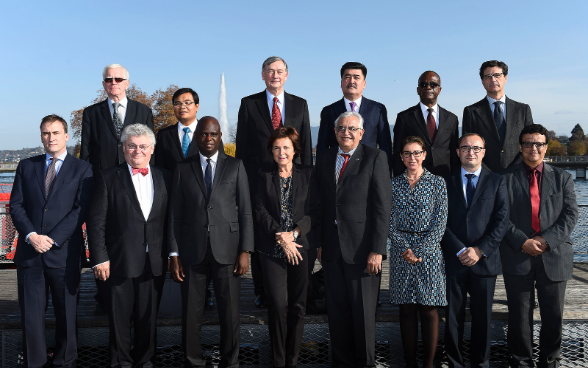 The Global High Level Panel on Water and Peace has been launched in November 2015 by 15 co-convening countries:
Cambodia, Colombia, Costa Rica, Estonia, France, Ghana, Hungary, Jordan, Kazakhstan, Morocco, Oman, Senegal, Slovenia, Spain, and Switzerland.
The Panel is independent – panelists are serving in their individual capacity - and has been tasked with outlining concrete proposals and recommendations to enable water to be an instrument of peace.
The report is the conclusion of two intensives years of work and four meeting of the Panel, in Switzerland, Senegal, Costa Rica and Jordan, with support from the Strategic Foresight Group and the Geneva Water hub, acting as Secretariat of the Panel.