"Avudo" – or how Swiss magic is bringing the Saint Lawrence River to life
Before creating the pageant for the next Winegrowers' Festival in Vevey in 2019, Lugano-born Daniele Finzi Pasca has been invited by Montreal to direct a spectacular show celebrating the city's 375th anniversary.
Although Canada had to wait until 1931 to gain independence as a member of the Commonwealth, this vast North-American country experienced its fair share of major events and confrontations along the way. To a certain extent, the Province of Quebec is a product of this chequered history, being formerly divided into two separate territories: French-speaking Lower Canada (present-day Quebec) and English-speaking Upper Canada (modern-day Ontario), bisected by the Saint Lawrence River – on which Montreal stands. This cosmopolitan city is now celebrating its 375th anniversary in style.
A multicultural, artistic city
Straddling two language groups and cultures and the regions of Ontario and Quebec, Montreal must surely be one of the world's most cosmopolitan cities. While rightly proud of its status as a hub for new technologies and home to the country's second-largest economy, it has never forgotten a past that saw it endure suffering during the Seven Years' War in the 18th-century and the Patriots' War and anti-unionist skirmishes of the 19th century. As a cultural powerhouse, Montreal has a phenomenal arts scene that is well aware of the city's history. Its members include such illustrious creatives as the much-missed Julie Hamelin, the talented author, creator and producer who sadly passed away last year while working alongside her husband Daniele Finzi Pasca and the company they co-founded on the anniversary show for the second-largest French-speaking city in the world, after Paris. A fact that makes Montreal's anniversary show "Avudo" ("À Vue d'Eau") all the more moving.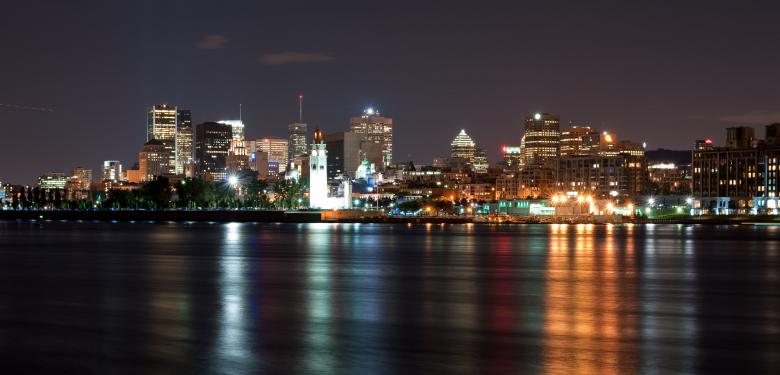 An extraordinary couple drawn together by fate
Both ultra-talented from an early age, Julie Hamelin and Daniele Finzi Pasca were destined to meet and work together. In 1993, at the age of just 21, Quebec-born Julie co-founded Cirque Éloize, a pioneering 'new circus' troupe that quickly gained international renown. She then met Daniele Finzi Pasca in 2001 when he was invited to create two shows for the Canadian company. This marked the beginning of a long relationship during which they were driven to develop projects with their company Inlevitas, moving easily between ceremonies for the Olympic Games in Turin (2006) and Sochi (2014), opera and a wide range of shows that garnered international attention, such as La Verità, based on the life and works of Salvador Dali.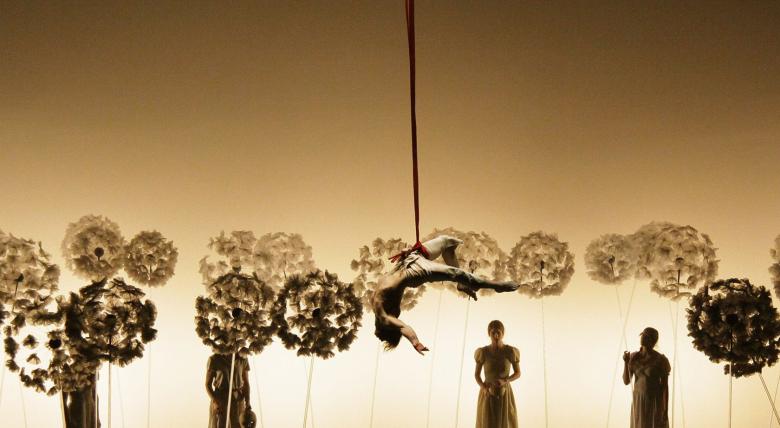 Swiss-made "theatre of the caress"
Compagnia Finzi Pasca – co-founded by the creative couple in 2011 with Antonio Vergamini, Hugo Gargiulo and Maria Bonzanigo – excels at what it calls the "theatre of the caress", a theatrical technique based on – invisible and poetic – gestures found in every dimension that create a lightness of touch. A sensitive and subtle vision of the art of clowning, dance and theatre, magnified by a sophisticated yet often futuristic mise en scène: like a metaphor for a Switzerland that swings back and forth between tradition and innovation, the multi-talented creator from Ticino is not afraid to use cutting-edge technology in his shows to create an even more immersive experience for the spectators.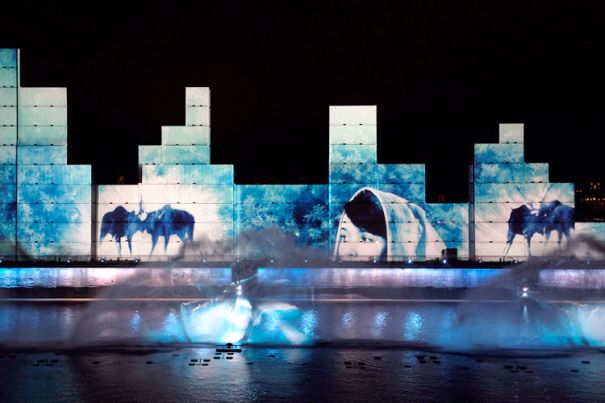 A poetic, technology-based homage to Montreal
The dream of a little girl with Iroquois (one of the most important First Nations groups) roots provides the narrative thread running through the production, which pays tribute both to the Saint Lawrence River and the city itself, as well as its neighbourhoods and people. Initially conceived as a traditional piece of theatre, "Avudo" has gone through a process of re-creation in response to the technical challenges of staging an outdoor production against the vast backdrop of the Old Port of Montreal and has now become a large-scale multimedia performance lasting 30 minutes. Rippling walls of water from 30 or so fountains located directly in the water create gigantic screens at the King Edward Quay. Behind them stands a small skyscraper (the equivalent of 11 stories tall) built from around 100 shipping containers onto which 3D animations, video images and historical and archival films are projected.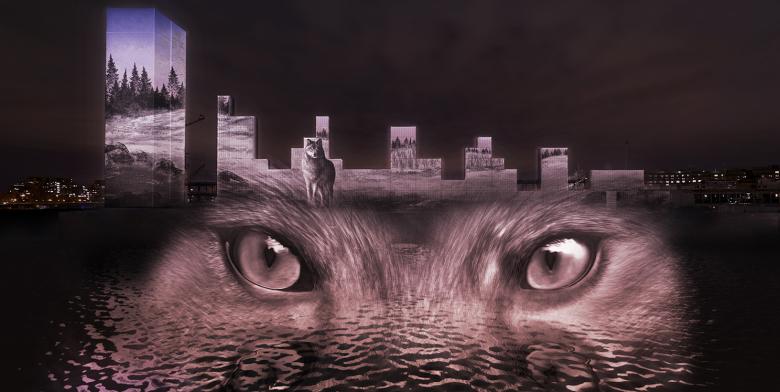 1,700 spectators are able to enjoy each showing of this immersive – and free – experience in this larger-than-life arena created especially for the occasion. "Avudo" is not only an artistic event that transcends Canada's borders – it is also a wonderful homage to Julie Hamelin, a young woman who remained in love with her home town. This spectacular show, which took over two years to create, runs until 2 September 2017.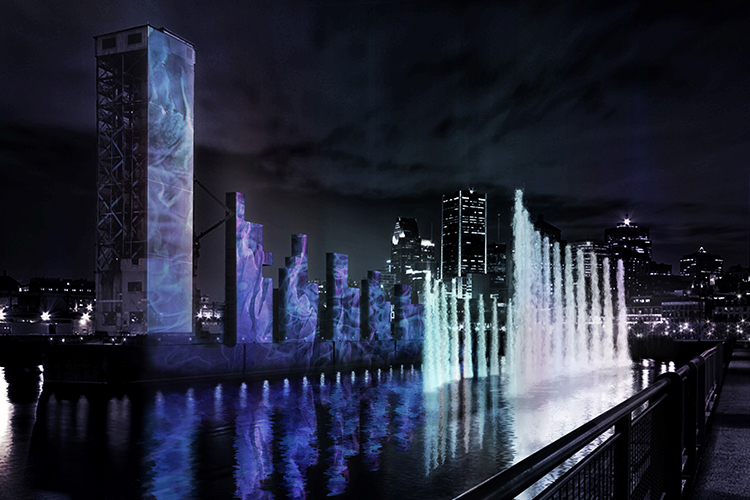 His next project will see the Swiss creator Daniele Finzi Pasca lead the festivities in Vevey in 2019 as artistic director of the Winegrowers' Festival. Several hundred thousand spectators will be able to discover his unique brand of poetry on the shores of Lake Geneva at this celebration of wine and winemakers, which is held just once every 25 or so years.
The show in numbers
0 Canadian dollars to attend

2 years in creation

6 weeks of construction

30 minutes of projection

120-metre screens of water

104 containers reaching up to 47 metres in height

80 projectors

30 fountains

930 square metres of fog

1,700 spectators per show

180,000 to 200,000 spectators expected during total run

More than 50 actors and a production team of more than 100
Learn more about Compagnia Finzi Pasca.