Swiss industrial designer Guberan
Christophe Guberan, a Swiss industrial designer based in Lausanne, is currently teaching product design at the Massachusetts Institute of Technology (MIT) in Cambridge, one of the most prestigious universities in the world. The buzzing and innovative ecosystem of the Greater Boston Area allows him to augment his practice while experimenting with new research and technological development.
Having graduated from ECAL/Ecole cantonale d'art de Lausanne in 2012 in industrial design, Christophe Guberan is the recipient of significant prizes such as the Hublot Design Prize in 2017. Very early on he started travelling the world, from Japan to South Africa, from China to Mexico, to participate in exhibitions and present his work. His unique and successful approach to product design lies at the intersection of experimentation, novel technologies and a rigorous sense of aesthetics.
Starting his professional career with an apprenticeship in architecture, Guberan's interests have always been beyond the objects themselves. He began to rethink the production processes, playing with materials and textures, hacking existing technologies. It eventually led to Hydro-Fold, the first project that propelled him to the forefront of the Milan Design Fair in 2012. Later, Erik Demaine, Professor of Computer Science at MIT, invited Guberan as a visiting researcher at MIT, discerning his potential to explore new territories.
Industrial design is experimentation
2014 was a turning point in Christophe Guberan's career path: he started to collaborate with the Self-Assembly Lab at MIT, co-founded and directed by Skylar Tibbits, who pioneered 4D printing, which echoed Guberan's Hydro-Fold project. There, he continued his exploration of material interactions, digital manufacturing and self-assembly processes. Their most recent collaboration is on Rapid Liquid Printing, a technology that revolutionises current 3D printing techniques by tackling some of its challenges such as speed, scale and quality. By overcoming gravity with a gel suspension, it can print large-scale objects in a matter of minutes while using resistant industrial materials such as silicon.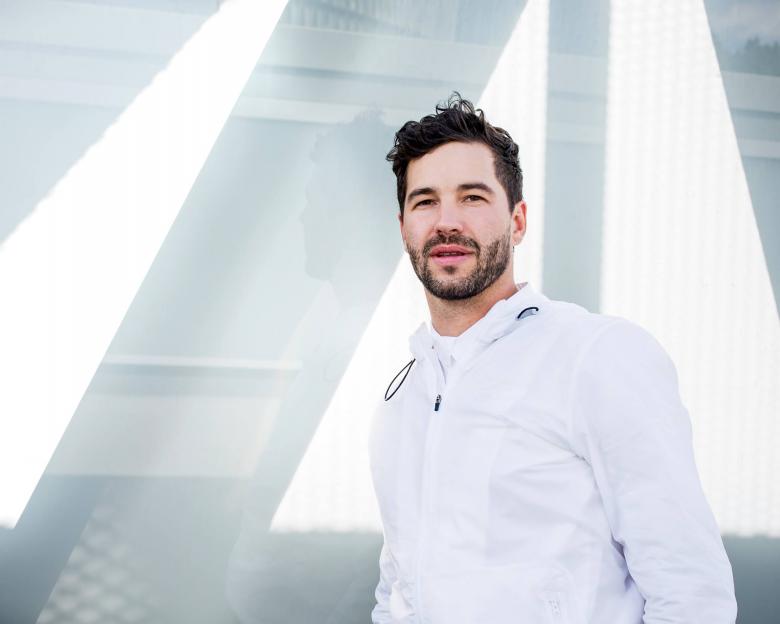 Presented last December at Design Miami for its first public demonstration, with the support of Presence Switzerland, Swiss Touch and swissnex Boston, Guberan and the MIT Self-Assembly Lab team revealed the endless purposes of the Rapid Liquid Printing process by specially printing a first series of objects – beach bags –that were sold throughout the show.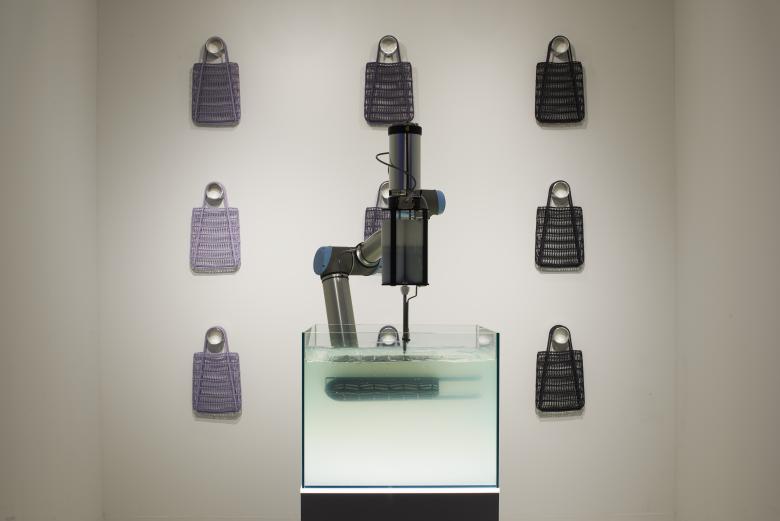 The future applications of Rapid Liquid Printing are indeed multiple – the material can be resistant, waterproof, light, inflatable, flexible, foamy – and Guberan is imagining the next series of objects while incorporating the material qualities of the technology. He sees them as being daily items that will be used in our houses, such as vases, lamps, or baskets. Together with the MIT Self Assembly Lab, where tests are currently being conducted, they will showcase their work at the renowned Patrick Parrish Gallery in New York City this summer (dates to be announced soon). They will create an environment that allows visitors to understand the technology while being immersed in a room full of Rapid Liquid Printed objects. 
From digital aesthetics to future manufacturing
The pathway between production techniques and objects is essential to Guberan: beach bags, vases or lamps must reflect his quest for what he calls "digital aesthetics": he has the privilege to co-develop these new technologies, to (re)think their production processes, and he therefore uses their inherent attributes as well as machine intelligence to enhance the final design. The incorporation of the visual and sensible characteristics induced by the technology is crucial to create objects that are well conceptualised and will add value to the use of the technique. Of course Guberan, trained as an industrial designer, also wants to address specific user needs while designing the products of the future and "a good design object is when we stop talking about its manufacturing process and start talking about the object itself."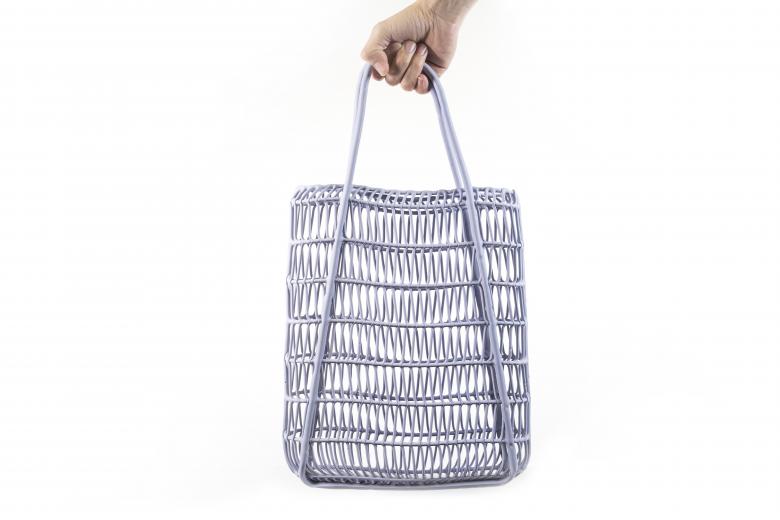 In addition, he embraces questions related to the proximity of the production and the role of the designer, both through his practice as an independent practitioner and as a Professor at MIT and ECAL. How can we manufacture better? By reconciling consumers and producers? By empowering end consumers? The concept of digital aesthetics is strongly connected to the idea of digital market where the gap between design, production and consumption is reduced. A digital market raises the awareness of consumers because they can purchase locally. It has an impact on the design practices since it is based on demand and is customised. This notion was further investigated earlier this year by the ECAL Master students in product design with their "printing farm" of the future at the Milan fair. Conceptualised by the Head of the MA programme, Camille Blin, and Guberan, it consisted of an alley of 3D printers that embodied this new vision for manufacturing, making the process visible, while allowing the visitor to purchase a freshly printed item at the retail shop of the exhibit.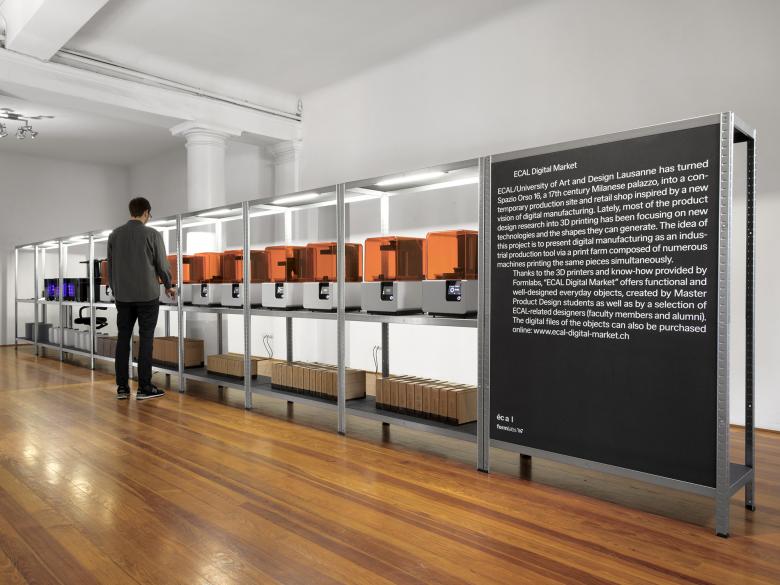 For now, the new manufactures are in research labs or design schools but they will soon be integrated in at the heart of cities, where people live, as the show at the Patrick Parrish Gallery in New York will demonstrate. One day, we will interact with these digital craftsmen, shaping the objects of the future, collaborating with key players in the design field such as Christophe Guberan. A utopian vision? Perhaps. There are certainly some challenges to democratise this digital manufacturing approach, but designers, computer scientists, institutes of technologies, design schools and industries are all working on it!