Five bands that have left their mark on Swiss rock
Switzerland, land of loud rock concerts, guitar riffs and screaming fans? Five rock bands that fit the bill.
Krokus
Does any band exemplify the Swiss rock scene better than Krokus? Don't let their dainty name – the German word for crocus – and home town – sleepy Solothurn – fool you. The members of Krokus are no shrinking violets: their phenomenal journey has taken them to the four corners of the world. Founded in 1975, Krokus is a true legend, in the same league, or almost, as more storied hard rock bands like AC/DC and Van Halen. Honorary citizens of Memphis, Tennessee, they have sold more records than any other Swiss band (15 million) and were the first Swiss act to fill the Hallenstadion, temple of Switzerland's biggest indoor rock concerts. Krokus is still touring after more than 2,000 live performances.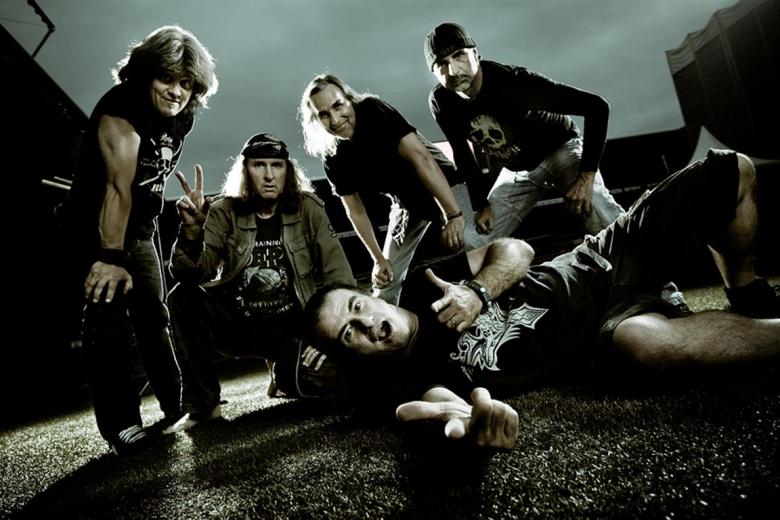 Celtic Frost
It doesn't get more hardcore than Celtic Frost! Within nine years of its inception in 1984, originally under the name Hellshammer, this Zurich-based band had made Switzerland a major centre of radical extreme metal music. Celtic Frost produced five essential albums and brought down the house time after time in concerts across the Atlantic. The Brazilian cult band Sepultura is said to have drawn inspiration from the energy and Gothic aesthetics of Celtic Frost, whose first album cover – To Mega Therion – featured a painting by Swiss science fiction artist H.R. Giger. After a long break-up the band got back together in 2001. It announced its final break-up in 2008, leaving a lasting imprint on the world of extreme metal.
Grauzone
"Ich möchte ein Eisbär sein (…)". Who didn't dance to the disco rhythms, Larsen effects, piercing saxophone wails and absurd lyrics of the indie hit 'Eisbär' (polar bear in German), released in 1981? Formed in Bern in 1980 by Marco Repetto (drums) and GT (Christian Trüssel, bass), Grauzone enjoyed a meteoritic but short-lived rise, performing ten concerts and recording just one album and four singles. Stephan Eicher , who would go on to pursue a solo career and future stardom, and his brother Martin, were not the only reasons this post-punk band gained fans worldwide. The soundtrack of the Zurich protest movement based in the Rote Fabrik cultural centre, 'Eisbär' alone accomplished the remarkable feat of selling half a million records in a pop music landscape dominated by Phil Collins, Kim Wilde and Soft Cell.
The Young Gods
A man of multiple worlds – pillar of the alternative scene, Genevan political activist, lead singer of an industrial rock band and winner of the Swiss Music Prize in 2014 – Franz Treichler is the incarnation of Swiss rock of yesterday, today and tomorrow. Together with fellow Fribourg band members Cesare Pizzi and Bernard Trontin, Treichler pushed and blurred the boundaries of electronic and industrial rock. Founded in 1985 and still going strong, The Young Gods have never shied away from a challenge or collaboration with artists working in dance, film or theatre. Signed by the American record label Interscope, the Young Gods have produced around a dozen albums, performed thousands of concerts and international tours and won praise from artists like Nine Inch Nails and the late David Bowie. 'Documents 1985–2015', a retrospective of the band's exemplary journey weighing in at almost 800 pages was published recently by Éditions La Baconnière.
Gotthard
Lying astride the strategic boundary between northern and southern Europe, the Saint-Gotthard Massif – with its landmark tunnels, defensive fortifications and Devil's Bridge – is the cradle of the Swiss Confederation and a symbol of Swiss resistance. Were these the reasons the band originally known as Krak renamed itself Gotthard? Or was it a play on the German words for 'God' (Gott) and 'hard' (hard)? Gotthard was founded in 1989 in Lugano, Ticino's largest city – an exotic birthplace for a hard rock band that was destined to become a global sensation. From 1993 onwards, Massimo Leoni's band quickly conquered Europe's biggest rock venues. When its charismatic vocalist Steve Lee was killed in a tragic motorcycle accident in Nevada in 2010, Gotthard's remaining members decided to continue without him. With Nic Maeder fronting the band, they have sold millions of albums and are still playing hits like 'Heaven' and 'One Life One Soul'.
Other Swiss bands:
The Swiss musical landscape encompasses a broad range of other groups and artists, such as the pioneering industrial metal band Samael, founded in 1987 in the canton of Valais, the trash metal trio Coroner, from Zurich, which gained a wide following in the 1980s, and the Bernese band Züri West – the name was chosen with tongue firmly planted in cheek – which was founded in 1984 and would become a major exponent of Bernese dialect rock. Other noteworthy artists include the garage rock and Psychobilly underground singer Reverend Beat-Man, founder of the Voodoo Rhythm label, and bands such as Favez, from Lausanne, who distilled their sound into a successful blend of pop and rock in the 2000s, and the indefatigable Math rock band Honey For Petzi, founded in 1995, which undertook projects with groups like Larytta and Bombers. Also worth mentioning are the Lovebugs, from Basel, whose Britrock albums have scored chart hits and led to collaborations with artists like with Lene Marlin and Sarah Bettens. In conclusion, we recommend a series of books edited by Lurker Grand and published by Patrick Frey in Zurich, in particular Hot Love, about the punk and new wave movements from 1976 to 1980, which gave birth to most of the bands mentioned above.