Swiss start-ups at the forefront of 'green tech'
ecoRobotix, Vivent and AgroSustain all began life in Switzerland but have set their sights beyond our borders. These start-up companies have been working with the scientific community to develop technological innovations that enable more sustainable farming practices. This is a portrait of three Swiss start-ups at the forefront of 'green tech'.
ecoRobotix, Vivent and AgroSustain have risen to the challenge of combining innovation, economic growth and environmental protection. These young companies are active in the 'green tech' market, which emerged around ten years ago, developing environmentally friendly technological solutions. One of the keys to the success of these 'green' start-ups has undoubtedly been their ability to rally a number of private and public partners. Agroscope, the Confederation's centre of excellence in agricultural research, is collaborating with ecoRobotix, Vivent and AgroSustain to design green innovations that could revolutionise agri-food production.
Using robots to tackle weeds
A solar-powered robot that uses GPS to navigate autonomously, scanning the fields with its integrated camera and deploying two mechanical arms to apply small doses of herbicide to weeds. This machine was created by ecoRobotix, a company founded by Aurélien Demaurex and Steve Tanner in 2011. The adventure began in Mr Tanner's barn before moving to the Y-Parc technopark in Yverdon-les-Bains in the canton of Vaud. Having secured the funding, the team has now expanded to 20 people developing different versions of the robot. "We've always aimed to innovate by designing environmentally friendly technology to promote more sustainable farming," says Mr Demaurex. The robot's targeted weeding should reduce herbicide use by 90%, while limiting soil compaction and protecting soil life.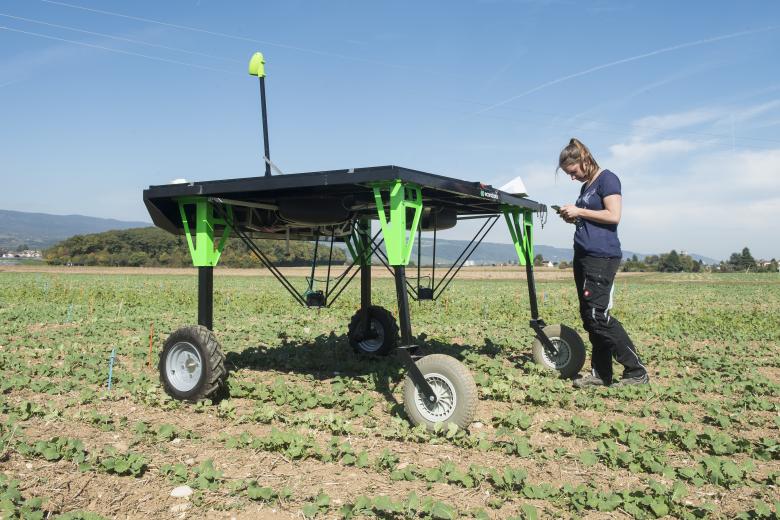 To improve the robot's efficiency, the company has joined forces with institutes such as Agroscope and the Swiss College of Agriculture in Zollikofen in the canton of Bern. "We're currently conducting trials to use the robot for weeding," explains Didier Pellet, head of Agroscope's 'Varieties and production techniques' research group. This farming method involves loosening the soil and then lifting the weeds, which makes the robot's job easier as it involves fewer stops to apply the herbicide. Agroscope is also developing other robots for crop protection. These prototypes do not spray weedkiller but squirt boiling water or use a propane torch to kill the weeds. "Tests so far have yielded promising early results," says an enthusiastic Thomas Anken, head of the 'Digital Production' research group. The two agronomists explain that collaborating with ecoRobotix is, above all, an opportunity to put their scientific knowledge into practice by making environmentally friendly technological innovations in agriculture a reality.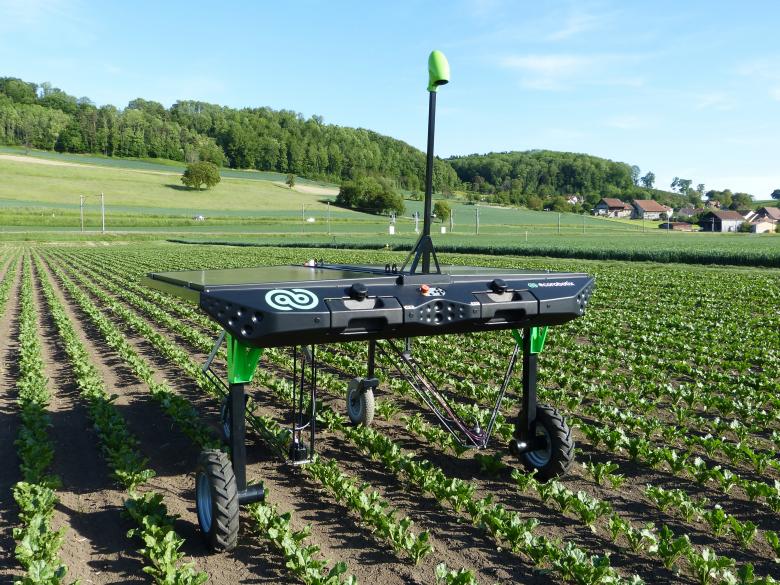 Deciphering the language of plants to respond better to their needs
Drawn in by the plant's sweet smell, a fly sits on the leaf of a Venus fly trap – a common carnivorous plant. The trap closes in on its prey. "An electrical signal generated in the leaf produces this lightning-fast reaction," says Daniel Tran, a researcher at Agroscope. "Other plants also have this ability to communicate through biosignals. For example, if the soil is dry, the roots send this information up the stem to reduce the plant's water loss." Plants have their own language and the Vivent start-up is determined to decipher it. The company has developed the Phytl Signs device, which interprets plants' biological signals. Two electrodes placed on a leaf measure the electricity the plant produces. The electrical signal is amplified and Vivent's device converts it into a digital signal. As with a cardiogram, the data appears on a computer or smartphone screen connected to Phytl Signs.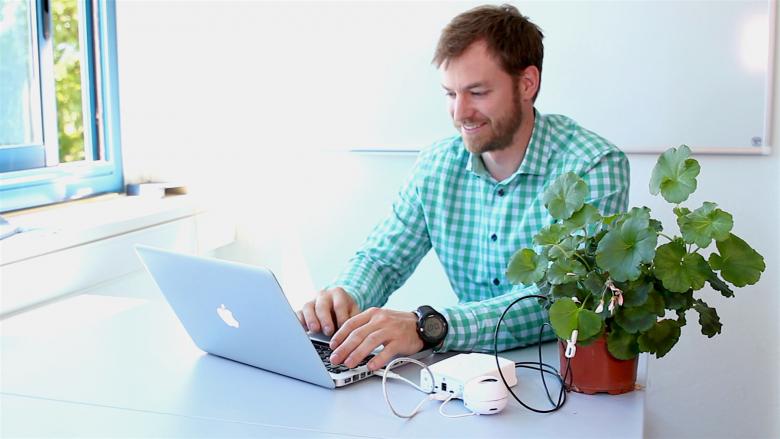 "At first, many people thought we were completely crazy using sensors to study plant biosignals but Agroscope were different," recalls Carrol Plummer, Vivent CEO. Thanks to support from the Agroscope team at Conthey, in the canton of Valais, the company has demonstrated Phytl Signs' effectiveness in measuring electrical signals in vegetables grown in a greenhouse. "Agroscope has established a link between our company and the farmers, thanks to its clear understanding of both parties' needs," adds Vivent's co-founder. The start-up's new technology has what it takes to entice vegetable growers. Using artificial intelligence, the plants' biosignals can be decoded before insect attacks or disease appear to the naked eye. This prompt action means one can avoid pesticides and instead opt for organic alternatives. "We're currently also studying data on the vegetables' water requirements in order to fine-tune the irrigation and save a natural resource on which greenhouse farming is particularly dependent," adds Mr Tran. What do they plan to do next? Expand the company's huge database and create a 'dictionary' that Vivent's device can draw on for an accurate translation of the language of plants.
Curbing food waste by waging war on mould
Every year, 1.3 billion tonnes of food for human consumption are wasted around the world, corresponding to one third of the total food produced. This is also a significant waste of resources, such as water and farming land, as well as being a source of greenhouse gas emissions at levels that would be hypothetically equivalent to the world's third largest polluter. AgroSustain, a company set up in 2017 by biologist Olga Dubey, her husband Sylvain Dubey and engineer Jean-Pascal Aribot, is tackling this significant environmental challenge. "We've developed a solution to counter the loss of harvested fruit and vegetables to fungal diseases such as grey mould," explains CEO Ms Dubey. AgroShelf+, AgroSustain's 'miracle' product, combines the antifungal properties of two molecules that occur naturally in plants to extend the shelf life of food in storage by approximately one week. "Of course, the recipe is a secret," Ms Dubey tells us with a smile. The product is a well-kept secret with an international patent and a potential market release date scheduled for 2022.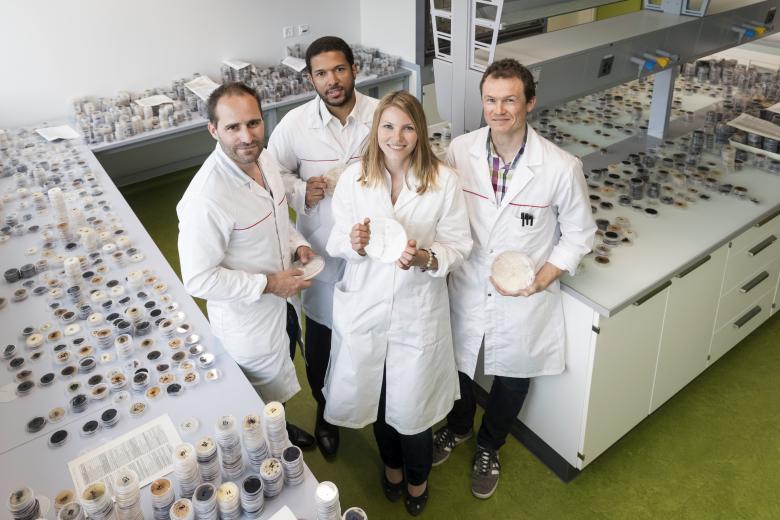 AgroSustain has been working closely with Agroscope on its crusade against food waste. "We provide AgroSustain with testing facilities, from the laboratory to the field, as well as scientific expertise," explains Katia Gindro, head of Agroscope's 'Mycology and Biotechnology' research group. AgroSustain and the Agroscope team are forging synergies, working side-by-side at the same premises, sharing their findings and ideas. "This collaboration has not only led to support from Ms Gindro's group, but also from the entire scientific community," adds Ms Dubey. When we ask Ms Gindro if it would make sense to repeat the experience with other start-ups, she replies, "This is really meeting a need. By pooling our efforts, we can work much faster and develop new products that have a low environmental impact, ensuring more sustainable agricultural production methods and higher-quality food."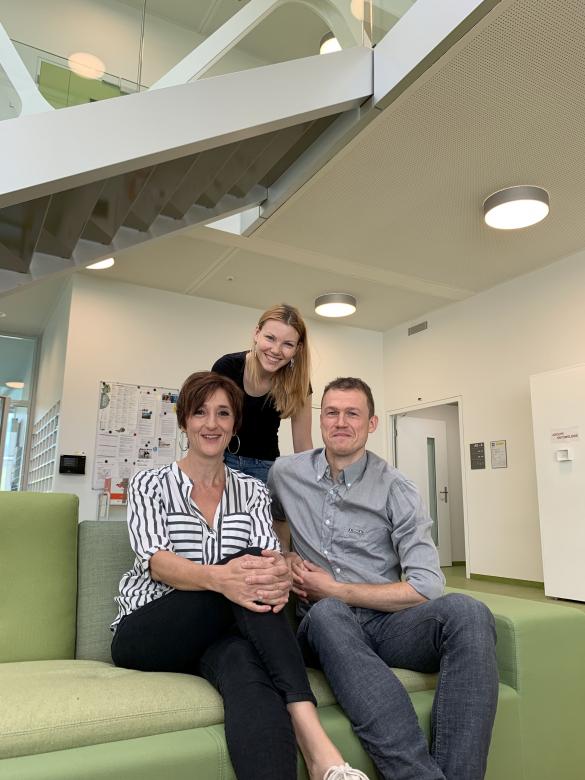 Other recent stories from this category