A new dimension to Switzerland's image: watches, chocolate and...drones!
Published on May 16th, 2018
Drones are shaping the airspace of the future. Switzerland is one of the high flyers in drone technology, and Swiss companies are among the most innovative in the sector. Presence Switzerland, part of the Federal Department of Foreign Affairs (FDFA), is now set to carry this momentum worldwide with its 'Switzerland – home of drones' campaign to strengthen Switzerland's position as a leading innovation and technology hub. The campaign will be launched at the Viva Technology show in Paris from 24–26 May 2018.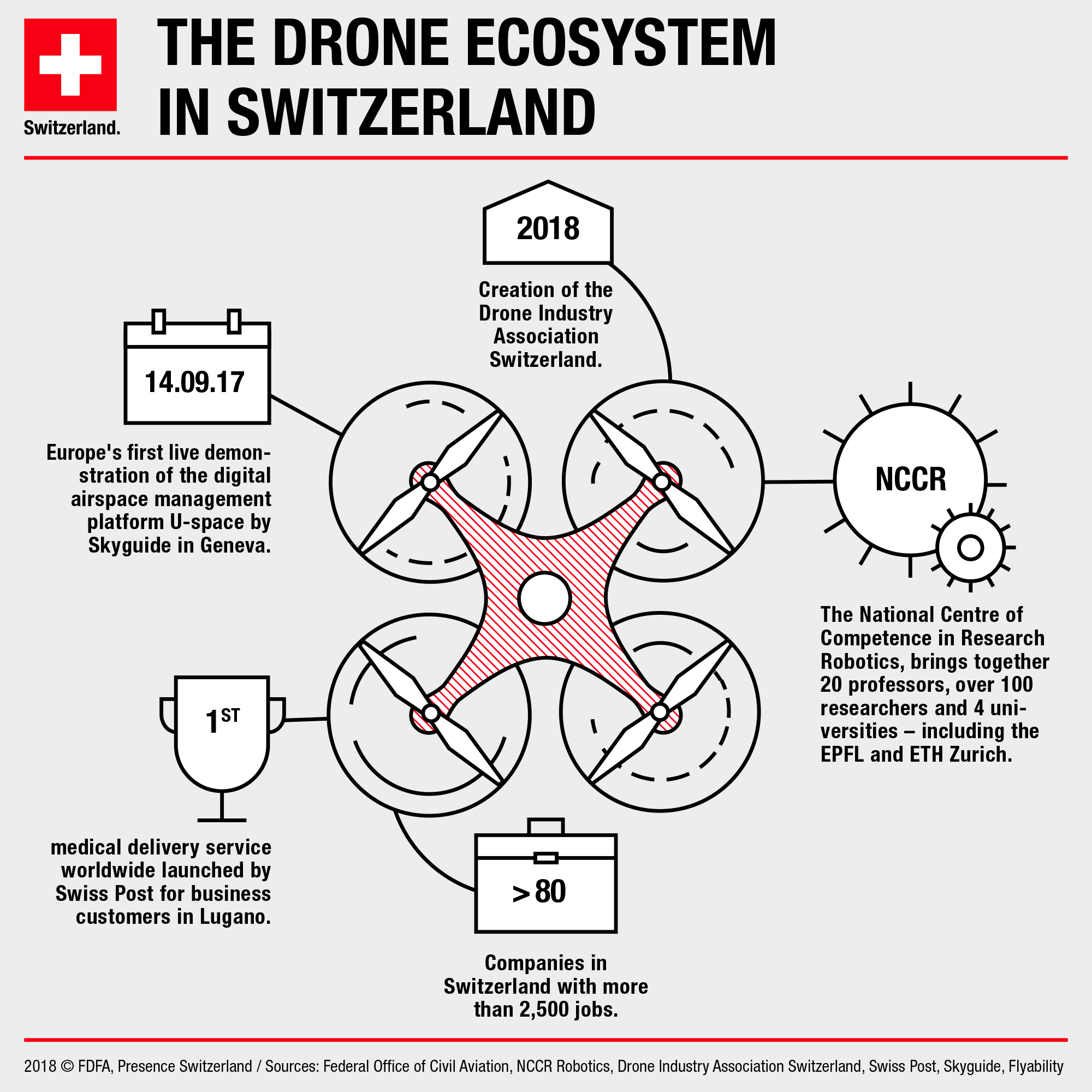 With its federal institutes of technology working closely with industry and public authorities, Switzerland has carved out a leading global position in drone technology. It is a forerunner in the development of specialised drones, particularly for the commercial use of unmanned aerial vehicles (UAVs). More than 2,500 people at over 80  companies in Switzerland now work in digital aviation. Swiss drones are used in a wide range of applications, from public safety efforts and agriculture to humanitarian aid in crisis-hit areas. In 2017 Swiss Post launched the world's first medical delivery service for business customers in Lugano. Meanwhile, a new benchmark has been set with a digital airspace management platform, which was first tested in Europe by Skyguide and its international partners in 2017 in Geneva.
Presence Switzerland is always on the lookout for new projects to promote Switzerland's tech and digital side abroad, areas where we can diversify our image. Most people are quite surprised to learn of Switzerland's involvement in drones, a cutting-edge technology with vast potential for the future of communication. They know about our chocolate and our watches – now it's the turn of our drones!
says Ambassador Nicolas Bideau, the head of Presence Switzerland.
'Switzerland – home of drones' campaign
With the aim of positioning Switzerland as a leading innovation and technology hub, Presence Switzerland is running its 'Switzerland – home of drones' campaign from 2018 to 2020 to shine a spotlight on Swiss know-how, research and industry in robotics and artificial intelligence. The groundwork for a coordinated approach was laid early on through close collaboration with the Federal Office of Civil Aviation (FOCA) and the Drone Industry Association Switzerland (DIAS).
The campaign will give the federal institutes of technology and the cantons an opportunity to promote their specialised startups and businesses internationally, while Switzerland's regional business development organisations can present their advantages as a place for doing business.
Together with the vast economic potential and pioneering nature, the use of drones also raises a number of ethical concerns.
This makes it all the more important to ensure that the technological expertise remains in Switzerland and is used responsibly,
claims Markus Waibel, president of DIAS and CEO of Zurich startup Verity Studios, a drone manufacturer that currently features in the drone show running at Circus Knie.
Major first step in Paris
The first platform for the 'Switzerland – home of drones' campaign is the prestigious Viva Technology event in Paris from 24–26 May 2018. The Swiss pavilion, designed by Presence Switzerland together with the Swiss Embassy in Paris, will present an interactive exhibit of Switzerland's drone ecosystem and Swiss innovation in flying robots. Switzerland Global Enterprise and its Swiss Business Hub in France will also present Swiss companies from various technology areas (Internet of Things (IoT), robotics, energy, smart city, etc.). The State Secretariat for Education, Research and Innovation is supporting the Swiss pavilion, in particular with a visit by Secretary of State Mauro Dell'Ambrogio on 25 May. The Swiss contingent also includes the federal institutes of technology in Zurich (ETHZ) and Lausanne (EPFL), the umbrella organisation digitalswitzerland and the Canton of Geneva. The regional business development organisations attending are the Greater Geneva Bern Area and the Greater Zurich Area.
Future plans
Several other drone-themed events are planned for Switzerland. At the end of June, for example, an international meeting of the Drone Innovators Network set up by the World Economic Forum will be held in Zurich at the invitation of Doris Leuthard, head of the Federal Department of the Environment, Transport, Energy and Communications (DETEC). There are also plans for representatives of Switzerland's 'Drone Valley' to make a joint appearance at CES 2019, the world's biggest consumer electronics show, in Las Vegas. As part of the House of Switzerland at the 2020 Summer Olympics in Tokyo and also in the Swiss pavilion at Expo 2020 in Dubai, Presence Switzerland will present a number of platforms dedicated to promoting the Swiss drone ecosystem. And finally, the Swiss embassies in the lead markets and swissnex will hold various events to showcase the drone ecosystem.