A clear run for Swiss slalom
After years on the sidelines, the slalom is finally reclaiming the spotlight in Swiss competitive skiing – thanks largely to the success of two rising stars, Ramon Zenhäusern and Daniel Yule. A profile of two extraordinary champions making their mark both on and off the piste.
Daniel Yule and Ramon Zenhäusern, both from the Alpine canton of Valais, lead a Swiss slalom team regarded by experts as one of the best in the world today. Yule (26), from Val Ferret near the Great St Bernard Tunnel, delivered a triple victory last month, topping the podium in Kitzbühel and Adelboden and for a second time in Madonna di Campiglio, following his previous win there last season. With four career slalom firsts in three World Cups, Yule is the most successful Swiss skier of all time in this discipline.  Zenhäusern (27), from Visp in Upper Valais, took silver in the 2018 Winter Olympics and won the slalom in Kranjska Gora last year. Despite narrowly missing the podium a few times this season, he claimed second place in Zagreb in January. Together they form the cream of a golden generation in Swiss slalom. For many years overshadowed by the giant slalom and downhill, the slalom has risen to become the national team's strongest discipline today.
Patrice Morisod, former coach of the Swiss men's team and now a consultant with Swiss public broadcaster RTS, reckons there are currently six or seven Swiss skiers among the best in the world. "Swiss-Ski kept the same coaches working with this talented generation over a number of years. It took some time to pay off, but now we're seeing a team in their prime, with each member trying to outdo the others in training."
 
Friendly rivalry
An opinion shared by Ramon Zenhäusern, speaking after an exhibition slalom in Montana in January: "The federation kept us all working together." And confirmed by Daniel Yule: "We've always had this rivalry within our team, and that just makes us better all the time."
Growing up in Valais, the two skiers have been rivals since childhood and still are – competing now at the highest level. "I think we've known each other for around 20 years, and we're still friends," Zenhäusern pointed out. "When one of us wins a race, that just spurs the other on." Yule made a similar comment in a recent interview with Swiss daily newspaper Blick: "We get on very well together, even if only as teammates. It was so frustrating when Ramon came second in Zagreb and I only managed 27th, but I've made up for that since then."
Didier Plaschy, Zenhäusern's coach for the past ten years or so and sports director of Ski Valais, greatly admires the two champions, both of whom have added to their sporting exploits with a degree in business studies. "They are both intelligent, pragmatic, highly organised and leave nothing to chance. During the competition season, Daniel never drinks alcohol or eats cheese fondue, and Ramon always gets to bed early at 9pm the night before race day."
Although, as Plaschy points out, they are quite different types of skiers: "Daniel performs best on very steep runs, where he builds up speed from the slope. Ramon, at over two metres tall, can make his own speed even when the slopes are not as steep." Zenhäusern loves the slalom's "mix of speed, flexibility, strength and coordination" and has never been tempted to switch to downhill. "Just look at the Streif in Kitzbühel [the toughest downhill on the World Cup circuit]: you'd have to block everything out before letting go. I'm not going to risk life and limb for that!" he jokes.
Zenhäusern has always been a keen athlete. "When I was 12, I was runner-up in the Valais cantonal championships for both tennis and skiing – on the same weekend," he recalls with a smile. "I have to keep moving. If I'm not moving, I just don't feel right." However, given his height – more typical of basketball than skiing – many were sceptical about his chances of competing with the best.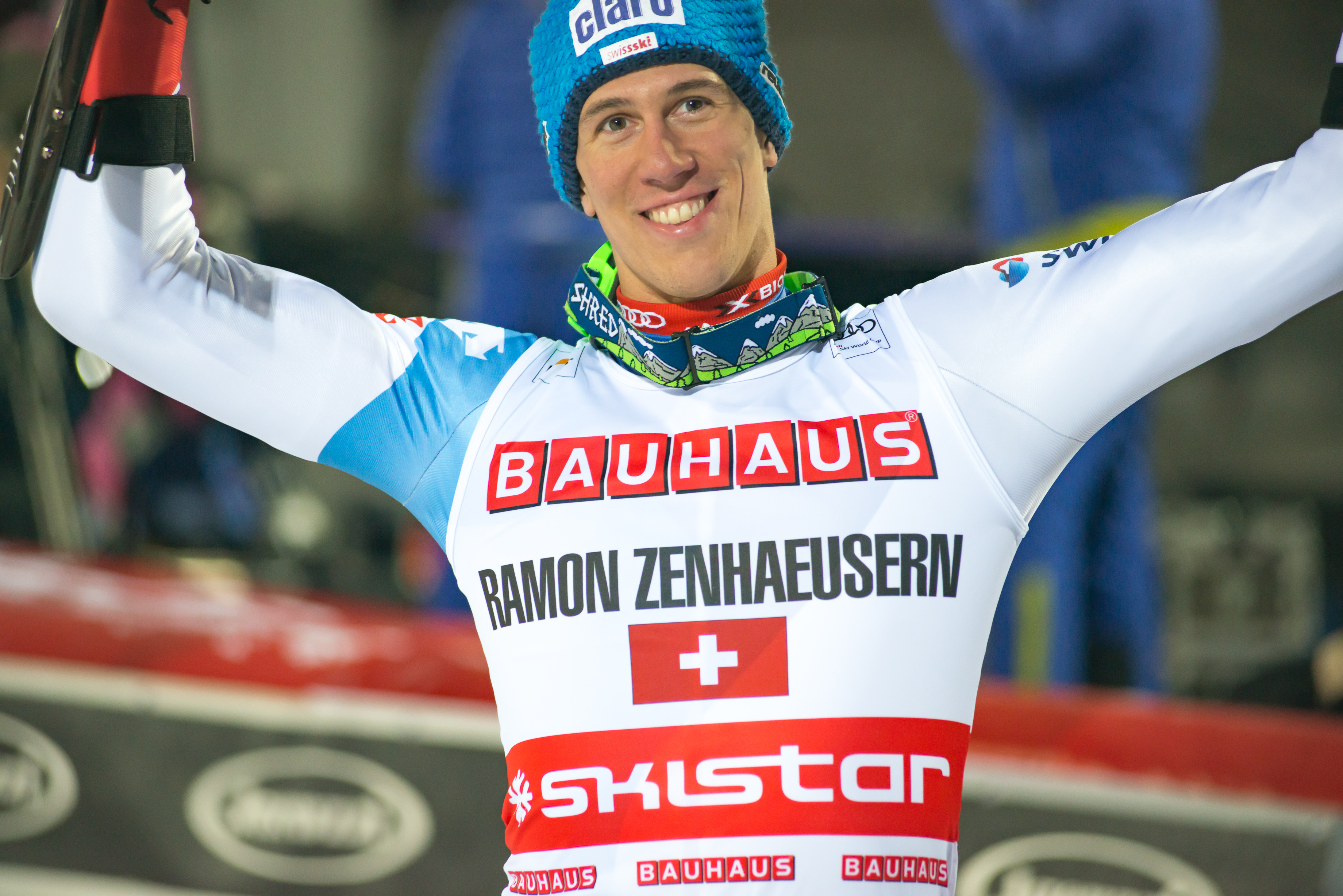 "Only two people really believed in me – my father, Peter, and Didier Plaschy." When he was 16, Plaschy told him he'd win a World Cup race in 10 years. Zenhäusern laughed it off at the time but, sure enough, his World Cup victory came 10 years later, almost to the month.
Building success like a jigsaw
Over the years, Plaschy worked closely with Zenhäusern to perfect his natural talent for skiing and overcome his weak points. "He improved his balance by doing ice skating, windsurfing and various activities on wheels. We also did a lot of training on steeper slopes, which he found harder. All he needed was a bit more time," recalls Plaschy. Patrice Morisod also admires "the enormous progress he made in mobility and agility".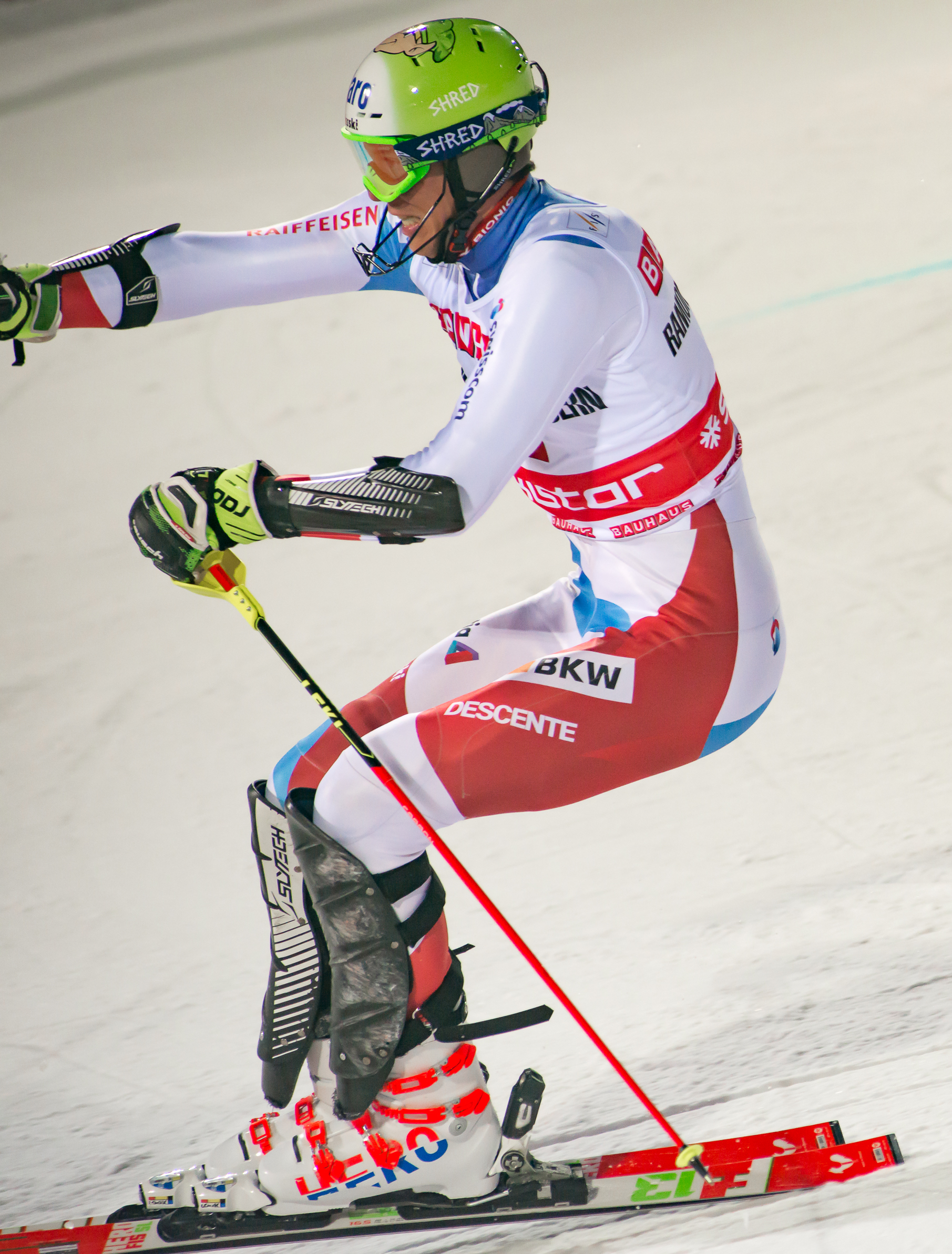 As Zenhäusern himself says, "Today I can say I ski well in all situations." What's more, he now also works with a sports psychologist. "I was a bit sceptical at first, but when I dropped out of the World Cup in St Moritz in 2017, I decided to try it and I liked it. I've learnt how to relax and focus better on an event. In sports, success comes together like a jigsaw puzzle." For his win in Kranjska Gora, he dug deep to produce a stunning second run, outpacing some of the world's top names – including the mighty Marcel Hirscher – by more than a second. "That day I was really in the flow. I just let my skis go without thinking and showed what I was capable of achieving when I give my all. I still enjoy re-watching that run." So has success changed him? "I think success would have been a lot harder to handle if I'd been only 18, like Lara Gut. But I'm 27 now..."
As for Daniel Yule, he was not among the best in junior skiing. "The first few years I didn't even win the races in my local ski club at La Fouly." What drove him to the top was his perseverance and a mind of steel: the more under pressure he feels, the more he pushes himself. In Adelboden this year, with a good lead from the opening run, Yule overcame a stellar performance by Norway's Kristoffersen to pull off an amazing second run, leaving the home crowd roaring.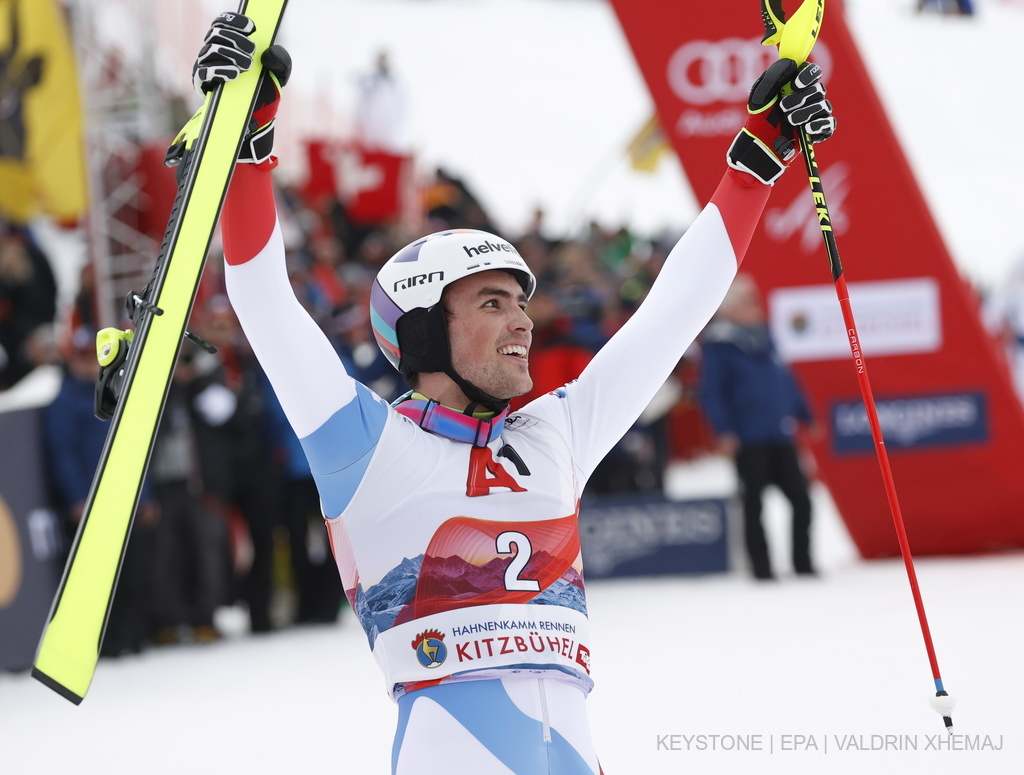 "I love the competitive rush, when it really matters. In school, I hated studying but I loved taking exams. It doesn't all come naturally to me but I have a strong character. I work hard and I don't give in," he told local newspaper La Nouvelliste. Zenhäusern tends to agree: "When we're training, Daniel doesn't give it his all. I'm the one who pushes hard. But it's different when it comes to the race."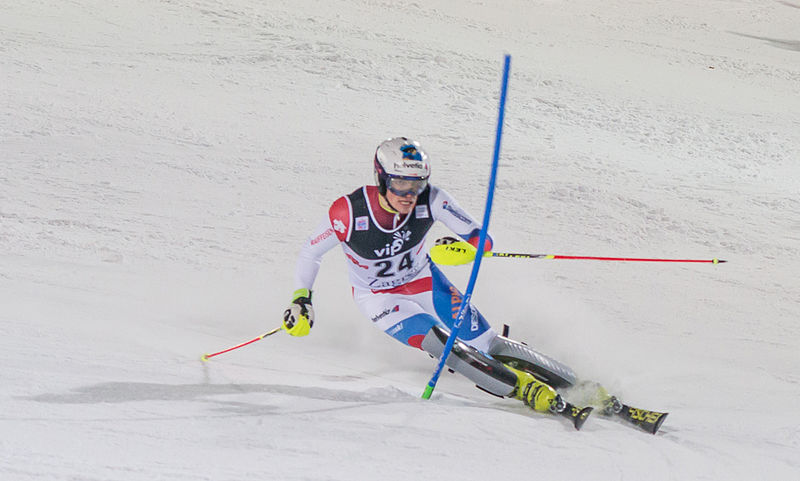 Business graduates
Despite the demands of their sport at this level, both have managed to fit in a business degree – another sign of their strength of character. Zenhäusern obtained his BSc in Economics from the Swiss Distance University Institute. As he says, he used "every spare moment to study, when travelling by car, bus or plane, while others were sitting around playing cards or watching TV", and that's something he's immensely proud of. 
He believes that his studies – far from hampering his skiing career – have been beneficial, adding: "It's good to turn my mind to something else apart from skiing now and then". A sentiment shared by Yule, who obtained a bachelor's degree in business from The Open University in the UK, where his parents are originally from. "After doing a few hours' study, I enjoy skiing even more. They're two completely different activities, and that makes my life more balanced. I'm living for the present with skiing, but I'm also thinking about my future." 
For the love of Valais
As a member of the International Ski Federation (FIS) Athletes' Commission and a militant environmentalist, Yule is not afraid to speak his mind. Last winter he sharply criticised FIS President Gian Franco Kasper for questioning the existence of climate change in an interview. "If Mr Kasper came just once to see us training, he'd soon see how much our glaciers are melting and the future of skiing is under threat," he said at the time, causing quite a stir. Putting his words into action, Yule even donated CHF 10,000 – half of his winnings from two races – to 'Protect Our Winters', an organisation raising awareness of climate change among the winter sports community.
Another thing these two ski stars have in common is their love for Valais, their home canton. "Wherever I may end up in the future, I'll always have a base in Val Ferret," vows Yule. Zenhäusern, who learnt to ski in Bürchen near Moosalp, still trains year-round in Upper Valais. While most of the Swiss team head off to a training camp in South America, he has spent the past three off-seasons in Saas-Fee, where he is the official summer ski ambassador. "Saas-Fee is just half an hour from home, and up there is the best glacier in the world," he beams.
Ramon Zenhäusern and Daniel Yule – leading the gold rush in Swiss slalom skiing.
Other recent stories from this category