Swiss tech talent innovates in autonomous cars
Imagine ordering a bus to go to work via smartphone. It picks you up at the door. There is no driver, but the shuttle knows its way and finds an alternative route if ever there is a traffic jam. Wide use of self-driving shuttles to complement public transport – this is the vision of Anne Mellano. The young Swiss engineer is the co-founder of Bestmile, a successful start-up that creates innovative software for the management of autonomous and human-driven vehicles.
The Lausanne-based company has been voted number two in the TOP 100 Swiss Startup Award this year. Bestmile is among the promising businesses that have grown out of the Swiss Federal Institute of Technology Lausanne (EPFL) – one of Switzerland's leading tech research poles. Anne, who founded the company together with Raphaël Gindrat, started to work on autonomous vehicles during her first job in an urban planning office. Anne, a transport engineer, was in charge of one of Europe's first autonomous mobility projects. While managing the subsequent demonstration of autonomous shuttles on the campus of EPFL, the pair gained invaluable insight into the coordination of self-driving vehicles. 
Thanks to the joint Swiss-EU-funded demonstration, the business was immediately up and running. Today, Bestmile has around 60 employees and offices in Lausanne and San Francisco. Its innovative technology is being used by public transport providers in some Swiss cities, including Sion and Geneva. The company has recently been selected as part of a team to oversee the European Union's AVENUE project to test the use of autonomous vehicles in public transport.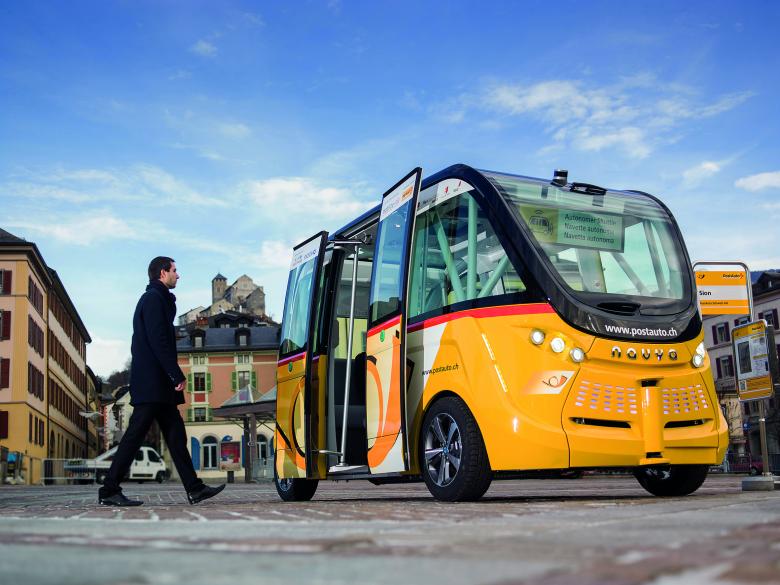 An innovative mindset
Anne holds a master's degree in civil engineering from EPFL. She says her choice of studies was not motivated by a specific career strategy. Rather, she wanted to apply her talent in mathematics to some concrete task. "First I wanted to become a professor in mathematics," she says. But then, she realised that she needed something more down-to-earth and enrolled in civil engineering. Upon completion of her bachelor's degree, Anne specialised in transportation because she was looking for innovative areas of engineering. "My goal was not to be in a normal transport engineering firm. I think it is the mindset I had at that time that got me here today."
Switzerland ranks among the most innovative countries in the world, and yet only 14.5% of Swiss companies are founded by women. Anne sees the reason for that in the small number of female students in the technology sector. "In civil engineering, we were six women out of around 140 students in the first year," she says, adding that the six women were among the 55 students who graduated. Those determined to start their own business have numerous possibilities to receive funding and visibility through Switzerland's public institutions and private actors, Anne says. The TOP 100 Swiss Startup Award is but one of the numerous awards enabling start-ups to gain visibility. The World Economic Forum, which has its own awards, has put Bestmile on the list of the 61 most promising technology pioneers this year.
From pilot project to start-up
Anne's decisive experience was her first job at an urban planning office in Lausanne. Her proposal was selected as part of a European research project for an 8-month demonstration of autonomous shuttles on the EPFL campus. This inspired Anne to develop the business idea of fleet management of autonomous vehicles together with Raphaël. He was already testing the first self-driving shuttle the university had acquired. "We had a chance to understand early that these vehicles were very smart. They were able to go from point A to point B, but there was something missing because the vehicles were not communicating with each other," said Anne. They realised that a mobility service with autonomous shuttles required some sort of collective intelligence that knew what was happening everywhere in the system.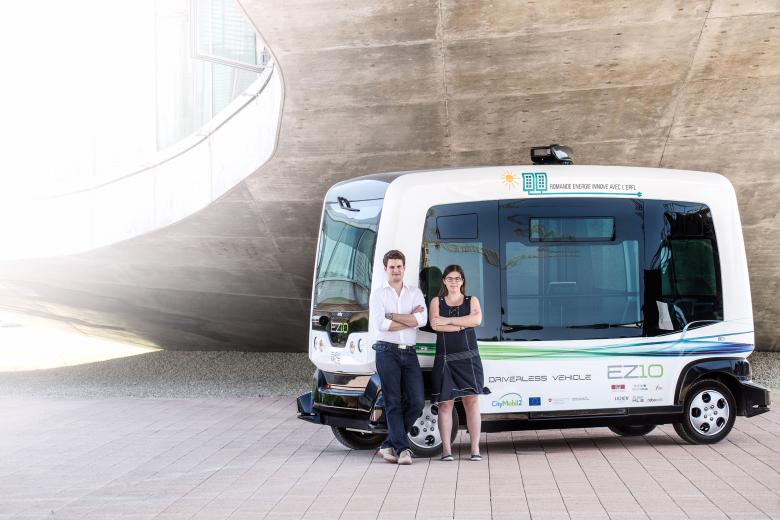 Anne and Raphaël founded Bestmile in 2014 to lead the shuttle demonstration the following year. Six autonomous minibuses were to provide transport for everyone on the EPFL campus for 8 months. Success was far from certain. "The initial goal was to do this demonstration and at the end, we would see. Perhaps we would just return to do what we were doing before, because nothing would be ready," Anne said. But thanks to the demonstration, Bestmile secured its first clients and funding. "It was really a big advantage that the 1st year was already fully booked, and we knew what we would have to do," Anne recalls.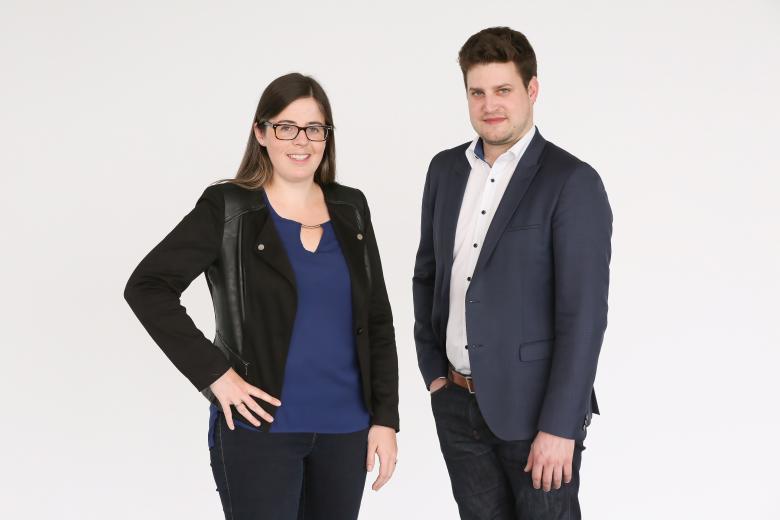 Remote control
Bestmile's software consists of a platform that enables operators of autonomous and human-driven vehicles to plan routes, match vehicles with travellers and manage the maintenance of the fleet. It is connected to the vehicles via a cloud system: "We have nothing inside the vehicles, no hardware or software. Everything goes through the cloud," says Anne. Transport operators choose whatever parts they need from the software and adapt them to their service. The software sends a mission to the vehicle, to drive down a certain route with specific stops for example. However, the execution of the mission is steered by the vehicle itself and by hardware and software inside the car. The technology responsible for the security of the vehicle therefore lies outside the scope of Bestmile's platform. Anne says the use of the software for human-driven cars would help users make the transition from conventional to autonomous cars: "The idea is that the customers learn how to use the platform on human-driven cars and then they can add autonomous vehicles".
One option of Bestmile's software is to send shuttles on demand when passengers order them via applications. This might well be the case for train passengers in Switzerland in the future. Bestmile has started a project with Swiss Federal Railways (SBB) aimed at integrating autonomous vehicles into the rail transport service. "The idea is that when you book your train through the SBB app, you'll be able to book the shuttle for the last mile. The shuttle will wait for you at the train station to bring you to your final destination," says Anne.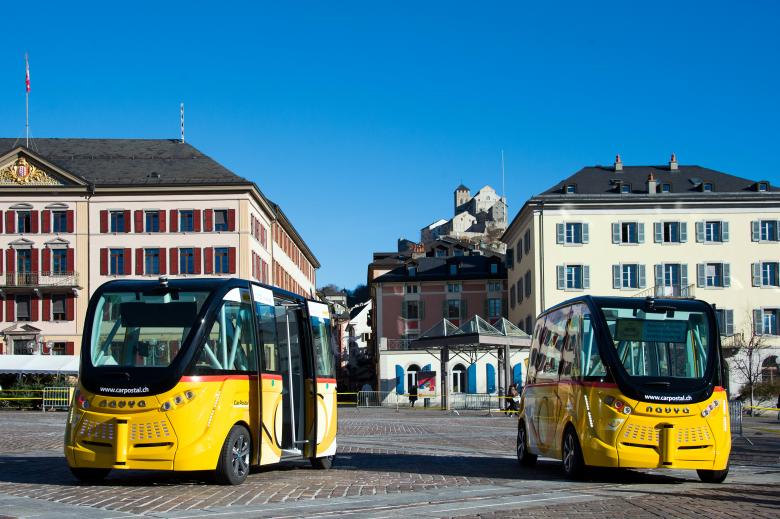 Easy public transport for all
Anne hopes that the use of autonomous vehicles will one day become commonplace and fill gaps particularly in those areas that are underserved by public transport. "The vision is not to replace mass transport systems, but to complement them," she says, adding that a flexible last-mile transport offer would encourage people to leave their cars at home. "Imagine in the future, you just take your phone, you order a vehicle. It arrives at your door, takes you to your destination and then just disappears. You don't have to worry about having enough fuel in your car, or fitting winter tires. Nor do you have to worry about a parking space."