Swiss wheat breeding know-how
Swiss bread is famous for both its quality and diversity, with each region of the country boasting its own speciality. Switzerland's success story is down to the work of its wheat breeding programme, which is more than a century old and continues to produce new varieties for the bread of tomorrow.
Agroscope is the Swiss centre of excellence for agricultural research and is committed to improving plants and plant breeding. This is an age-old form of genetic modification that uses hybridisation and and plant selection to better address people's needs. Dario Fossati, a wheat breeding specialist in Changins in the canton of Vaud, explains: "Swiss research has always focused on the best possible baking quality, disease resistance and economic return." How has Switzerland become a benchmark country for its wheat varieties with top baking quality?
Let's take a quick look back
Wheat has been domesticated and cultivated by humans for thousands of years and has become a staple in our diet. Farmers have also looked for ways to improve production – most notably by selecting the best ears during harvesting in order to use their kernels as seeds. At the end of the 19th century, Switzerland was home to an enormous number of local wheat varieties and a large number of farmers re-used their own seeds year after year. Known as 'massal selection', this technique guaranteed a relatively stable quality of yield from one harvest to the next. But it had only limited potential in terms of improving quality.
In Switzerland, it was during World War I that the government made obtaining the supply of seeds a vital matter for the country. Scientific cereal breeding was consequently systematised, and breeders were obliged to use all means at their disposal to ensure a certain level of food security for the Swiss population, which was already largely urban.
The Swiss government established a monopoly on purchasing wheat seeds, thereby encouraging farmers to buy seeds guaranteed by the state and to cultivate quality wheat to be made into bread for domestic consumption only. In addition to baking quality, the wheat varieties also had to produce high yields and be disease resistant. A veritable challenge for the wheat breeders.
Multiple goals 
"The baking quality of wheat varieties is linked to the quantity and quality of the proteins they contain – notably gluten, which is essential for the suppleness of the dough. But the more protein there is, the lower the yield," explains Dario Fossati. So if there are too many requirements, developing a new variety becomes impossible. So how do wheat breeding specialists develop new varieties? 
The main goal for breeders is to produce a higher quality than existing varieties. If a disease, pest or other shortcoming appears in the cultivation of an elite variety (a variety that has a number of different qualities), the breeder tries to make it resistant to these attacks: "By making the plant resistant, you avoid using chemicals on the crops. This means lower costs for the farmer, stable yields and, above all, less of an environmental burden, which is one of our main goals." 
One way to achieve this is by improving a variety via backcrossing, which can make a plant resistant to a disease for example. To do this, the elite variety needs to be pollinated by another variety that has the disease-resistant gene you need. This process then has to be repeated with the ensuing descendants until you get a wheat variety that has all the characteristics of the elite variety with the disease-resistant gene on top. 
Each variety of wheat possesses numerous characteristics that are unique. Combining two varieties by crossbreeding allows you to create a new mix from which the breeder can extract the specimens best suited to their specifications for generations to come. This is genealogical selection.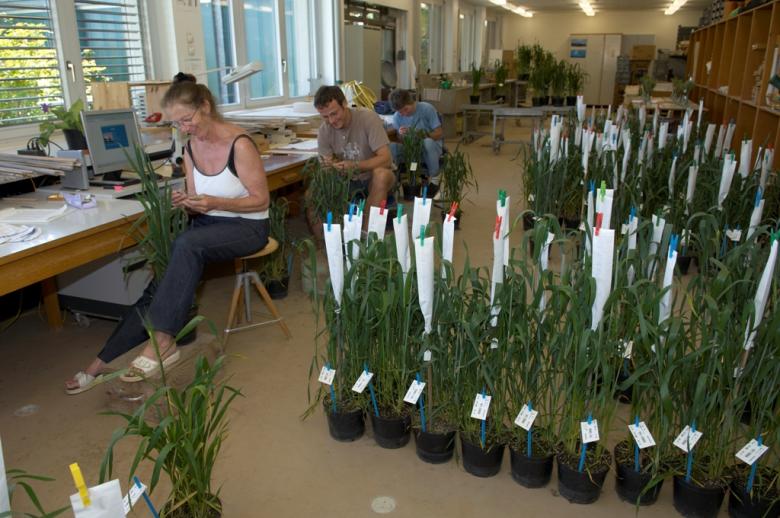 The breeding process takes years because you need numerous generations before a new genetic composition can stabilise.
Progress thanks to genetics
What scientific innovations are there in the field of genetics? "Advances in genomics (genome science, DNA molecules) greatly benefit the breeding process," replies Dario Fossati. This progress encourages breeders to use the genetic resources of older varieties or species related to wheat because incorporating their more interesting genes into the elite varieties has become more effective. "We are also using molecular marking, which allows you to detect an interesting gene in a plant no matter what its level of development. And this helps facilitate and shorten the breeding process. But this type of assisted breeding is still costly and can't replace observation in the field," adds the specialist. The use of electronic sensors, being carried by drones by example, is being developed but it still not used on a routine basis for breeding.
Ever-changing requirements
The wheat breeding programme aims to put forward varieties that meet the needs of all stakeholders in the cereals market – from the breeder to the consumer. These varieties must be well-suited to climate conditions and agricultural development: "Knowing how long it takes to develop a new variety, we have to try to anticipate these new requirements every 10 to 15 years." While minimising the use of chemicals on crops is a major challenge for breeders, there is also a growing trend towards flours with more health benefits. That is why it is crucial for breeders to have a wide range of wheat varieties, each with their own and varied genetic properties, to be able to respond to the constantly changing demands of the market.