House of Switzerland

• Milano Design Week 2023

April 17th to April 23rd, 2023
Presence Switzerland and Pro Helvetia are joining forces to host the House of Switzerland at Milan Design Week. Created in collaboration with emerging designers, independent studios, established brands and educational and research institutions, the 'Urgent Legacy' group exhibition presents innovative and sustainable Swiss design responses to the urgent challenges of the present.
Milan Design Week (Fuorisalone) is taking place from 17 to 23 April 2023. Following on from the successful partnership of 2022, from this year the House of Switzerland will once again be a joint venture between the Swiss Arts Council Pro Helvetia and Presence Switzerland, which is responsible for promoting Switzerland's image abroad as part of the Federal Department of Foreign Affairs, FDFA. Devised as a three-year initiative, the aim is to offer participants an international stage and to build relationships with both industry and the public.
 
The house gives each partner their own creative space. At the same time, we are focusing interests and resources on a common aim, specifically to raise the visibility of Swiss design and Swiss designers. More than 100 applicants responded to our 'Urgent Legacy' call. That engagement emphasises the importance of this joint venture,
said Jérôme Benoit, Deputy Director of Pro Helvetia of the exhibition this coming April.
Creating tomorrow's solutions today  
How does Swiss design shape the future? The House of Switzerland provides a space for individual takes on what constitutes an 'Urgent Legacy', in which the entire ecosystem of Swiss creative design is represented. It offers answers to questions such as the social responsibility that design bears. Or what it means to produce less, to rethink local manufacturing, to achieve autonomous supply chains or production processes, to improve co-creation with partners, or to shrink our footprint. 
'Urgent Legacy' sets out innovative and sustainable answers to these questions, and invites the public to engage with the featured designers. 
As Alexandre Edelmann, ad interim head of Presence Switzerland points out:
design is an area that has an impact as innovative as it is artistic. Right now it is facing major challenges from a number of global developments, particularly sustainability. Milan Design Week brings together the brightest and the best. Setting out a joint platform that raises the visibility of our design and designers, as well as Switzerland's innovative power, here in the world's design capital, creates enormous added value in terms of our positioning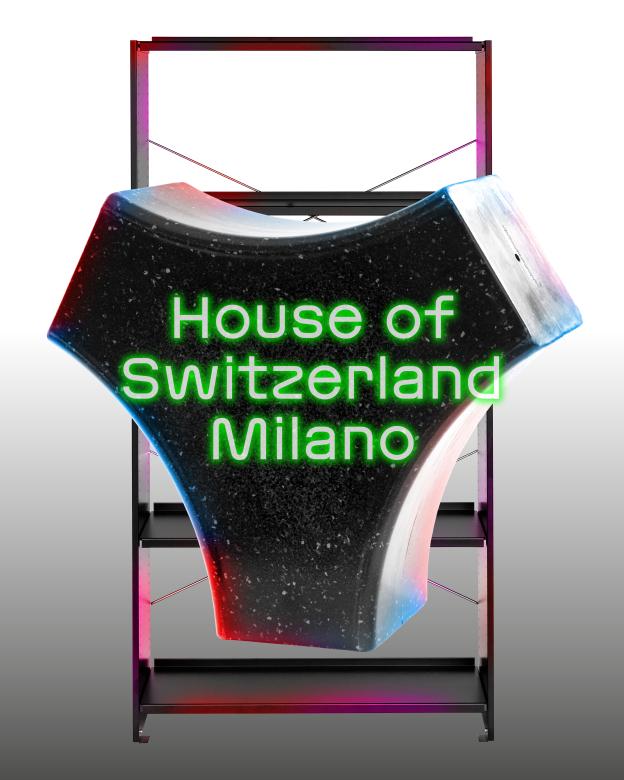 Photo credit - Image treatment: Sara Bastai / Graphic Design: Adeline Mollard

House of Switzerland Milano 2023
All exhibitors were nominated by an independent jury of internationally respected experts: Johanna Agerman Ross of London, Valentina Ciuffi of Milan, Nolan Giles of London, and Cecilie Manz of Copenhagen. The projects and design ideas embody key qualities of functional aesthetics, while at the same time helping to make the world a more resilient and sustainable place.
The selection encompasses emerging designers and independent studios, joined by a curated collection of established Swiss design brands such as Embru, Lehni, Lichtprojekte Christian Deuber, Röthlisberger Kollektion, schindlersalmerón and seledue. Also featured are design institutions Istituto Svizzero, mudac and NOV Gallery, as well as higher education institutions ECAL, ETH Zurich, HEAD-Genève, and Basel Academy of Art and Design FHNW. 
Exhibits at the House of Switzerland are presented to the public under the artistic direction and visual communication of Adeline Mollard (Zurich). Scenography provided by Work Matter (Lausanne) and photography Sara Bastai (Porto, Portugal). 
The House of Switzerland Milano 2023 joint venture between Pro Helvetia and Presence Switzerland is also being organised in partnership with Switzerland Global Enterprise (S-GE) / Swiss Business Hub Italy and the Swiss Design Association, and with the support of Bally and the Ikea Foundation Switzerland. 
The event will take place at
Casa degli artisti, Milano