Published on May 5th, 2021
Presence Switzerland
Presence Switzerland as part of the FDFA, implements the Federal Council's international communication strategy and is responsible for promoting Switzerland abroad as an open, innovative country with a strong creative economy.
It fulfills this mandate with various communications tools. One of these is the House of Switzerland (HoS), a communication and networking platform at international events such as the Olympics. Designed to be a meeting place for Swiss athletes, sports enthusiasts and curious minds HoS invites visitors to experience and discover Switzerland by celebrating sports as well as engaging
in commercial and cultural activities.
In this spirit, the Federal Council has decided that at the 2022 Beijing Olympic and Paralympic Games two Houses of Switzerland will be implemented. One in downtown Beijing and one in the mountainous Zhangjiakou.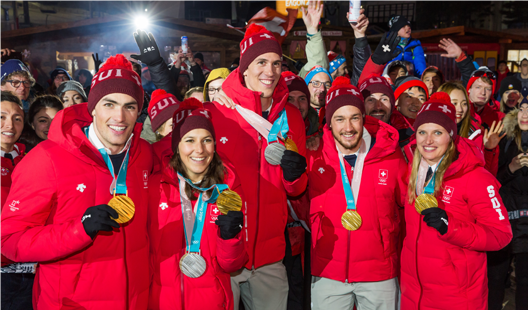 Administrative assistant
At the next House of Switzerland at the 2022 Winter Olympics and Paralympics, we are offering from 1 October 2021 to 31 March 2022  the position of Administrative assistant.
The job involves the following responsibilities
Administrative support for the management team
Preparation of shift plans
Independent processing of written and telephone inquiries in Chinese, English, German, French or Italian
Taking meeting minutes
Supporting the preparation and staging of events
General administrative duties
General operative support
During the operational period: leading a team of two administrative staff members
Ideally, you can offer
A commercial or equivalent qualification and professional experience
Highly developed skills in the use of MS Office programs
Good knowledge of Chinese and very good knowledge of at least one Swiss national language and English
Organizational flair
The ability to work independently and with a sense of responsibility
Entrepreneurial thinking
A friendly attitude and the ability to handle stress even in hectic situations
Reliability, a team attitude, stamina and patience
Willingness to take on additional tasks spontaneously outside the agreed job description
A neat appearance, natural customer-orientation and self-confidence in dealing with others
Previous work experience in/with China
General conditions of employment
Workplace October 1st 2021 to approximately December 31st 2021: Presence Switzerland, Berne
Workplace approximately January 1st 2022 to 31st March 2022: House of Switzerland China 2022 in Beijing
Train ticket to the airport and back is paid
Flight to Beijing and back is organized and paid
Commuting fares (only for business) within China are paid
Accommodation (single room/ single bathroom) in Beijing is provided and paid
During operation period, shifts work 41.5h week / 100% (incl.weekends)
Vacation days according to Swiss Code Obligations
Swiss resident living in Switzerland or foreign resident with residence permit in Switzerland: employment in accordance
Do you think you have the necessary commitment and energy to help make the House of Switzerland at the 2022 Winter Olympics and Paralympics a success?
If so, we look forward to receiving by May 15th 2021 your full application, including a motivation letter, your CV and work references to: corinne.jenni@eda.admin.ch
Corinne Jenni
Head of Human Resources and Logistics
Swiss Federal Department of Foreign Affairs FDFA
General-Secretariat GS FDFA, Presence Switzerland
Bundesgasse 32
CH-3003 Bern