Switzerland participates in international efforts to promote sustainable agriculture
Published on November 11th, 2019
AGFORWARD, Greenresilient and PERECUSO are international research partnerships developing ways of making agricultural practices more environmentally friendly.  Switzerland is participating in these three initiatives through Agroscope, the Swiss centre of excellence for agricultural research.
"Time for action" is the theme of the 25th session of the Conference of the Parties to the UN Framework Convention on Climate Change (COP25), which takes place in Madrid, from 2 to 13 December. Every year, the governments and environmental organisations taking part in this conference discuss measures to be implemented to combat climate change. As the future of our planet is not just a concern for policy-makers, Agroscope represents Switzerland within various international research partnerships that promote sustainable agriculture.
AGFORWARD: climate protection thanks to agroforestry
Agroforestry is the practice of combining agriculture (crops and/or livestock) and forestry on the same land. Over the last few centuries, this method of agricultural management, which involves planting trees around or among plots, has been gradually replaced by intensive agriculture. But this agricultural system is now slowly making a comeback in Europe, with wild fruit trees and cereal crops being combined for the production of precious wood, and walnut trees being planted on farms with free-range hens.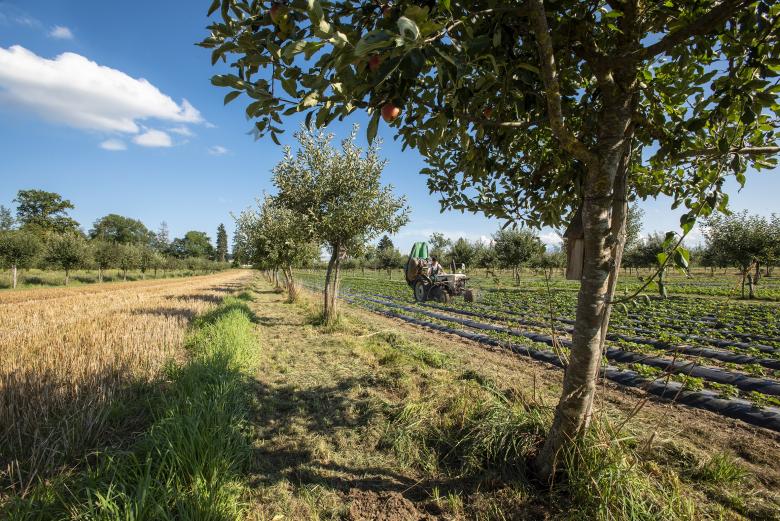 As well as encouraging animal biodiversity and offering a broad range of marketable foodstuffs, agroforestry helps protect the environment. In fact, converting 9% of Europe's agricultural land to agrofrorestry would mitigate 43% of European agricultural greenhouse gas emissions. This conclusion was reached by researchers at Agroscope in collaboration with their partners from AGFORWARD, a programme involving 112 scientists from 17 European countries.
"Not only do trees store carbon, they also prevent soil erosion and the leakage of nitrates contained in soil," explains Agroscope researcher Sonja Kay, member of the Swiss team of AGFORWARD. "So when used in a targeted manner on agricultural areas that are subject to environmental pressure, agroforestry has a key role to play in achieving climate and environmental goals at both European and global level," she says.
Greenresilient: growing organic vegetables in low-energy greenhouses
Often, growing vegetables in greenhouses is expensive due to lighting and heating costs, and necessitates the use of pesticides. With Greenresilient, vegetable production in greenhouses is not a barrier to sustainable agriculture, but a solution. Twelve research centres contribute to this European partnership – including Agroscope through Cédric Camps' team in Conthey (Valais).
As Cédric Camps explains: "The aim of this research programme is to promote practices for vegetable production in greenhouses that are not only environmentally-friendly, but also economically viable." Greenresilient has five experimental sites and Agroscope manages the Swiss one in Conthey. This involves Swiss researchers carrying out crop rotation experiments, with leafy vegetables such as lettuce being moved to greenhouses in mid-autumn. When spring arrives, greenhouses are filled with other, more profitable vegetable crops, such as tomatoes and melons.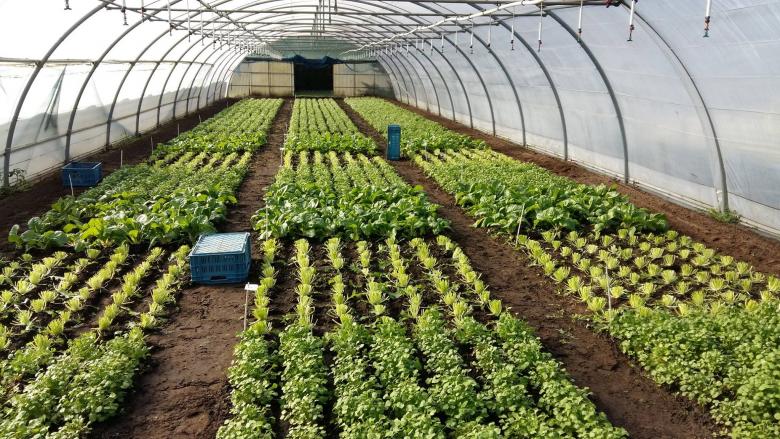 Next to these rows of fruits and vegetables there are other plant species, particularly flowerbeds. "Every greenhouse is an ecosystem in which biodiversity is encouraged," says Cédric Camps. So at the edge of the vegetable beds we grow marigolds with yellowy-orange flowers that are home to small bugs called Macrolophus which feed on whitefly, a pest of tomato crops. From combining complementary plant species and biological pest control using auxiliary insects to crop rotation, in the long term Greenresilient hopes to offer production strategies that can be applied equally well in smallholder farms that sell their produce directly and in large-scale vegetable farms.
PERECUSO: spotlight on Cuban potato production
The potato is the most widely consumed food staple in the world, after cereals such as wheat and rice. Prized for its high yields and its ability to adapt to different climates, the carbohydrate-rich tuber has been recommended by the United Nations as a food security crop. Potato production often involves the use of pesticides to combat numerous plant diseases, pests and weeds. While the impact of such pesticide treatments on soils in temperate climates like Switzerland has been widely studied, we know less about the state of soils in tropical regions.
In Cuba, researchers have been exploring this question within the scope of the partnership between Agroscope and the National Center for Animal and Plant Health (CENSA). "The idea behind the PERECUSO research programme is to analyse the influence of different pesticides used in potato production on the quality of Cuban soils," explains Isabella Hilber Schöb from Agroscope.
Using old Cuban farm registers containing information on the composition and application date of pesticides, the binational team is evaluating the degradation capacity of the substances whose residues have been observed in the soil. "This should allow us to develop new treatment models that are adapted to the Cuban climate and that limit pesticide residues," adds Isabella Hilber Schöb. These data will then be supplemented with information compiled by Agroscope as part of a programme monitoring pesticide residues in Swiss soils. As healthy soils yield potatoes with high nutritional content, PERECUSO helps deliver on several goals of the 2030 Agenda for Sustainable Development, such as ensuring food security and protecting the environment.