There was a time in Switzerland when children would get together to play board games such as Leiterlispiel (Snakes and Ladders). And older generations would challenge each other to a round of Jass, the Swiss national card game. But in today's society, gaming apps, eSports, online games and even virtual reality games have changed the way the Swiss play.
And with its top science universities and creative thinkers, Switzerland is well positioned to be a key 'player' in the gaming world of tomorrow.
Here are eight innovative games developed in Switzerland – from tactile to mobile and virtual:
Plunder Planet – a mobile exercise game
Can you imagine a game that changes its level of difficulty according to your heart rate? Zurich University of the Arts has designed such a game and is using it to research how exercise and gaming can be aligned. One of the main objectives of Plunder Planet is to encourage young people to be more physically active.
The goal of the game is to win points by finding gemstones in a space environment. There are villains and attacking rocks, with points lost for each hit taken. The game can be played using either a full-body motion controller with buttons or a gesture-based Kinect, which transfers body movements into the game.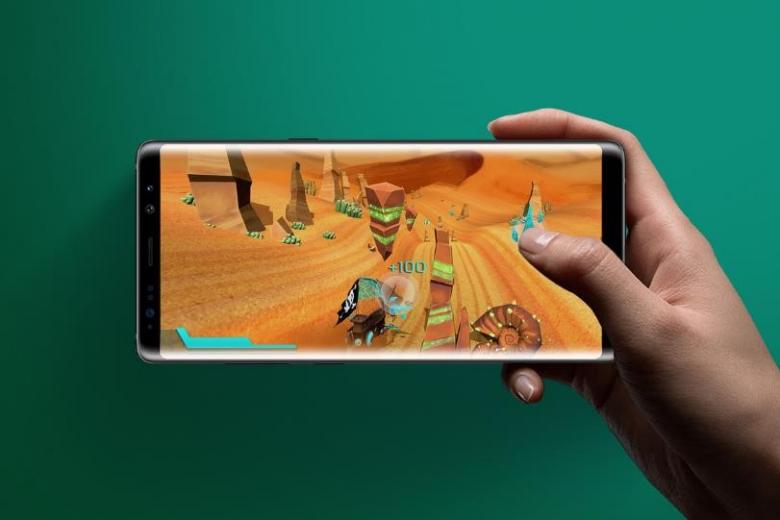 Airheart – a mobile game in the stratosphere
Airheart for the PS4 console was recently released by Zurich-based Blindflug Studios. The objective of this aeroplane game is to help the main character, Amelia, set off from a fictitious cloud city and reach the stratosphere. The way there is dangerous and littered with pirates, making the journey increasingly difficult.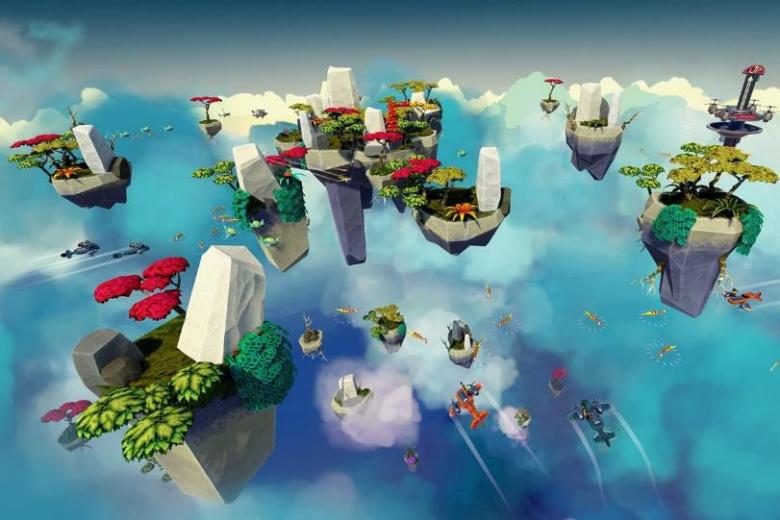 The game is based on levels, offering a variety of fun features. For example, pieces from destroyed enemy planes can be used to assemble a new plane.
Sphaera and Tawa – wooden skill-based puzzles
Swiss company Naef has been producing tactile toys and games for more than five decades. Their wooden toys have no age restrictions. Take Sphaera: crafted of cherry wood, this beautiful hemisphere fits neatly into one's hand. The objective is to manoeuvre little steel balls through five rings into the centre of a concentric labyrinth.
It's not as easy as it sounds. Players need both agility and patience to master Sphaera as the pathways between the rings are not always visible at first glance.
Another of the company's bestsellers is Tawa, a construction game with a meditative dimension. With Tawa, players get to take a moment offline and focus on the task at hand. At first, the colourful building blocks seem to be different sizes, depending on the angle in which they are placed. In reality, however, each block is 5cm in height no matter how it is placed, fitting snugly alongside the other blocks. The resulting pattern can be quite striking, as shown in the picture below: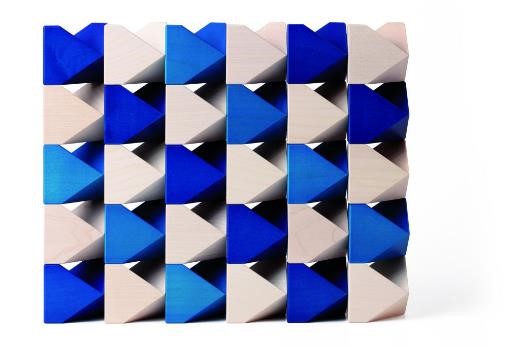 Frantic – a mischievous Swiss card game
Rule Factory is a games startup based in St Gallen. At a very basic level, their crowdfunded card game Frantic is similar to UNO. The basic deck consists of nine cards in each of four different colours: red, yellow, blue and green. Each player takes a turn of playing one card, the object being to get rid of all your cards.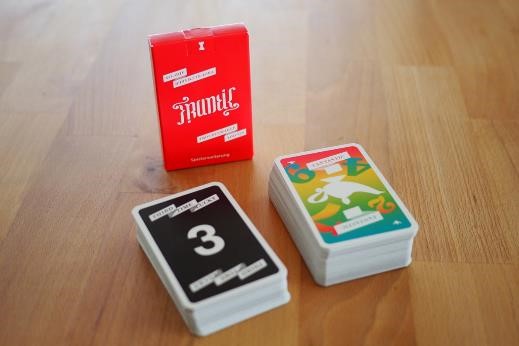 But this is where the similarities with UNO end: Frantic is way more mischievous and has a refreshing element of surprise. Each player has to try and stop the others from getting rid of their cards, and they can do this with the event cards. For instance, there's the 'Robin Hood' card, where the player with the least cards swaps their hand with the player holding the most. Or the 'Identity Theft' card, where two designated players are forced to swap cards.
Team UP! – a multiplayer game that also features a solo mode
Basel-based games company HELVETIQ has churned out many classics over the years, and Team UP! is one of their latest innovations. The bright minds at HELVETIQ may well have been inspired by the cargo boats on the nearby Rhine, as the objective of this hands-on game is to pack a pallet as efficiently as possible.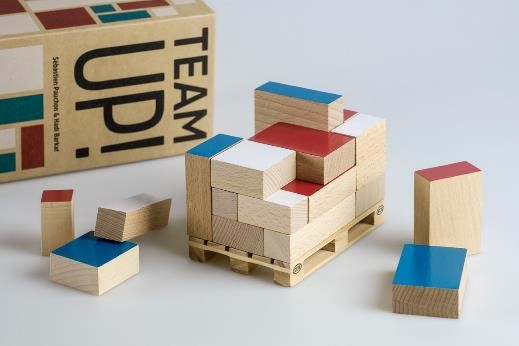 First, a neutral starter package is placed on a corner of the miniature-sized pallet. This creates different starting conditions for each game. The 27 remaining packages then have to be placed on the pallet with the coloured side on top. No two identical blocks can ever touch each other, and the end result should be a perfect pallet without any gaps or overhanging packages.
Retimed – an easy-going shooting game
Retimed is a multiplayer game for up to four people, developed by Zurich-based gaming company Maniax. It was released in September on Nintendo Switch.
Although a shooting game, Retimed is quite easy-going and not really violent. The goal is to evade danger and shoot the enemy first. When a player is in danger of being shot, a time bubble appears around them, giving them enough time to dodge the bullets. As soon as the bubble bursts, they are out in the open again and have to shoot as fast as possible.
Staka – a fun stacking game
The idea for Staka came to Swiss game inventor Michel Baumann during an evening among friends, which ended with all the serviette rings stacked on top of each other. One and a half years later, in November 2018, the game is now set to hit the shops. Made of high-quality wood and playable in five variations, the latest skill game from HELVETIQ is one to look out for.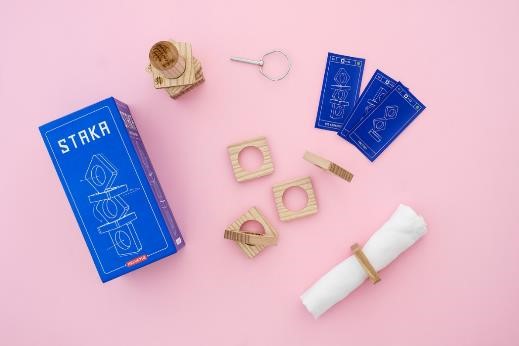 Fusion Arena near Zurich – a home for virtual reality games
Fusion Arena is the futuristic-sounding project of Swiss companies Pandally and Red Cube. At the open space arena in Altstetten near Zurich, the future is now – and open to anyone wanting to experience what it's like to be inside a virtual reality (VR) game. Can you imagine stepping onto a narrow wooden board above a virtual city? This is just one of the VR challenges available.
Another popular game is Patient Zero. Dressed in VR gear and a pair of high-end VR goggles, players have to find their way into a secret research bunker and download data from a computer. And as if that wasn't enough, they also have to face a zombie apocalypse…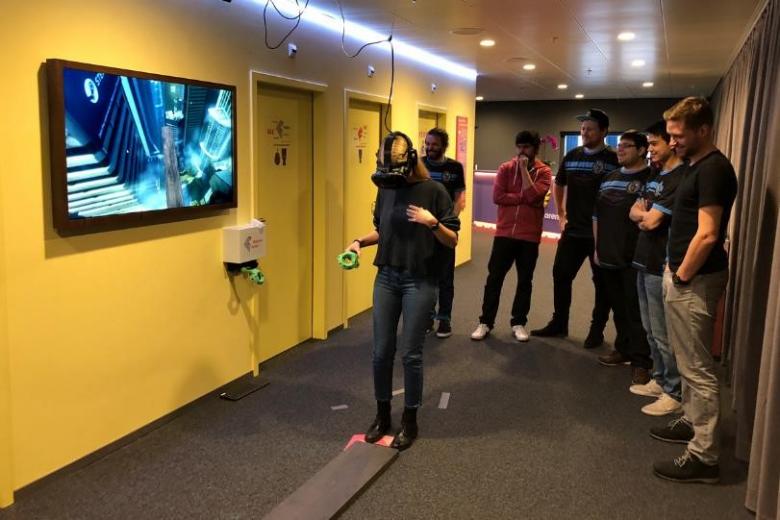 And finally, an event recommendation: check out the upcoming Zurich Game Show from 13 to 15 September 2019 at Messe Zürich.
By Fungai Mettler