Swiss a-Peel – how the fruit we eat (and throw away) is driving innovation in sustainable materials
Two start-ups born in Switzerland are bringing the concepts of "cradle-to-cradle" and "circular economy" closer to home by giving organic waste a new, fashionable lease on life.
Open the rubbish bin under the kitchen sink and take a good look inside. There lies the by-product of our daily consumption, before it's thrown into a garbage truck and sent down the line for processing.              
Sarah Kim Harbarth did just that while studying industrial design at the University of Applied Sciences and Arts Northwestern Switzerland (FHNW). "Wait a minute," she told herself back in 2019, "we are importing all these banana peels and doing nothing with it? It seems kind of wrong."
Fast-forward two years and this initial impulse is bearing fruit: now a full-fledged product designer, Harbarth is heading a start-up, KUORI, whose goal is to revolutionise the shoe industry by producing soles made from banana peels.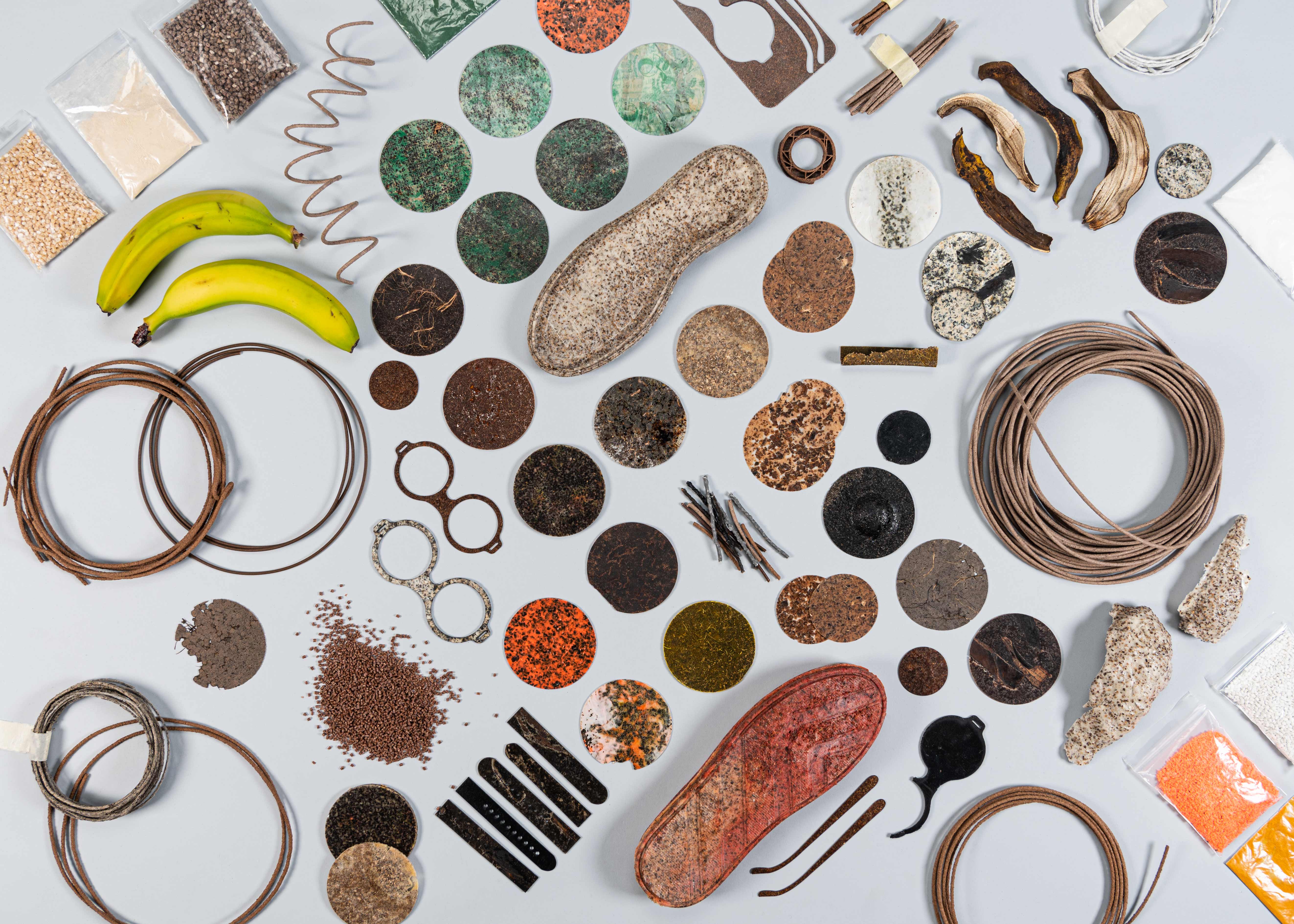 The 100%-biodegradable material, which unlike synthetic rubber is meant to decompose after years, ticks several boxes in terms of sustainability: it recycles—and thereby creates value from—waste (upcycling); it perpetuates the life cycle of resources (cradle-to-cradle approach and circular economy); and, last but not least, it contributes to the fight against microplastic pollution by reducing the amount of rubber particles entering the environment through abrasion.
The concept immediately attracted attention, both from the media and the public, when Harbarth first posted about it on social media in 2020. "People were like 'where can we buy this?' They were fired up about it and the community was getting bigger and bigger." Adding to these high expectations, and the responsibility that goes with them, is a CHF 60,000 grant from the Gebert Rüf Foundation, as part of a programme that supports BA and MA students developing an innovative business idea.
When life gives you apples, make handbags
Higher up the fashion industry's food chain—at least in terms of glamour—and already on the market since 2016 is "the world's first luxury handbag made from apples," courtesy of Happy Genie. Here, too, the concept was born from a combination of frustration with mainstream materials—in this case, leather—and the search for a more sustainable alternative.
"Only a handful of tanneries around the world know the animals origin", says Tanja Schenker, who spent several years manufacturing handbags before she founded her startup. Sourcing cowhides with an ethical guarantee was possible, albeit expensive, but then came a more personal reckoning:
I realised I could control the source of leather, but I cannot control where the products for my daily consumption are coming from.
That's when she decided to become vegan—and to 'walk the talk' on the business side of things as well.
Schenker's attention quickly turned to apples after learning that attempts to make paper with leftovers from the juicing industry had produced a material that resembled leather. "I didn't want to contribute to make more products that have a bad impact on the environment, so it was a match made in heaven." She teamed up with an artificial leather company in Italy that had the knowhow and equipment to test new fabrics, and the results were so promising that she opted to go all in.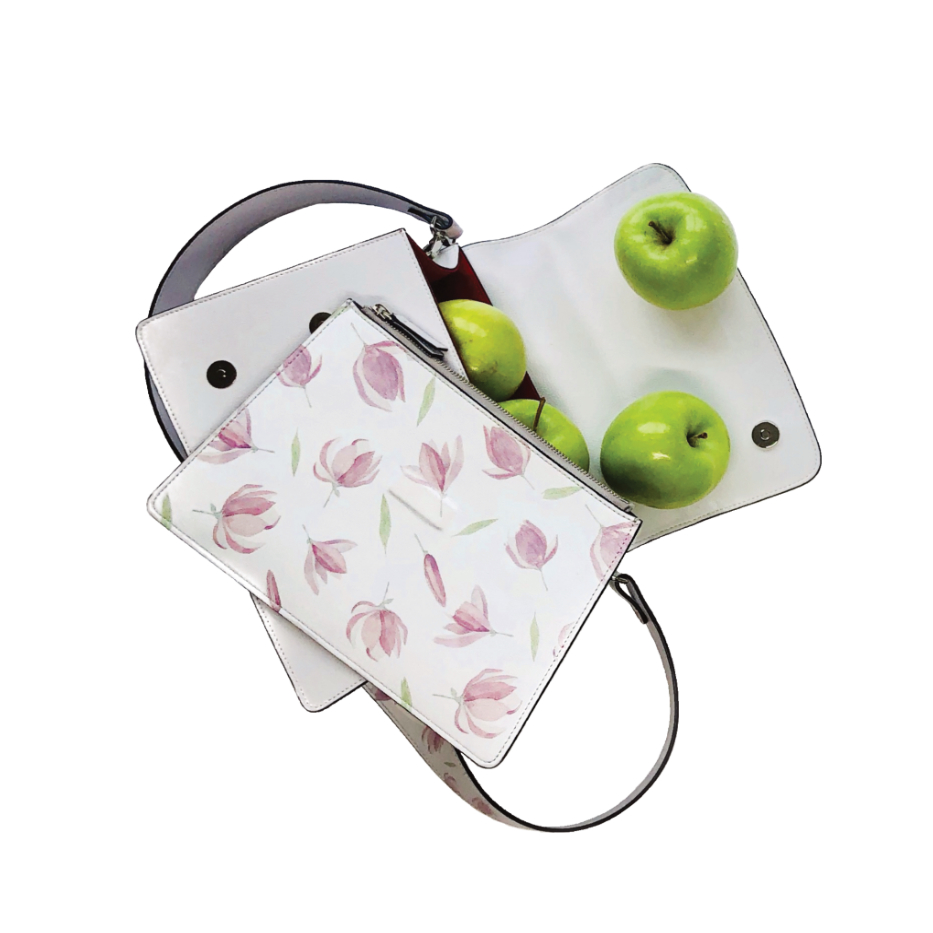 Sustainability isn't limited to the material: it's also built into the entire supply chain. "Everything is made within a 700-kilometre radius, between southern Tyrol and central Italy," says Schenker. The result is a high-end, handcrafted bag marketed as "ethical, sustainable and cruelty-free without compromising style and quality", in addition to matching the requirements for vegan and locally sourced products.
Aiming for top banana
Back in Basel, Harbarth and her startup KUORI (the Finnish word for 'peel') are at a critical juncture: they have until January to demonstrate scientifically that—beyond the humour of associating pedestrians with banana peels—their biomaterial can be used as a viable alternative to synthetic rubber for shoe soles.
The research grant has allowed Harbarth to hire a team, and she is now preparing to go live with the website. Once the proof of concept is done, one big question will be: who to team up with to produce a truly 100% compostable shoe? But Harbarth gets her drive from an even bigger ambition, a scaled-up dream of sorts: "Ultimately, no microplastics inserted into nature. Everything we take from nature returns to nature".
Cover image : © Happy Genie
Portrait image : ©  KUORI
Other recent stories from this category