Swiss Public Transport - Sustainable by Design
Swiss public transport is the preferred way for residents and tourists to travel around Switzerland. Not only because of its unparalleled comfort and convenience but also because the Swiss Travel System is one of the most climate-friendly ways to tour the country. And with growing customer demand for more environmentally friendly forms of mobility, train travel and public transport are witnessing a renaissance across Europe and beyond – a positive development backed up by a study suggesting that travellers are willing to pay a premium in exchange for more sustainable travel options (Booking: 2022). 
Corporations and individuals must critically examine the impact of their products and behaviour on the environment and society. This results in an avalanche of information as the issue gains traction and becomes a strategic element of corporate social responsibility. From dishwashers and detergents to fast food chains and steamed fish, virtually all products now claim to be sustainable in one form or another. The dangers are clear: sustainability is at risk of becoming just another buzzword for smart marketers, making it hard for consumers to differentiate actors fully committed to effecting change from those wishing to simply boost sales. But the debate surrounding sustainability is more complex than it appears at first sight and encompasses three dimensions: environmental, social and economic. The tourism industry is no exception. 
Travelling to places far and near is one of the luxuries of the modern age, and it is here to stay. From students on a gap year touring Europe with a Eurail or Interrail pass to families flying into Switzerland on a sightseeing trip, both are guaranteed to return home with memories to last them a lifetime.
Visiting Switzerland is a dream shared by millions. Understandably so. The country is home to a wealth of mesmerising places. Some have reached iconic status, renowned for their transcendental beauty. While some of these icons are in plain sight, others are tucked away in remote places only accessible by public transport.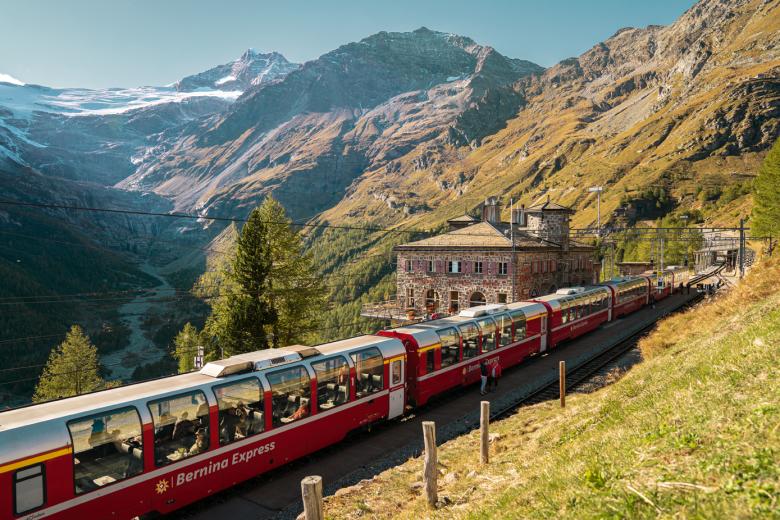 One such example is Alp Grüm in the canton of Graubünden. Situated at 2,098 metres above sea level, it is surrounded by glaciers and flora that are unique to the region. Visitors can only reach this remote site by train − no car will take them there. It lies on the Bernina Express route that's operated by the Rhaetian Railway, a train company that relies exclusively on energy from sustainable sources. Since 2013, its entire train fleet runs 100% on hydropower. 
Zermatt is another bucket list destination for anyone travelling to Switzerland. Cars have been banned there since 1963 – in the town itself, visitors will only encounter compact electric vehicles that are limited to speeds of 20 kilometres per hour. And the best way to get there is a cog railway. Of course, one can also opt for the Glacier Express. This premium panoramic train links two spectacular mountain resorts: St. Moritz and Zermatt.
All in all, Switzerland is home to eleven car-free destinations, including Zermatt, Saas-Fee, Wengen, Stoos and the Rigi. So taking the train is definitely recommended!
It's all about balance.
But how can we best navigate the dilemma of travelling abroad with environmental citizenship? The desire to explore new places is as old as human existence, and travelling can lead to new insights, increased cross-cultural understanding and long-lasting connections that are invaluable. Being a mindful traveller is all about balance and, ultimately, one can go on a long-planned holiday while being aware of the impact the trip has. Besides environmental considerations, one must also think about the economic and social benefits that tourism entails. The tourism industry contributes directly to Switzerland's GDP by creating jobs, ranging from hotel staff to ski instructors and railway companies. 
Depending on where tourists come from, air travel may be unavoidable. But once in the country, they have a plethora of opportunities for getting around while minimising their environmental impact. 
The case for public transport in Switzerland is convincing: it's convenient, efficient, perfectly synchronised and, ultimately, a great way to comfortably reach one's destination while taking in the beautiful scenery. It's also one of the most climate-friendly ways of touring the country. By design, it was constructed to move large numbers of people from place to place as efficiently as possible. In 2019, the Swiss Federal Railways recorded around 1.32 million passengers per day on average (sbb.ch), be it commuters or tourists. And the beautiful panorama is included in the price of the ticket.
Switzerland boasts the world's densest public transport network. As an organisation, Swiss Travel System represents the collective interests of public transport companies in Switzerland. It encourages visitors to experience the virtues of Swiss public transport and as a result also promotes travel by train, bus and boat around the world. The Swiss Travel Pass is the ticket of choice for first-time visitors and seasoned travellers alike. It is available in versions valid for 3, 4, 6, 8 or 15 days. Holders benefit from unlimited travel on Swiss public transport for as long as their chosen pass is valid. This includes travel by train, bus and boat and extends to the popular panoramic trains. It also doubles as a museum pass, granting pass holders complementary access to over 500 museums in Switzerland. Moreover, travellers enjoy a discount on most mountain railways of up to 50%.
Stay longer, experience more.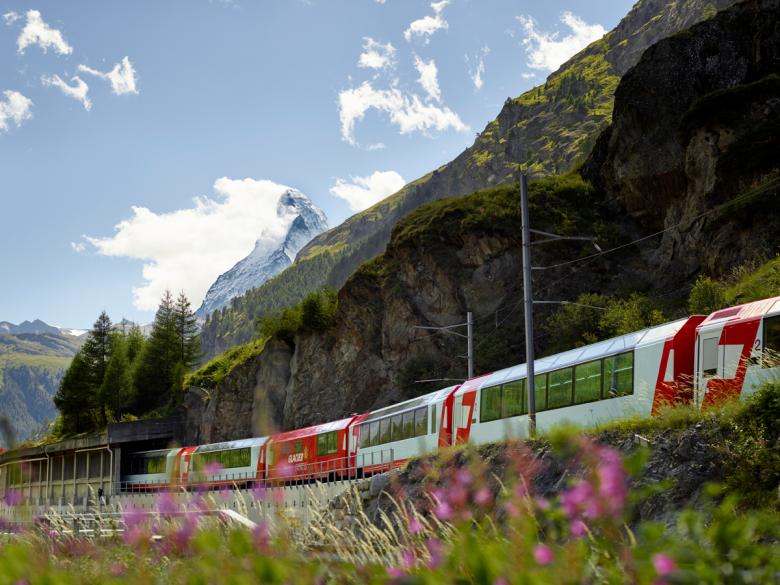 The issue of environmental citizenship has gained traction in recent years and many consumers are increasingly demanding a broader range of travel options that align with their values.
Switzerland is consistently ranked as one of the world's most sustainable nations. However, surveys also show that many travellers and even industry experts are not yet fully aware of this to date. Raising visibility and creating novel sustainable travel packages is thus one of the principal challenges of Switzerland's tourism industry. Switzerland Tourism has tackled this by creating a label called "Swisstainable". It aims to draw attention to the plethora of existing sustainable travel, accommodation, and experience options in Switzerland. One aspect concerns mobility within the country, and this is where the Swiss Travel System comes in. In its mission statement, Swiss Travel System expresses its aim of making sure that every visitor can conveniently use train, bus and boat to reach their destination in Switzerland.
The Swiss Travel System is an attractive option for all those who don't want to miss out on the top attractions while planning their itinerary and means of transport in an environmentally friendly manner.
Individual travellers from abroad have discovered 'slow travel' as an alternative to the shorter trips, with their drawbacks. That's why the 15-day Swiss Travel Pass, also available in a flex version, is ideal for them. It was designed to give visitors the opportunity to discover Switzerland in-depth and to give them maximum flexibility. Hence, it considers all three aspects that contribute to our understanding of sustainability: the social, environmental and economic pillars.
What type of traveller are you? 
The facts speak for themselves: according to the Association of Public Transport in Switzerland, even electric cars emit up to 13 times more carbon dioxide than a comparable trip by train. The difference here is even greater between trains and non-electric cars; trains emit up to 27 times less carbon dioxide. Overall, when considering the total amount of carbon dioxide emitted by all forms of transport, trains account for just 0.2 per cent. Therefore, visitors to Switzerland can make a conscious choice and reduce their impact on the environment by choosing to traverse the country by public transport (Verband öffentlicher Verkehr, Litra). 
But how can those interested reliably measure their impact on the environment? Swiss Federal Railways offers a handy calculator that allows you to calculate your environmental impact. The graph below illustrates how much carbon dioxide you can avoid emitting by taking the train from Zurich to Bern instead of driving: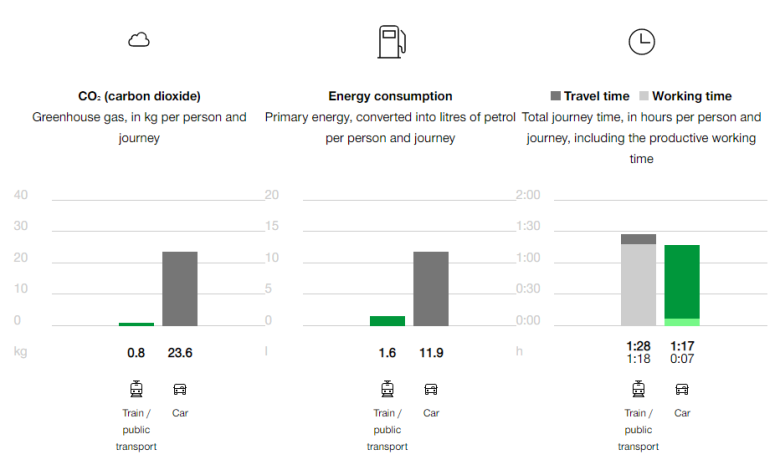 A changing industry.
In Switzerland, the era of coal-powered locomotives is a thing of the past. Since the first Swiss railway in 1847, Swiss public transport has made great strides to lessen its environmental impact. For example, 90 per cent of the power needed to operate Swiss Federal Railways (SBB) trains stems from renewable energy sources. This figure is projected to reach 100% by the year 2025. SBB has also committed itself to becoming carbon-neutral by 2050 and implemented numerous energy-saving measures. Through an 'adaptive control' system, train drivers can avoid unplanned stops at halt signals and drive in a more environmentally friendly way, for example. 
In 2021, SBB launched a pilot project allowing it to adapt its power needs in a more flexible way. It is best illustrated by taking a look at the synchronised timetable that was first introduced in 1982. This ingenious innovation, once considered impossible, reduces the travel time between major cities in Switzerland such as Zurich and Berne to under an hour. The schedule is set up in such a way that trains arrive and depart at the same time before and after the hour. This system ensures a consistent timetable and smooth connections along the Swiss Travel System. However, it also means that energy demand is particularly high during peak times when most trains leave the station within the same time window. Heating the tracks and train cars requires additional energy. This is where special software comes in. It pauses the heating of tracks and train cars when energy demand is at its highest, which helps to alleviate the situation. For this pilot project, SBB received the prestigious Watt d'Or award from the Federal Ministry of Energy in 2022. 
As mentioned earlier, Rhaetian Railways' energy footprint is even more impressive, with its trains running entirely on hydropower. In addition, its energy-related sustainability on trains and at railway stations is being improved on an ongoing basis, be it through CO2-minimised external air controls, renewable energy for heating or modern recycling concepts.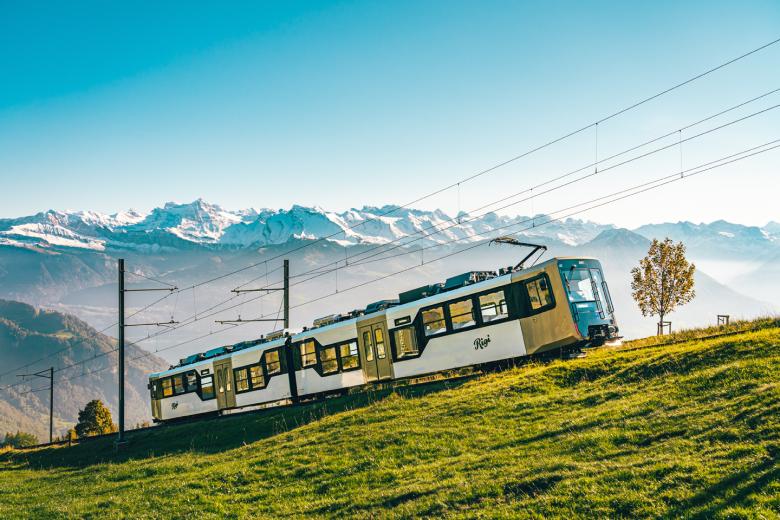 Many of Switzerland's mountain railways were constructed at the turn of the 20th century. They contributed to the popularity of Alpine tourism and allowed people to visit places that were previously hard to access. Nowadays, many of these mountain railways have replaced their rolling stock to make operating them more energy efficient. Take Rigi Railways, for example. In 2022, it partly replaced its fleet with the latest-generation models. These return the brake energy generated on the way back to the power grid, where it can then be used to power the cars on their ascent to the summit. Other railways have also implemented this smart idea. 
Other providers rely on solar power to meet their energy needs, such as the cableway Staubern. It is the world's first battery-powered cableway that leads to the summit by relying exclusively on solar energy. It is worth noting that it not only produces energy but also stores it, so evening rides pose no problem whatsoever. In addition, the track cables of both gondolas have built-in wiring that supplies the nearby mountain restaurant with power.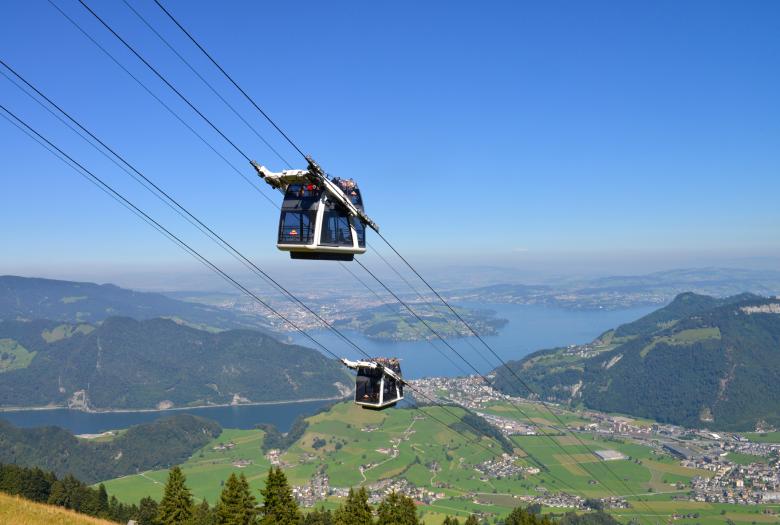 Mount Stanserhorn is another popular excursion for travellers and a prime example of energy conservation. The experience consists of a cog railway built in 1893 and a ride on the modern CabriO, a cableway that takes visitors from the mid-station to the top. It has also made sustainability a priority: the power stems from renewable resources, and large solar panels generate enough energy to run the restaurant.
Boats are often overlooked when talking about the Swiss Travel System. But just as trains and buses, they play an important role in the public transport network. The MS Diamond on Lake Lucerne is Switzerland's first vessel powered exclusively by electricity. This impressive development is expected to inspire others going forward. 
Whichever way you look at it, public transport in Switzerland is the perfect way to explore the beautiful country. Frequent connections ensure that travellers can reach tourist hotspots as well as remote villages in no time. They guarantee a seamless travel experience and offer stunning views along the way. For travellers inspired by the saying "Leave nothing but footprints, take nothing but memories", the Swiss Travel System is the way to go. 
Other recent stories from this category