Switzerland's forests – iconic, distinct and economically vital
Colourful, autumnal forests and pinewoods covered in snow are just as typical of the Swiss landscape as its famous mountains. And they have a variety of functions – providing protection from natural hazards, a supply of raw materials, a habitat for animals and a recreational area for people to enjoy. Let's take a closer look.
In the past, authors tended to describe woods and forests in the same way – mysterious and, sometimes, even terrifying. For a long time they were seen as home to the supernatural and a place of exile for undesirables. But as the centuries passed, this fear turned into appreciation. For many people today, woodlands represent a place for recreation – somewhere to hike, bike, go horse riding, jogging or pick mushrooms.
Providing both a natural habitat and protection
Switzerland's woods and forests are a defining feature of its landscape. They cover more than one third of the country's surface area and grow by the size of Lake Thun every year. One of the reasons for this is Switzerland's tough forest law, which stipulates that woodlands must be preserved and distributed regionally. This is necessary because Switzerland's woods and forests protect villages and roads from avalanches, mudslides and rockfalls. In fact, fifty per cent of the country's wooded areas have this protective function. The national forest law also ensures that Swiss woodlands are able to regenerate by themselves – without the use of fertilisers or plantations. This creates woods and forests that can serve as important natural habitats for numerous animals and plant types – more than a third of which in Switzerland live in the country's woodlands.
High-quality building material
In addition, Switzerland's woods and forests provide high-quality building materials. Europe's oldest timber house, built in 1287, can be found in the canton of Schwyz. Switzerland continues to provide raw materials from its woodlands, in particular for construction and energy production. Softwood is in high demand and accounts for two thirds of the logging in Switzerland. It is relatively pliable, which makes it easy to work with, and is in ready supply. But climate change is causing these trees – the pine in particular, which is the main species in Switzerland – the most trouble. In order to escape the rising temperatures, these trees are moving to higher and shadier ground, and they are dwindling in number.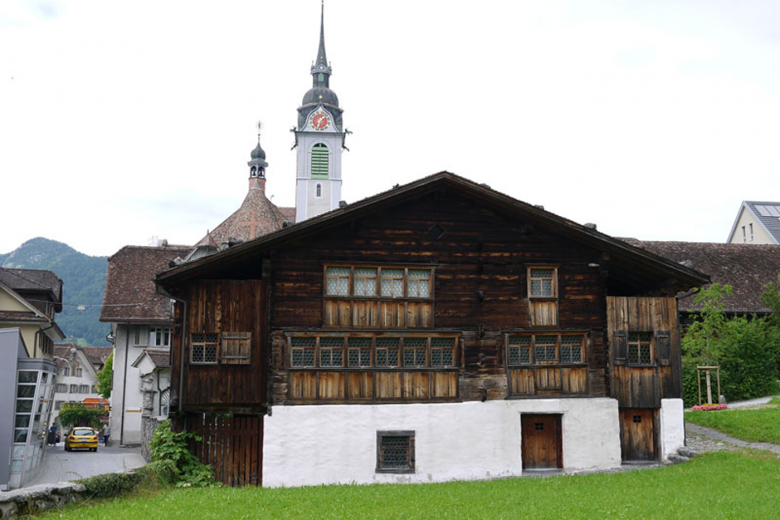 Fostering sustainability
Switzerland is increasingly encouraging the use of timber from its indigenous trees. In 2014, Fribourg became the first canton to legally commit itself to supporting the use of timber in public construction. Cantonal regulations foresee the use of timber for construction from the canton's indigenous woods wherever possible. An example of this is the newly-built school in Vaulruz, which was completed in 2016 and was built almost entirely out of local pine and beechwood.
The canton of Schwyz came up with an innovative wooden tower in the nature reserve and wildlife park in Goldau in 2016. Designed by Graubünden-born architect Gion A. Caminada, the tower is nine storeys high and consists of 350 cubic metres of timber from the region, mainly fir. The project both bolstered the regional value chain and helped preserve the local protection forest. In September, the tower was presented with the Prix Lignum's special 'Swiss timber' award –  an award that is made every three years for the most visionary and innovative use of timber in Switzerland.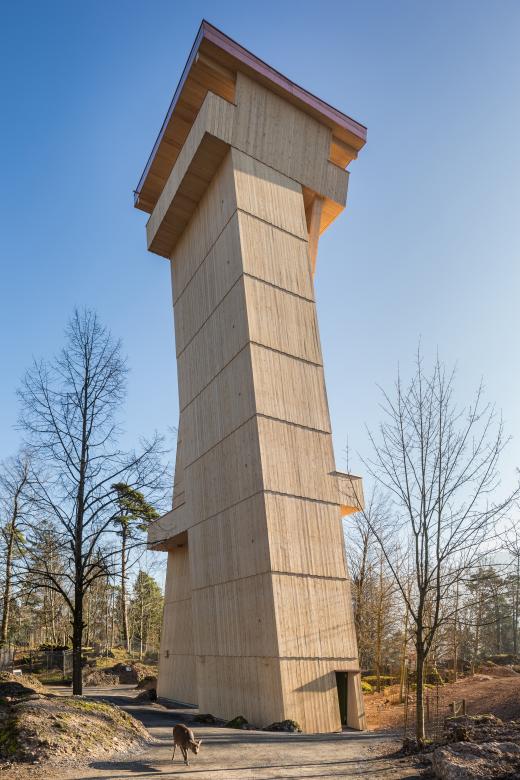 Wood is a renewable – i.e. sustainable – resource. Using indigenous timber also reduces transportation and the amount of grey energy involved. Processing the timber is CO2 neutral. If other conventional materials used for construction and producing energy were replaced with wood, Switzerland could lower its annual CO2 emissions by two to three million tonnes. The Swiss timber industry employs more than 82,000 people and manufactures high-quality finished and semi-finished products. There are also additional jobs linked to other areas of forest use.
Wooden art
Twenty life-size statues of prominent Swiss public figures carved out of different types of indigenous wood were used recently to raise public awareness about the importance of indigenous timber. The #WOODVETIA campaign to promote greater reliance on Swiss timber was launched in 2017 by the Federal Office for the Environment together with the Swiss forestry and timber industry. The aim of the campaign is to raise public awareness and encourage people to buy more products made from Swiss timber. The Swiss forestry authorities also focus on indigenous firs for the yearly trade in Christmas trees in order to promote sustainable and eco-friendly production. Each year 150,000 Christmas trees worth CHF 5 million are cut down in Switzerland.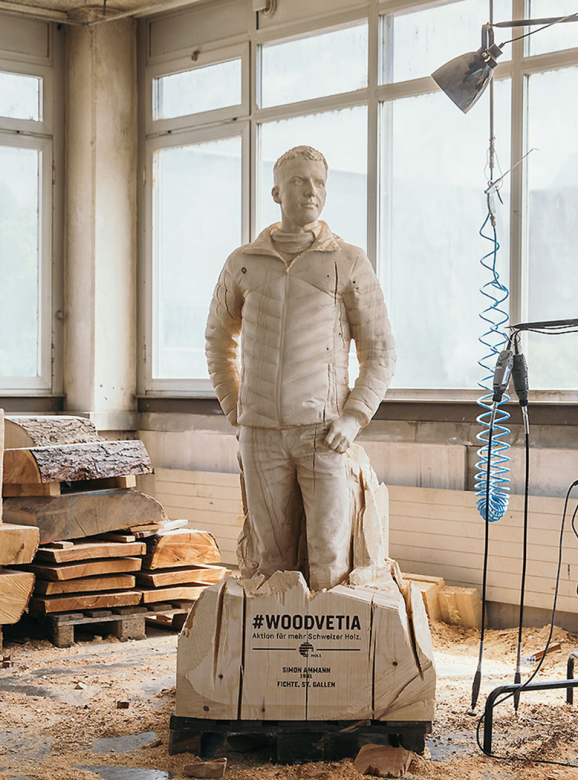 Swiss wood isn't just for buildings and artwork though – it's also used to make practical everyday objects, like pencils! The Swiss company Caran D'Ache gives its writing instruments an individual, local touch by using wood typical of the different regions – such as Swiss pine from Graubünden, beech from Jura and pine from the Alps.