7 Swiss works that have left their mark on art history
Switzerland has produced a wealth of artists and designers, making it hard to choose from the abundance of artistic creations on offer. Let's take a look at our – inevitably subjective – choice of seven Swiss works that have left their mark on the history of art.
Tête dada by Sophie Taeuber-Arp
Did you know that Dadaism was born in Switzerland, in Zurich to be precise? The Dada movement emerged from a group of designers, writers and musicians in opposition to the ideas being propagated during the First World War. Their motto: to wipe the slate clean and pursue total freedom in the creative act. One of Dada's leading figures was a woman, Sophie Taeuber-Arp. Originally from Davos, Taeuber-Arp used geometric compositions and tried to incorporate abstract art into daily life. In 1918 she began making her first 'Dada heads', a major contribution to Dadaism. The most famous is her Tête dada created in 1920, which includes a title, date and the artist's signature. The piece is considered to be a proclamation of the Dada movement and confirmation of Taeuber-Arp's membership.
L'homme qui marche by Alberto Giacometti
Alberto Giacometti, one of the 20th century's most compelling artists famous for his sculptures of long-limbed figures, needs little introduction.  Born in 1901 in Borgonovo in the canton of Graubünden, Giacometti experimented with different styles before moving towards surrealism just before his 30th birthday. Although rubbing shoulders with the likes of Miro, Aragon, Breton and Dali at the start of his career, he was rejected by the surrealists in 1935. By 1945, Giacometti had developed the style that was to make him a household name with his elongated representations of the human form. The first version of L'homme qui marche was created in 1947, but it is the 1960 version that is best known today. In May 2015, it also became the most expensive sculpture of all time when it was sold for more than 141 million dollars at a Christie's auction in New York.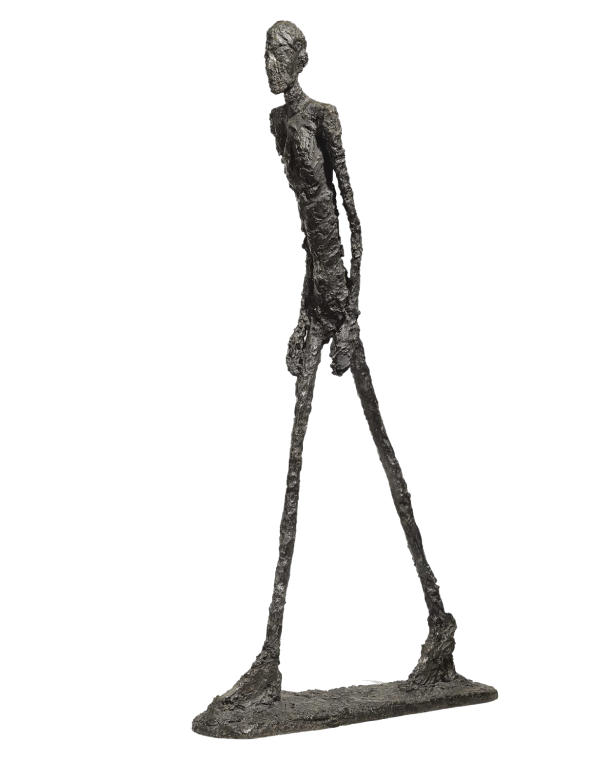 The creature in Alien by Hans Ruedi Giger
This versatile master of Fantastic Realism excels in a range of styles to execute his works: be it as visual artist, sculptor, designer, illustrator or graphic designer. HR Giger is best known for his 'Alien' creation, which won him an Oscar in 1980 when its cinematographic namesake came out the year before, and for his 'biomechanical' universe linking humans and machines together. His signature book, Necronomicon (1977), is considered to be a masterpiece of this genre and led to Giger's collaboration with the British director of a number of blockbusters, Ridley Scott, on the first Alien film in the series. In 1998, Giger's works were brought under one roof in a museum named after him in the medieval city of Gruyères in the canton of Fribourg. Visitors to the museum can admire a number of his impressive creations before rounding up their visit with a drink at the HR Giger Bar.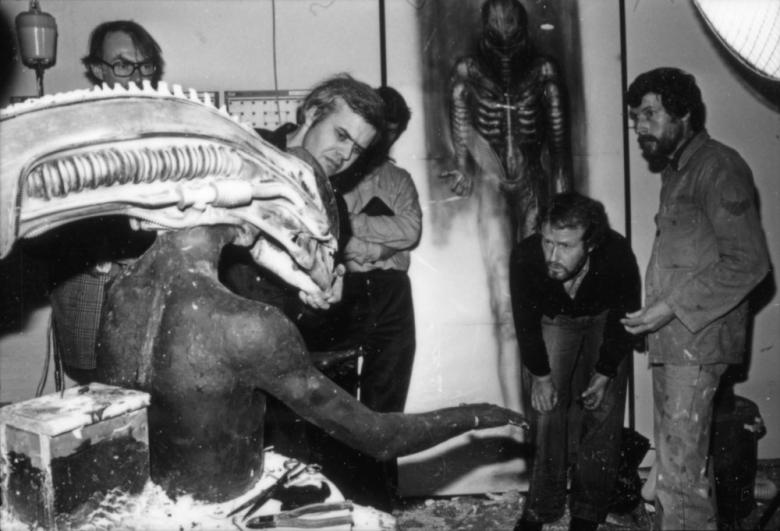 Métamatics by Jean Tinguely
Born in Fribourg in 1925, Jean Tinguely showed an early interest in the relationship between art and mechanics with the idea of creating animated works of art. By the time he turned 30, Tinguely was creating moving objects that he categorised under the name 'Métamatics' – engines activating objects to make specific movements. These first creations spurred Tinguely on to develop mechanised drawing machines usually made out of wood, metal and rubber: his self-drawing motor-drive Métamatics. Meta-Matic n°14 (1959) is one of the more famous ones, known for its portability and the fact that it has to be operated manually. It is displayed at the Tinguely Museum in Basel together with other creations from the artist's mechanical universe.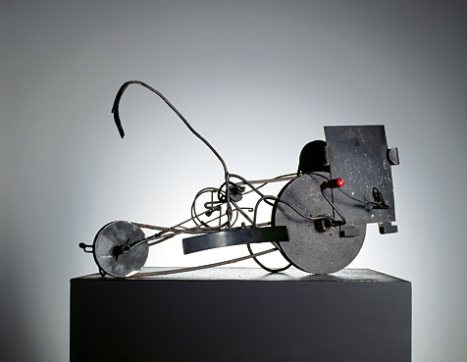 Ta Panta Rei, the UN mural by Hans Erni
Ta Panta Rei is the name given to the monumental mural that was created by Hans Erni and inaugurated at the Palais des Nations in Geneva in 2009. The ceramic mural took one year to complete. It aims to promote peace between peoples and nations, and conveys the decades-long commitment of the artist to producing artwork in the name of peace. Indeed, Erni was unanimously awarded the UN Peace Medal in 1983 in recognition of his outstanding work.  Although Erni is best known for his murals, he also created a number of sculptures and engravings. Visitors to the Hans Erni Museum, which was opened in his home town Lucerne in 1979, can see around 300 works by the artist and follow the evolution of his work spanning close to seven decades! Erni died in 2015 at the age of 106 and is without doubt one of Switzerland's most famous and cherished artists.  
Le Cloisonné de Théâtre by Aloïse Corbaz
What is Art Brut, a term coined by French painter Jean Dubuffet in 1945 which is described in English as 'outsider art'? The label covers artworks that are created in an unsophisticated style by artists who work spontaneously, without any cultural claims or intellectual aspirations. When Dubuffet met Lausanne-born Aloïse Corbaz in 1947, his interest in her work led him to include her drawings in a collection dedicated to outsider art, which can be seen today in the Collection de l'art brut in the Museum of Lausanne. Cloisonné de théâtre (1951) is Corbaz's most impressive creation. The 14 metre-long drawing composed on several pieces of paper sewn together is covered in flower rubbings and colourful strokes of crayon and chalk – a mix of techniques that create this outstanding piece of artwork.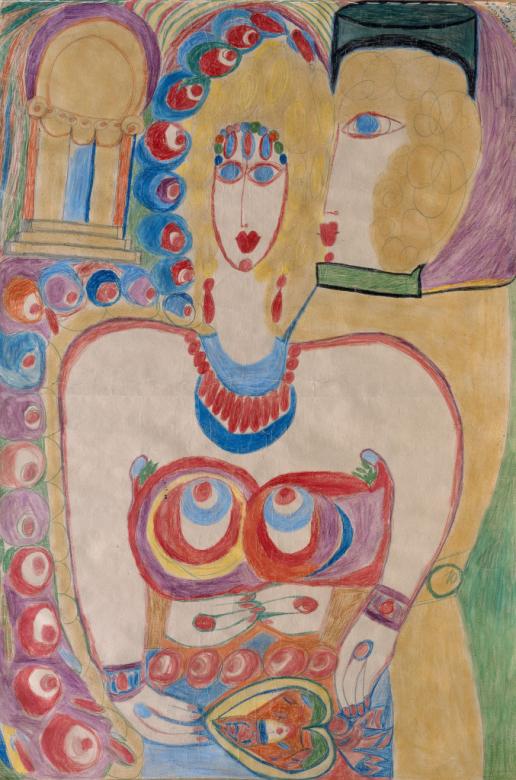 La légende de Saint Adolf by Adolf Wölfli
Just try to imagine a 25,000-page biography, 1,300 drawings and 44 exercise books: all overflowing with a calligraphic penmanship that combines a variety of styles to create barbarisms, play with overlapping letters and exploit the use of onomatopoeia! This is the incredible world of Adolf Wölfli, a Bernese artist born in 1864 whose work is also considered a testament to Art Brut.  The remarkable number of works he created over 30 years makes up one of the most important collections of this post-war movement. Wölfli's main works can be seen at the Museum of Fine Arts in Bern, and there are also samples at the Collection de l'art brut in Lausanne and at the LaM Museum in Villeneuve d'Ascq, France.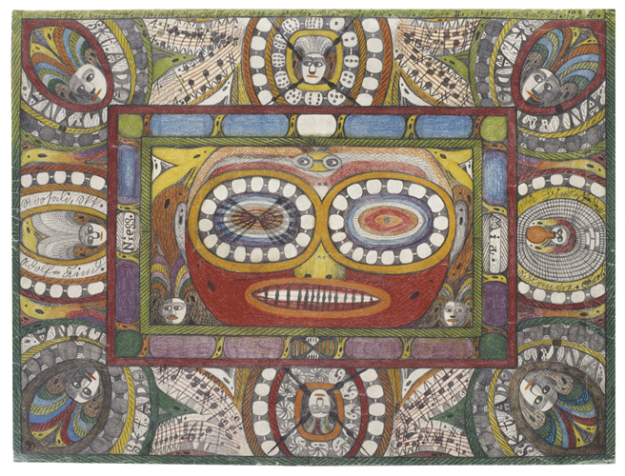 Other recent stories from this category