The Swiss mountaineer who conquered the Himalayas
Known as the '88,000 lady' among the mountaineering cognoscenti, Sophie Lavaud is the first Swiss woman to have climbed eleven peaks of over 8,000 metres in the Himalayas. Quite a topical achievement, as mountaineering was added to UNESCO's list of Intangible World Heritage in December 2019. Portrait of an astonishing woman at the top of her game.
Sophie Lavaud was born in Lausanne and grew up between Milan and Haute-Savoie. The mountains were part of her life from a very young age, thanks to her parents' chalet in Chamonix. "My dad would take us up to the mountains when I was small. I learnt to ski around the same time I learnt to dance – at the age of four," she says. Lavaud is Swiss, but also has French and Canadian nationalities. As a child, she dreamt of a career in ballet. "Peritonitis and back problems forced me to give it up. I had to wear an orthopaedic corset for a year. Then when I was ready to go back to it, I had fallen too far behind to make a career of it." After obtaining her science baccalaureate, she began studies in international business. Her professional career kicked off in a luxury hotel, where she rose through the ranks to become sales and marketing manager. After 12 years, she first branched off into cosmetics and then subsequently set up her own business organising events in the financial sector with her brother. By then she was already spending all of her holidays in the mountains. "I got my hard work ethic from my mother – a lifelong trekking enthusiast. She's the one who inspired me to take it up a notch, even higher than the Alps," she says. In 2004, she scaled Mont Blanc, the highest Alpine peak at 4,810 metres. Up at the summit, she had a revelation: she wanted to go higher.
Destination 8,000 metres 
She then felt the urge to look beyond Europe for her climbing holidays. South America became her playground, where she worked her way up to peaks of 7,000 metres.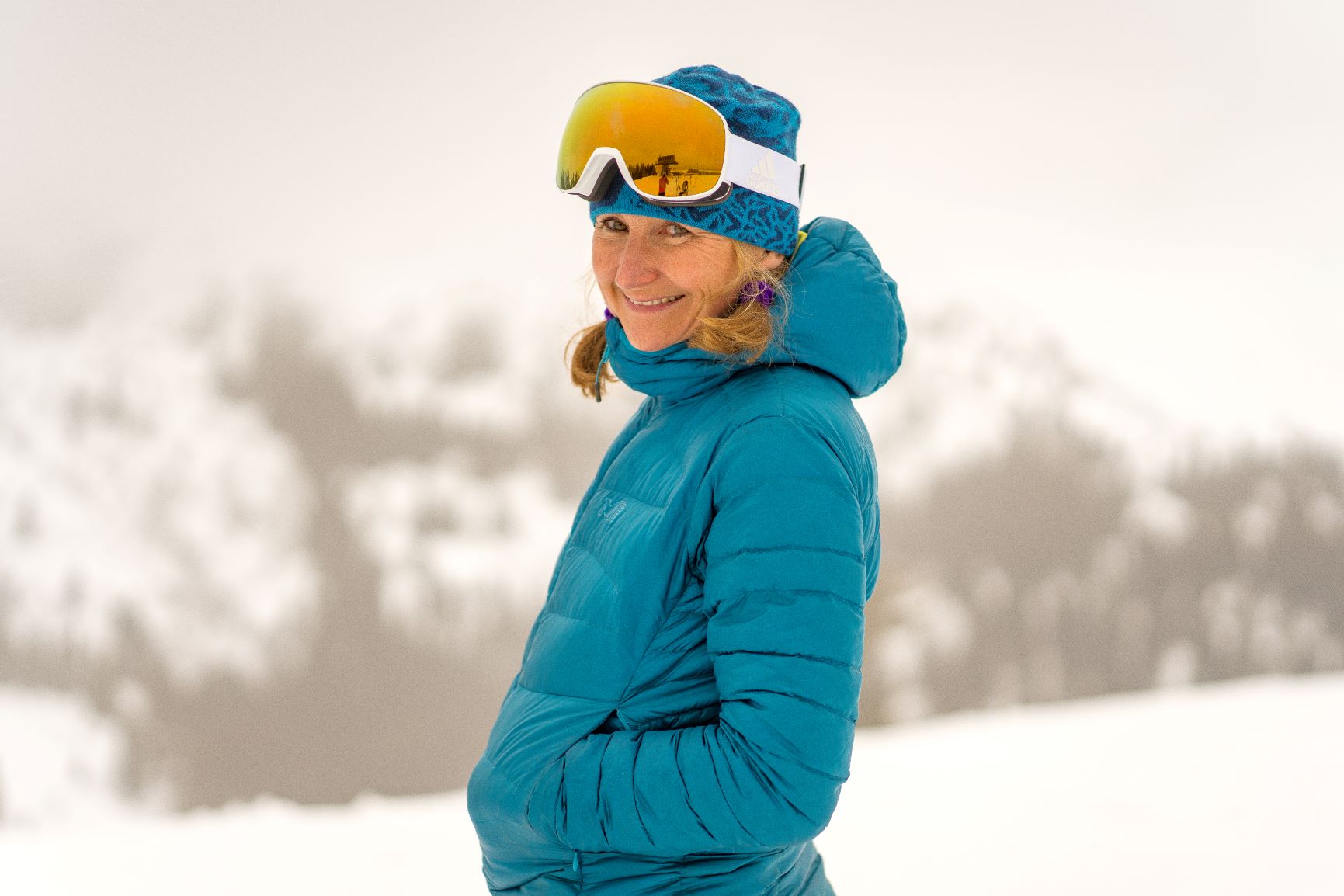 The financial crash of 2008 hit her company hard, and Sophie Lavaud set her sights still higher. In 2012, she took part in her first expedition to the Himalayas at over 8,000 metres. A Swiss agency organised the trip, with the aim of scaling Shishapangma, a Tibetan peak of 8,027 metres. "It takes at least two months to prepare for such a trip. And since my brother and I had folded our business, I finally had time to do it," she explains. A period of acclimatisation is essential for the body to withstand such an effort. "Climbing in the Himalayas is quite particular. The major difficulty is functioning in a low-oxygen environment. When you climb above 7,500 metres you enter the 'death zone'. At such altitudes everything is harder; the mountain will always be stronger than you. Scaling these great peaks is unlike any other climb: you need to devote yourself entirely to them for weeks and weeks." 
Over the first few days of the trip, Lavaud got to know the other members of the expedition. After seeing to various administrative procedures, such as obtaining a climbing permit and depositing money to cover the costs of a potential helicopter rescue*, the team of 20 or so set up base camp at 5,700 metres for an acclimatisation phase. At first, Lavaud (51) found her body struggled to adapt, which forced her to stay in the camp for several days. In her rucksack, she had taken along some dried meat and Swiss chocolate. "I was so looking forward to enjoying my chocolate, but all I could find was the wrapper. That was when I discovered that rodents can live at such high altitudes! Needless to say, I don't take chocolate with me on expeditions any more! " she adds, wryly. "After several weeks of acclimatisation and a first attempt that we were forced to abandon because of the weather, we finally reached the summit – gaining 700 metres in altitude in just eleven hours! " Eleven days later, she conquered another peak – this time Cho Oyu. 
Lavaud's sights set on 14 peaks 
Since then, Sophie Lavaud has conquered nine other Himalayan peaks – including Everest – in Tibet, Nepal and Pakistan. She has now become the most accomplished female Swiss mountaineer and the only one to have climbed K2, Annapurna I and Kangchenjunga. "Reaching the summit is the main attraction for me. But to get there you have to respect the mountains, enjoy the lifestyle at base camp and like being in far-off lands. You need to have a taste for adventure and you have to be willing to wait until the weather is just right. Patience and self-sacrifice are key if you want to succeed," she adds. 

When she is back in Europe, she regularly gives lectures on her travels. In addition to fundraising from sponsors, this enables her to finance her trips, to which she has been devoting most of her time since 2014. "I do the fundraising on my own, but for my expeditions I'm always surrounded by a team. Dawa Sangay Sherpa, her fellow Nepalese adventurer, and meteorologist Yan Giezendanner from Chamonix are her two trusted partners.
In my experience, leaders don't get very far on their own – they need a team to succeed. I'm no prima donna – I'm a team player, and I know it's the complementarity of each person's particular skills that will get us to the top," says Lavaud, who is also an ambassador for the NGO Terre des hommes and a company specialising in search and rescue for avalanche victims. "These two roles are important to me because they allow me to contribute to the training of people in Nepal – a country that I consider my second home after Switzerland." In the spring of 2020, Lavaud will return to Nepal to attempt to climb Dhaulagiri, Nanga Parbat and Lhotse, the last 8,000-metre peaks of the Himalayas that are still missing from her list of achievements. If she succeeds, this will make her the fourth woman in the world to have climbed all 14 of the 8,000-metre peaks of our planet.
*Many Nepalese helicopter pilots received their training in Switzerland from Air Zermatt.
Other recent stories from this category