Jacques Dubochet, Nobel Laureate
Swiss biophysicist Jacques Dubochet, 75, has being doing volunteer work since he retired. He intends to take advantage of his sudden fame to raise awareness of issues he cares deeply about, like migration and climate change.
As 10 December looms near, what the chemistry Nobel laureate and his family are most worried about is what they are going to wear for the award ceremony in Stockholm. "My daughter thinks that having to get all dolled up like that is tacky. These are our biggest concerns," jokes Dubochet at the other end of the line. All is well, in other words. The media whirlwind the 28th Swiss Nobel laureate has experienced since the prize was announced on 4 October has not dulled his sense of humour.
The day after the announcement, Jacques Dubochet's rather unorthodox CV raised smiles around the world: "October 1941: Conceived by optimistic parents; 1946: No longer scared of the dark, because the sun comes back; it was Copernicus who explained this; 1955: First official dyslexic in the canton of Vaud – this permitted being bad at everything … and to understand those with difficulties." "The fact that my CV created such a buzz shows that our society encourages a lack of creativity," notes Professor Dubochet impishly.
"I've always needed to understand things"
Humour aside, let's take a closer look at his career. Born in 1942 in Aigle, in the canton of Vaud, Jacques Dubochet spent a good part of his childhood in the canton of Valais, in a milieu where Protestantism was an important part of life. His father, an engineer, built dams. His mother, who had a literary bent, dedicated herself to the four children. She was convinced that their third child would one day win the Nobel Prize. At the age of 12, Jacques was making telescopes in school while his classmates carved peanut bowls out of pieces of wood... "I've always needed to understand how things work to make my way through life. It's as essential as eating," he explains.
Jacques Dubochet studied physics at the Polytechnical School of the University Lausanne, the predecessor of the Swiss Federal Institute of Technology in Lausanne (EPFL). He then went to the University of Geneva, where he studied DNA electron microscopy, which was to remain his main field of specialisation. He wrote his doctoral thesis in biophysics at the universities of Geneva and Basel under the supervision of Professor Eduard Kellenberger. In 1987, he was appointed professor in the Department of Ultrastructural Analysis at the University of Lausanne and director of the Electron Microscopy Centre. From 1998 to 2002, he was head of the university's Biology Department. "I'm a physicist, but instead of looking at the stars, I've looked at atoms," notes the Nobel laureate. 
Jacques Dubochet was awarded the Nobel Prize for Chemistry jointly with his American colleague Joachim Frank and his British colleague Richard Henderson for their work on electron cryo-microscopy. Their achievement, in layman's terms, was to develop a technology that allows scientists to examine biomolecular samples under a microscope without having them dry out or lose their natural structure. Their technique consists in vitrifying the water in the samples, i.e. freezing them so quickly that they do not have the time to crystallise. 
What does being a Nobel Prize winner feel like? "From now on, whenever I open my mouth on any subject people will listen to me, just because I am a Nobel Prize winner. I have to be careful not to let it get to my head." Although he is very much aware of this risk, Jacques Dubochet also wants to take advantage of his position to raise awareness of issues he cares about, starting with migration, climate change and knowledge, "the paramount common good" which, he maintains, must be protected from misappropriation.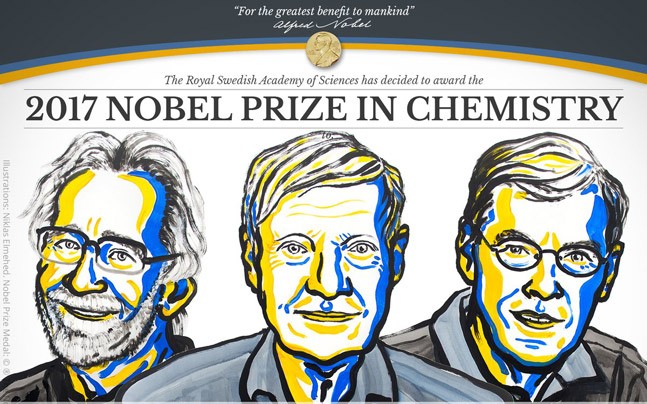 Engaged citizen
A member of the Vaud Socialist Party, Jacques Dubochet has always been a very engaged citizen. At the height of the May 1968 student movement, he was arrested for climbing a pole and putting up posters protesting against the Geneva Motor Show, as he recalled in an interview for the Swiss television programme Pardonnez-moi. Since his retirement, he has been teaching mathematics to young migrants.
He thinks that "the world is not doing enough" to address the issues of migration and climate change: "We must find a way to live together because we are all facing the same problems. The C02 that is harming us is a threat to the entire planet."
The Nobel laureate is well aware of the advantages he has enjoyed in Switzerland. "Yesterday morning I was tutoring a 19-year-old from Afghanistan in maths. It was really hard. This young man never had the basic educational opportunities that made it possible for me to win the Nobel Prize. He would have wanted to be an astronaut. It's all over for him as far as that's concerned." Jacques Dubochet is full of praise for the resources that are allocated for research in Switzerland, but warns against the temptation to restrict the independence of researchers: "I have personally enjoyed an unusual degree of creative freedom throughout my career. It's a value that must be defended."
Since the Nobel Prize was announced, Jacques Dubochet has not yet updated his CV. What is he planning to write? "I haven't given it any thought yet. I'll have to come up with something humorous. Can you suggest something?" Why not? "2017, my mother was right."
Jacques Dubochet's CV on the University of Lausanne website 
Press Release: The Nobel Prize in Chemistry 2017 
Pardonnez-moi, Jacques Dubochet interview with the Swiss television service RTS