Reaping the fruits of success
Swapping her business suit for an apron, Sofia de Meyer abandoned her career at a corporate law firm in London and founded an eco-responsible juice company in Switzerland. This is the remarkable story of a Swiss woman who has made a success of more than one business idea.
For seven years Sofia de Meyer travelled the world, brokering colossal contracts for some of the biggest names in international business, before deciding to return to her roots and the lure of nature. Today she is the managing director of Opaline, a drinks company in the canton of Valais producing juices and soft drinks from local fruit and vegetables. This is the life she has chosen – one that allows her to remain true to herself.
How it all began
Softly spoken and an attentive listener, Sofia de Meyer exudes an aura of serenity and composure as she recounts the various stages of her life. This is clearly a woman at ease with herself. Since 2009, de Meyer has managed Opaline, which produces local, eco-responsible beverages with a unique business model: creating value along the entire production chain, with responsible management of both human and environmental resources. This approach – based on her personal convictions – is paying off: since 2017 Opaline has sold over a million bottles a year.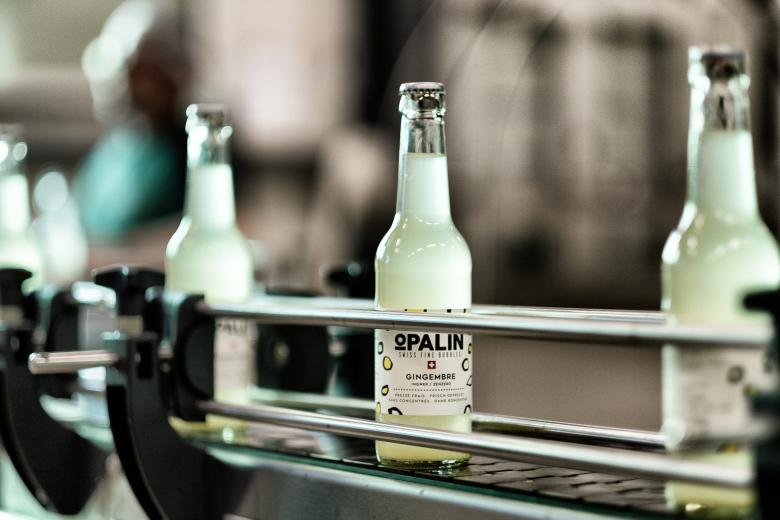 Born in Fribourg, Sofia de Meyer grew up in Villars-sur-Ollon in the canton of Vaud, where her family ran the private boarding school Beau Soleil. "We lived in a small mountain village and walked to school. I didn't know what I wanted to do when I grew up, but I knew that I wanted to be free and that nature would play a key role in making this happen. From an early age I needed nature to unwind," she recalls. As the seventh of nine children, she enjoyed home and school life. "It was a bit of a game. My parents ran the school and they heard every little detail about me – so I always had to be on my best behaviour," she smiles. When she was 13 she switched to a boarding school in England, finally escaping the constant scrutiny. She thrived in the English school system and decided to stay and take her A levels there. She then went on to study law at Bristol. "I had my sights on becoming a fashion designer, but that wasn't serious enough for my father. He wanted me to be a lawyer or a doctor. So I chose the law degree, mainly because it was shorter," she admits. When she was 23 she was hired by one of London's leading law firms. "I felt proud of myself. They had nearly 2,000 people working for them, 500 of them lawyers. I was in awe of the international players and their big, bold moves. I loved travelling all over the world, playing my part in realising their vision. It was an inspiring time of my life and helped me grow as a person," recounts de Meyer. For seven years she spent untold hours negotiating huge contracts in London, Chicago and Milan. "I was the only Swiss woman in the firm. My colleagues nicknamed me Swissy and they all loved coming to my home country to ski and eat fondue! But all the time I was working in the City, Switzerland was still always 'home' to me. I came back whenever I could to visit my family and recharge my batteries in the countryside, in Villars. And in London I went to a lot of the Swiss embassy's events, like the Swiss national day on 1 August," she recalls.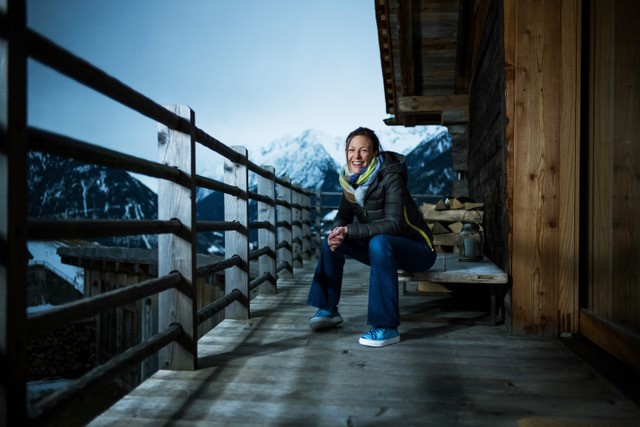 The turning point
As the years went by, life as a corporate lawyer started to lose its sparkle. "It was quite an eye-opener to see colleagues coming back to work just a week after giving birth, in fear of losing their jobs, and then having to express their milk in the toilets and courier it home," she says. "I felt like the work just wasn't really me anymore. There was no human side to it. It was all just about profit – and so I quit." Her decision caused quite a stir, and her manager even kept her job open for her for a year. But her mind was made up: at the age of 30, de Meyer returned to Switzerland without a job. "This time out gave me a chance to get back to basics. It was then I realised I needed to be in touch with nature." Once this became clear, she threw herself into her next venture: an eco-lodge resort. For this she designed and built a group of igloo-like tents in the mountains and offered guests a range of eco-tourism adventures. "I just wanted to share my enthusiasm. Then the Sunday Times ran a story about the resort and things really took off. I did that for five years. But then I felt it was time to move on and take my ideas for responsible business to another field." After selling her eco-camp business, she took a sabbatical enjoying life in the Swiss Alps. The mountain air proved beneficial on several fronts – for her love life, career and personal fulfilment – as it was during this time she met her future husband and founded Opaline, her current business venture. "I really connected to the energy of the mountains and brought it into all aspects of my life," she recounts.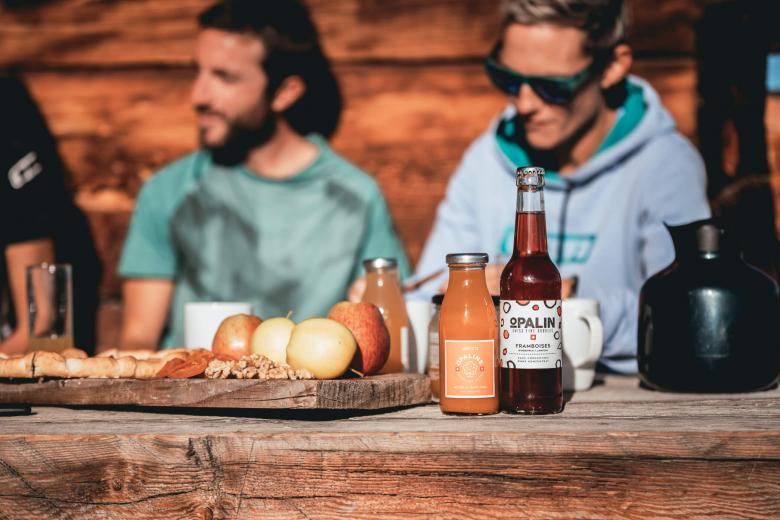 Finding fulfilment
"In my previous job, I tried to source good-quality fruit juices – locally produced juices that still had some connection to the human side. I couldn't find the products I needed so I decided to make them myself," says de Meyer. As it happened, she founded both her company and a family in Valais, a region aligned with her personal values. "In this canton, being in touch with nature is a given. Daily village life is still on a human scale, and traditions remain an important part of people's lives. I wanted my son to be able to walk to school," she adds. And in Sofia de Meyer's family, there's no question of missing out on the best of Swiss traditions. "We love chocolate, we really enjoy hiking, and every year we take part in the traditional inalpe and désalpe cow ceremonies in Val Ferret," she notes.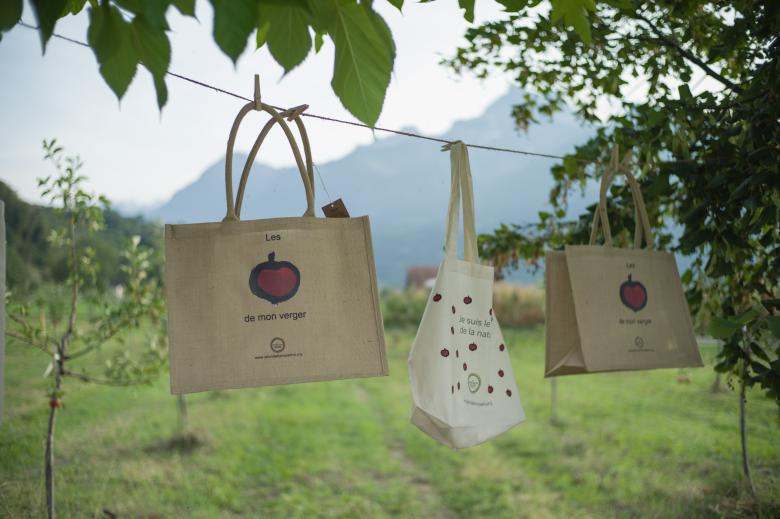 Switzerland is more than a point of reference for de Meyer: it's part of her personal success. In 2017 Opaline passed the one million mark for the number of bottles sold. Non-profit organisation B Lab has recognised the company with numerous awards. Opaline's business model is truly unique: the raw materials are sourced locally, with reasonable margins so producers receive a fair price, and the fruits and vegetables are selected for their taste rather than how they look. As an eco-responsible business, the drinks production chain is solar-powered. De Meyer runs the company like her home, with a flat organisation. Currently (the situation may change in 2020) all 12 employees receive the same salary and even have shares in the business. Sofia de Meyer is not only generous with her staff: she is also appreciative of all she gets from the land. She has chosen to express this recognition by setting up a foundation that plants fruit trees. 
When you're lucky enough to be able to buy local produce, you have to protect it to keep it going. By planting trees with some of the money we get from selling our drinks, we re-establish a direct link between ourselves and Mother Earth.
With her outstanding career, Sofia de Meyer could have reached for the stars. But this is a woman with her feet firmly on the ground – one for whom success is something to be shared. A true source of inspiration and positive energy.