Schwingen – Swiss wrestling sumo-style
300,000 spectators are expected to attend the upcoming Federal Swiss Wrestling and Alpine Festival at the end of August in Zug. Nobody can tell you more about this sport than Gabriel Yerly from Fribourg, the top wrestler from the French-speaking part of Switzerland in recent years.
It will be the sporting event of the year in Switzerland. 300,000 spectators over three days are expected at the end of August in Zug for the Federal Swiss Wrestling and Alpine Festival, an event which takes place just once every three years, and the only one where all of Switzerland's top wrestlers come together. In many ways Schwingen is to Switzerland what sumo wrestling is to Japan. But even though the rules aren't the same, both national sports embody something sacred and they share a certain mystique.  One colossal man is pitted against another in a duel as respectful as it is ruthless, though the Swiss champions are more muscular, with less body fat than the sumo wrestlers. 
At the last festival in 2016 in Estavayer-le-Lac, the arena was filled to capacity with 52,016 spectators each day. The one in Zug has space for 55,000 – far bigger than the arena of the Winegrowers' Festival. "It's always the biggest temporary arena in the world.  At Estavayer we were able to prove that in French-speaking Switzerland we were also capable of organising such a big event" says Gabriel Yerly. When it comes to Swiss wrestling, there is no one more passionate than this erudite farmer from Fribourg.
He was the vice-president of the Estavayer festival and is the greatest living wrestler in French-speaking Switzerland. From 1983 to 1992, he took part in four championships: in 1989 in Stans, in the canton of Nidwalden, he was crowned second. Historically, only Willy Lardon from the canton of Vaud did better, winning both the 1937 and 1943 championships. The festivals are held once every three years, with each of the five regional wrestling associations taking it in turn to organise the event. "It's our very own Olympic Games," says Yerly. "They don't have wrestling in shorts like this anywhere else. " 
King for life
The ultimate, almost otherworldly, honour is to be crowned king of the festival. Jörg Abderhalden from St Gallen, three-times champion in 1998, 2004 and 2007, is the most famous of all the fighters. "Once made king, you are king for life. They can never take that away from you. Any king attending a championship will always be announced. The crowd will then all get up and cheer." 
All summer, Blick – Switzerland's most popular newspaper, based in Zurich – has devoted countless spreads to the upcoming festival and its favourite fighters. Schwingen is practised almost exclusively in the German-speaking part of Switzerland. In the French-speaking part it's restricted mainly to the canton of Fribourg. "My father was a farmer", says Yerly. "I got started early at the age of nine, fighting as a junior wrestler in Gruyère. I was hooked right from the start. "
2 metres tall, weighing in at 150 kilos
In central Switzerland, Alpine pastoralists were already wrestling in the 17th century, and since that time the rules of the sport haven't changed. In the sawdust round, the wrestlers grab each other by the shorts, the goal being to trip your opponent and to pin his shoulders to the ground, which gets you a score of 10, awarded by three referees. There are some 50 different possible holds and there is no weight category. One of the favourites for Zug, Christian Stucki, is 2 metres tall and weighs in at an impressive 150 kilos. When he was at the top of his game, Gaby Yerly was around 108 kilos and 1m85, which was by no means large in this sport. "Of course, weight and strength are important, but it's often speed that makes the difference. And I was one of the quickest."
Fair play is sacrosanct
Despite the growing stakes surrounding the sport, respect for fair play remains sacrosanct. For example, the winner always cleans the sawdust off of his opponent's back. "It's quite a symbolic gesture. Schwingen has forever been done in a spirit of fair play", says Gaby Yerly. You will never see, for example, a wrestler contesting a referee's decision, even if there has been an obvious mistake, whereas this is pretty much commonplace in other sports, especially football." At Estavayer, during the last festival, a scorching heat prevailed for three days and the beer and schnapps flowed freely, but there were no incidents and no violence. "Not even outside the arena," says Yerly. "We don't come to a Schwingen festival to vent our frustration. It's a family day out where people come to enjoy themselves. The wrestling is a noble sport, virile but respectful."
A bull for the king
During the festival there are also other traditional Swiss contests going on, such as hornussen and boulder-throwing, all with the alphorn playing in the background. The festival in many ways represents the perfect picture postcard of Switzerland: idealised, rural, still attached to its traditions despite embracing modernity. "I like the atmosphere here. Everybody knows each other, and your opponent is often also a friend. None of us claim Schwingen for our own – you know, you don't need to play politics to show you love your country."
Traditionally, the king of the fight is given a bull – no cash – and advertising is prohibited inside the arena. Nonetheless, the context has changed. Estavayer's record budget of CHF 33 million is expected to be broken in Zug, where it will exceed CHF 40 million, thanks to its popularity among sponsors. Today, the kings of the fight are stars, with broadcasters scrambling to get them to appear on their shows on the German-speaking channels. The king is authorised to have sponsors during his reign, and with help from his agent can expect to earn between CHF 1.5 and 2 million in three years. In 2007, Jörg Abderhalden was named Switzerland's man of the year, ahead of a certain Roger Federer, who lest we forget had just won three Grand Slams. But thus far at least, in spite of this evolution, Schwingen has never fallen into the trap of other sports, and has retained its original values, which are held ​​so dear by the public.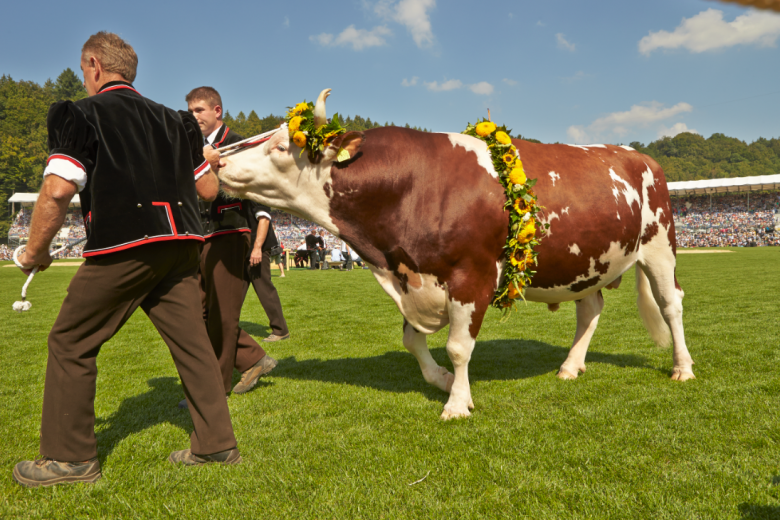 So who does Gaby Yerly think stands a chance of winning at Zug this year? "I think either Joel Wicki from Entlebuch in the canton of Lucerne, Samuel Giger from Thurgau or Armon Orlik of Graubünden, who was a finalist at Estavayer." One thing's for sure – the festival promises to be quite spectacular.