After advancing from the qualifiers to the final stages of the World Cup in 1994 (for the first time since 1966), Swiss football changed forever. Nowadays Switzerland sends its footballers off to play for England, Germany and Italy. Just a few decades ago, it was unimaginable that Swiss players would be snapped up by teams throughout Europe. From the more than 130 Swiss professional footballers spread out across the globe, around 50 are making great strides in the main European leagues. This is how a country traditionally dedicated to winter sports created a seal of quality and became one of the largest exporters of footballers in the world.
Two numbers suffice to illustrate how it is possible to go from a minor footballing nation to one that is recognised by the global purveyors of the beautiful game. 1: only Uruguay, which has a long footballing tradition and became the first world champions in 1930, exports more players per capita than Switzerland. And 5: Switzerland's rank among countries with footballers playing in the major European leagues, just behind France, Brazil, Argentina and Spain. Far outstripping countries like Italy and England. The pioneering days of Swiss football, which you can count on one hand and created, first and foremost, the heroes of the epic 1994 World Cup (Stéphane Chapuisat of Borussia Dortmund, Marc Hottiger of Newcastle, or even Adrian Knup and Ciriaco Sforza) seem very far away.
Phenomenal rankings 
There are a number of factors that help explain Switzerland's current rankings: an effective training system initiated in the 1990s, a national league that prioritises younger players, excellent collaboration between the clubs, the Swiss league and the Swiss Football Association, and successful cultural diversity... but also a change in mentality that has resulted in the exceptional performance of the national team for almost two decades and a FIFA ranking that is more than flattering.
Ranked 4th in 2017, 6th in 2018, Switzerland has never been ranked higher since 1993 (3rd) and 1994 (7th), the year Briton Roy Hodgson guided – the 'Nati' – to the World Cup. The tournament was held in the US and didn't just put an end to almost 30 years of Switzerland's absence from the World Cup, but also celebrated a golden generation of players – a talented group that proved difficult to succeed. Indeed, the 12-year period 'post-1994' heralded a new footballing dearth in the major international championships for Switzerland, which slipped to the bottom of the world rankings (83rd in 1998, which meant the Swiss team couldn't qualify for France 1998). But the Swiss Football Association didn't rest on its laurels after the adventures of the 1994 World Cup – concealed behind the apparently staggering collapse of Swiss football after America, was a brand new policy on training and professionalisation at all levels that had been initiated in the 1990s. Switzerland just had to be patient. Today, the figures speak for themselves – since 2006, Switzerland has taken part in all four World Cups and has only missed one European championship since then. Even better – it has regularly qualified for the round of 16 and most of its eliminations have come down to technicalities, like memorable penalty shootouts. This year again, Switzerland is one of the serious outsiders contending in Russia.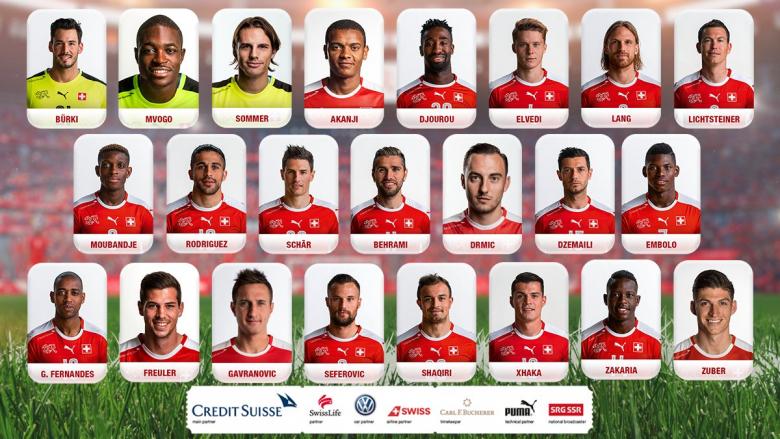 Driven by the successful training system put in place, a number of Switzerland's junior national teams have also demonstrated their potential since 2002, the year the Swiss under-17s won the European championship and the under-21s made it to the semi-finals. The rise of the Swiss juniors was substantiated conclusively in 2009, when the under-17s became world champions in Nigeria and Switzerland took its place among the countries recognised internationally for their training programmes. And another unmistakeable sign: this team included the likes of Haris Seferovic, Granit Xhaka, and Ricardo Rodriguez – Switzerland's current premier footballers who are among the 50 playing in the five main European leagues today, the first time there have ever been so many. 
A brief, non-exhaustive panorama of European football and team reviews
The Bundesliga – Germany
Germany continues to be the main country to recruit Swiss footballers. Four-times Swiss league champion during his time at FC Basel, goalkeeper Yann Sommer has established himself as a true pillar of Borussia Mönchengladbach, a club enamoured of Swiss players and coached by Lucien Favre from Vaud since his arrival in 2014. Josip Drmić is another Swiss currently under contract with Borussia Mönchengladbach. But Sommer and Drmić have been joined by some new and very young compatriots in the meantime: Nico Elvedi and Denis Zakaria, a Genevan midfielder with Congolese roots considered to be a true footballing talent. Their local rival, the legendary Borussia Dortmund – a club that will be coached from this autumn by... Lucien Favre – not only has starting goalie Roman Bürki, alternative keeper Marwin Hitz (after 10 years at Wolfsburg and Augsburg), but also the young player Manuel Akanji. Other key members of the Nati make up the starting lineup in their clubs: Gelson Fernandes (Eintracht Frankfurt), Steven Zuber (Hoffenheim), Admir Mehmedi and Renato Steffen of Wolfsburg, and Breel Embolo of Schalke 04. Making their own headway in Turkey, Portugal, England and Switzerland are Nati members Eren Derdiyok, Haris Seferović, Timm Klose, Florent Hadergjonaj, Valentin Stocker and Steve von Bergen just like the stars of yesteryear – Tranquillo Barnetta, Alexander Frei, the Degen brothers and Ludovic Magnin – who also played a number of seasons in Germany.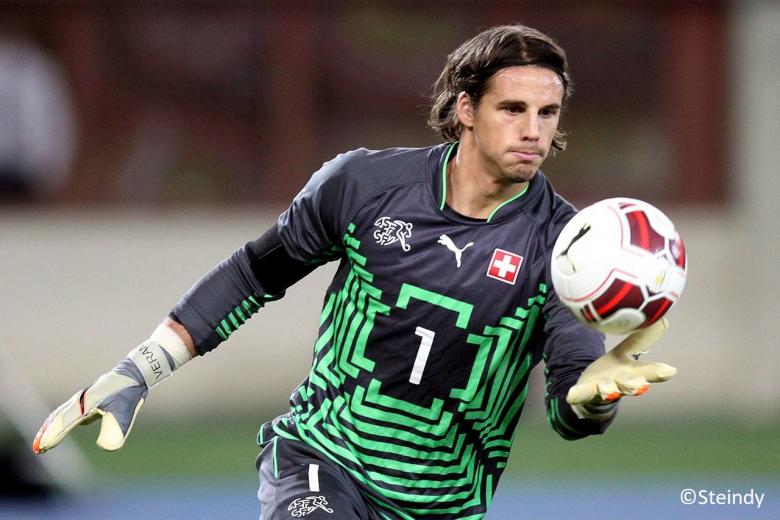 The Italian Serie A
Having earned his stripes after a long stint at Wolfsburg (Germany), Ricardo Rodríguez is now delighting the crowds at a re-emerging AC Milan. Originally from Chile, he isn't the only Swiss player in the home of football – the indefatigable right-back Stephan Lichtsteiner has just carried away his 7th Scudetto (the Italian championship title) playing for Turin's Juventus. The 34-year-old, who will this summer be celebrating his 100th selection for the Nati – of which he is captain – was one of the key elements in Juve's tremendous black and white-clad armada. These two Swiss stars have not only crossed paths with Freuler Remo (Atalanta Bergamo) and Silvan Widmer (Udinese) on many occasions, but with another pivotal figure over the last decade and a half of Swiss football: Valon Behrami. Having played for the likes of Lazio, Fiorentina, Naples (alongside Gökhan İnler and Blerim Džemaili), Watford FC in England and Hamburger SV in Germany, the Albanian player from Ticino is back in Italy, this time playing for Udinese. A key member of the Nati (he hasn't missed a match since 2007), Behrami is affectionately referred to as 'the older brother' and will also be there in Russia.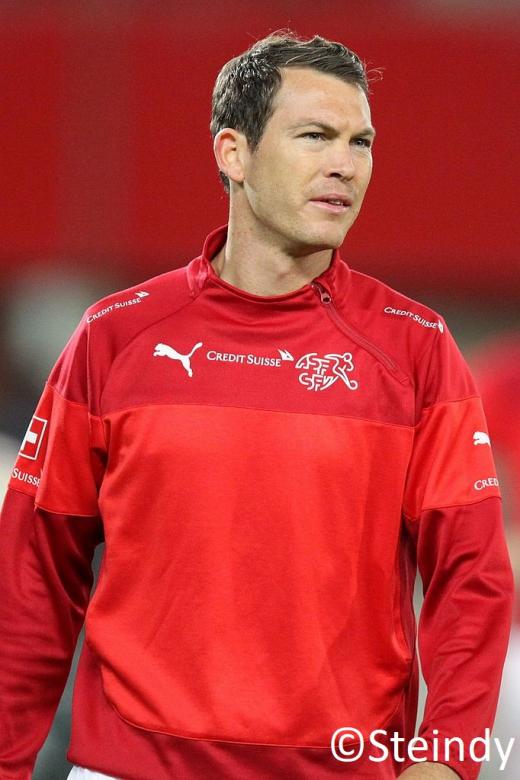 Premier League, England
Beginning his career at FC Basel before moving on to Mönchengladbach, Granit Xhaka is now maintaining the traditional Swiss presence at Arsenal. The London club has already played host to Johan Djourou (now at Antalya in Turkey) and Philippe Senderos from the French-speaking part of Switzerland, the latter making up the famous Swiss defensive block with Patrick Müller in the 2000s. Since his arrival in London in 2017, Xhaka has quickly become an integral part of the team under the command of legendary coach Arsène Wenger. Latest Arsenal news:
? Red for club, red for country ??#WillkommenStephan pic.twitter.com/bFPTe6nHgu

— Arsenal FC (@Arsenal) 5. Juni 2018
In neighbouring club West Ham, the young Sion-born Edimilson Fernandes – cousin of Gelson Fernandes – has been developing his game since his arrival in 2016. A first-team fixture for both club and country, attacker Xherdan Shaqiri has been demonstrating his skills for three seasons at Stoke City. Having played for the likes of Bayern Munich and Inter Milan, the player known as 'XS' has now had the misfortune of being relegated to the second division with his English team. But he continues to be courted by a number of large clubs, which could see the young Kosovo-born player bouncing back someday soon.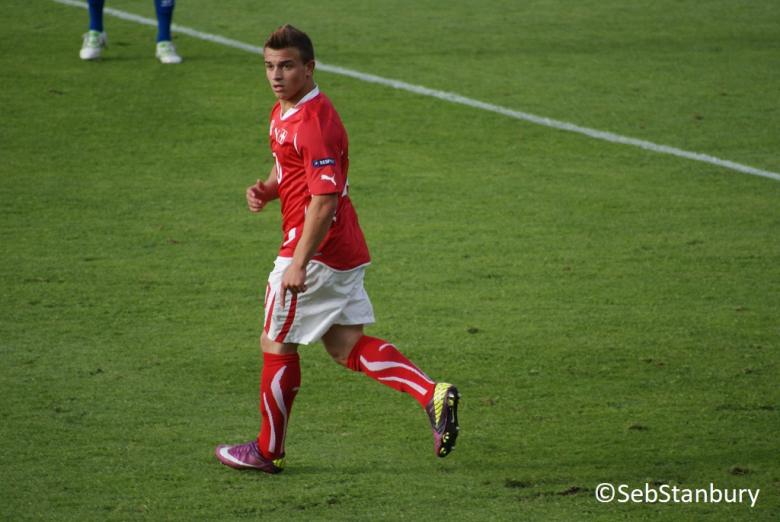 La Liga, Spain and the French Ligue 1
The Spanish league is perhaps the only major one left to have resisted the Swiss footballing invasion. After two seasons at Hoffenheim, Fabian Schär (another player from Basel but trained at FC Wil) is now taking the Iberian field for Deportivo de La Coruña, a historic Galician club which was unable to avoid relegation to the second division this year. In France, despite fond memories at Stade Rennais of Alex Frei's systematic headers and defender Patrick Müller's time during the golden period at Olympique Lyonnais, there aren't as many Swiss players today. Cameroon-born François Moubandje from Geneva is now in his fifth season at Toulouse FC and keeper Diego Benaglio, who played in previous Nati campaigns, is currently defending the goal at AS Monaco. He represented Switzerland in three World Cups and kept goal for Wolfsburg for ten years, which was hugely appreciated by the fans but not so much by the Bundesliga attackers... Bengalio retired from international football after Switzerland's 2014 Brazil campaign.