A Swiss start-up in the race for sustainable and locally produced clothing
Founded by an environmentally conscious trail running enthusiast, the Vaud-based start-up develops high-performance, eco-friendly sportswear while pulling off the feat of 100% local production.
Michael Ingram knows all about the ups and downs of long-term endeavours. For someone who runs 30-hour-long mountain trails of 140 km, pushing the limits of perseverance is second nature. "There's always a moment when you tip over, your head spins and you feel like fainting. But you have to press ahead," he explains. 
Trail running training has served him well for a project that is no less daunting: launching a high-profile brand of clothing for this demanding discipline while ensuring that its production respects the environment. Ingram sees trail running as deeply nestled in nature, which often becomes this sport's victim.
Michael grew up in the heart of the Vaudois Alps, in the small village of Huémoz. He has been unwaveringly passionate about mountain sports since his childhood. He ran his first trail at the age of 12.
I grew up in the mountains; sport has always been a way for me to connect with nature. When I learned of the gap between this connection and the recklessness of the textile industry in worsening pollution and global warming, I decided I wanted to create an alternative.
The EPFL-trained mechanical engineer puts every spare minute he has into this alternative – Revario. And given his full-time job and weekend trail-running, such minutes are a precious commodity. "Fortunately, my wife is understanding," he says with a smile.
Innovative textiles
In 2019, having purchased a relatively costly trail article marketed as a Swiss brand, he was very disappointed to find out that the product was not made in Switzerland and the company had not even tried to produce it Europe. So he decided to create a brand reflecting his values, serving up what he longs for as a trail lover and conveying the spirit of the trail: people respecting and helping each other, living their love of nature and expressing who they really are and what they care about. The vision guiding his plan was simple but effective: achieving local, ecological and sustainable production. So he turned to innovative textile suppliers no further than 600 km away from Geneva. On his way, he has discovered Econyl, ecological nylon made from fishing nets recovered from the Adriatic Sea, and has replaced polyester with equivalent materials that are biodegradable or made of recycled plastic bottles. Not one to give up, he stumbles at times, catches his breath and forges ahead.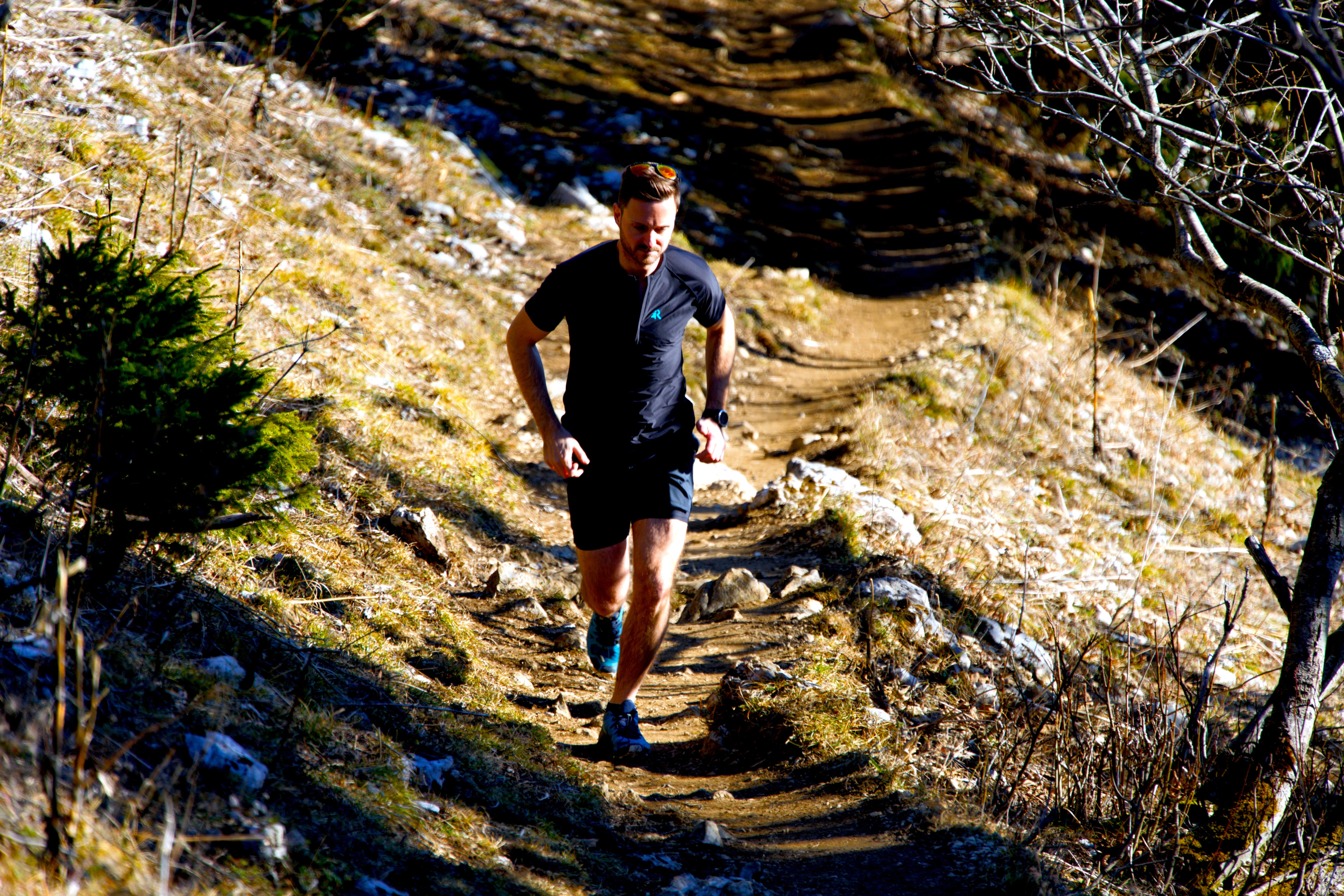 Initial feedback, coming from professionals, demonstrates that Revario is running on the right trail. As Ingram puts it:
Eco-friendliness alone isn't going to win over enough customers – to get ahead, our apparel's quality has to outdo conventional clothing. 
As if that weren't tough enough, he added the Swiss made challenge. But finding skilled labour with high-volume production capacity in Switzerland is indeed a truly tall order. Lamentably, the once flourishing Swiss textile and sewing industry has faded away over time, little by little. And the entire garment industry was relocated many years ago. Through research and perseverance, he found his way to Caritas Geneva's manager, who shared the same goal of revitalising the local sewing industry, on the verge of vanishing. Developed with the support of the innovation-boosting association Genilem and the expertise of Caritas ateliers, the first collection was on sale until 25 March via a crowdfunding campaign (French) that will help propel the project forward.
Ingram sees this as just one of the many milestones lying ahead. He would like to completely replace some materials that pollute the environment, and add colour to the next collection without resorting to toxic dyes. But the crucial threshold seems to have been crossed.
We have proven that treating nature right does not pull down product performance.

And to top it all off, Revario packages its products using recycled old paragliders and repairs its apparel lifelong for free!
 

Original article (French) published by Olga Yurkina in Le Temps in March 2021