House of Switzerland at the WEF Annual Meeting 2023

• Where Switzerland meets the world

January 17th to January 20th, 2023
In 2023, the House of Switzerland has once again hosted Switzerland's official presence at the World Economic Forum (WEF) annual meeting from 17 to 20 January in Davos. A space for hospitality, encounters, dialogue and innovation: the House of Switzerland was the venue for official events and meetings, and created opportunities to showcase Swiss excellence in various sectors. It was also a place for the Swiss delegation, international guests, partners and the media to gather and mingle. 
In 2023, Presence Switzerland (PRS) has once again set itself the challenge of transforming Davos's centrally-located ice hockey stadium into a temporary communication and networking space for one of the most important international meetings of public and private economic actors – the WEF. PRS re-purposed the various halls of the stadium into reception areas to host a packed programme of official Swiss events on the WEF's theme 'Cooperation in a Fragmented World'. In a series of events dedicated to specific global challenges, the House of Switzerland has thus served as a propagator for the launch and development of innovative ideas.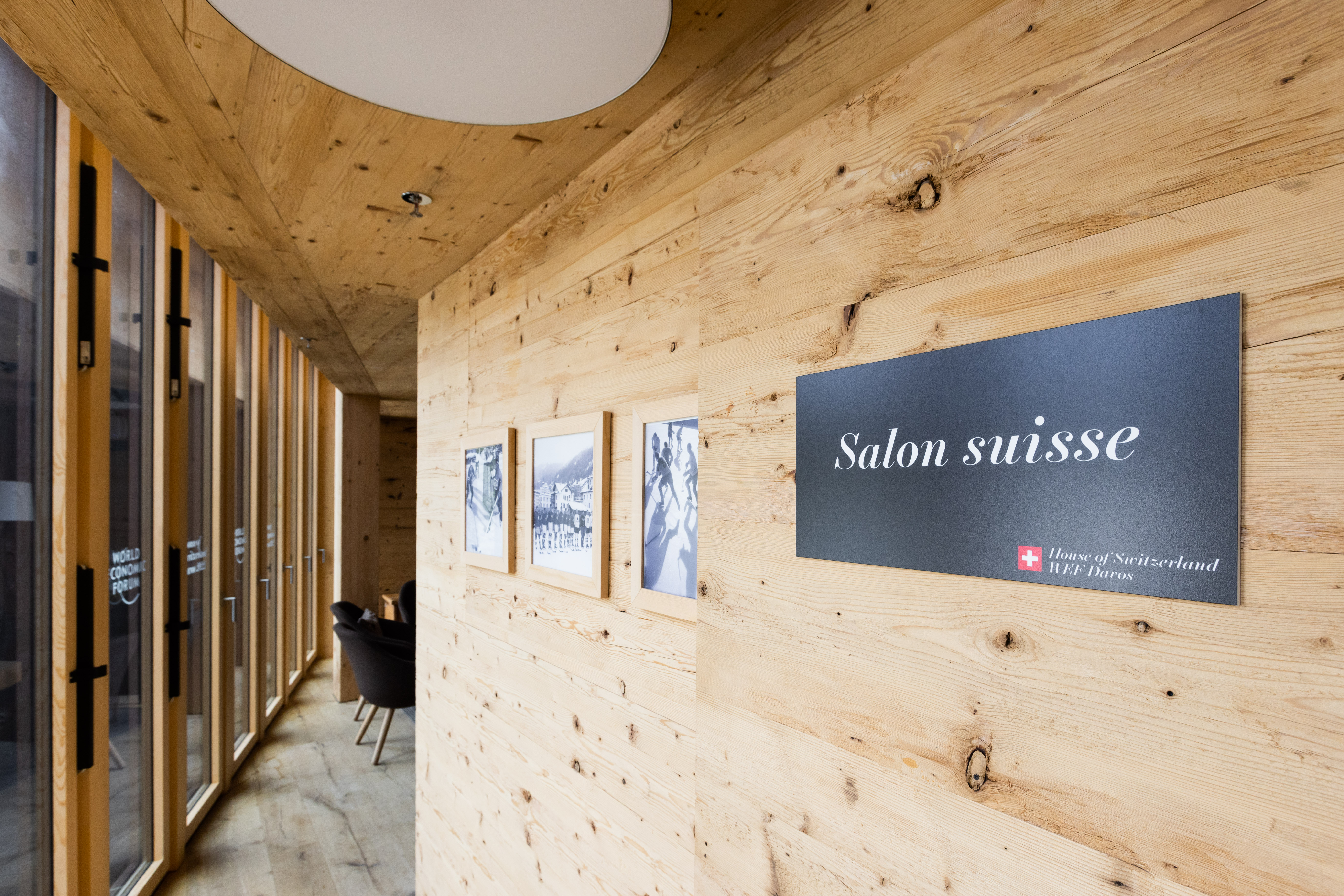 The House of Switzerland has been both a formal and an informal venue for members of the Federal Council and the Swiss delegation to meet, work and network alongside actors from politics, business, academia and the media. Showcasing Swiss excellence in an inviting Alpine setting surrounded by warm wooden decor, the House of Switzerland was the country's window at the WEF. 
The House of Switzerland at the WEF is a success story that began in 2019. It has since hosted many official conferences, presentations and round tables, providing vital support for Switzerland's international relations and communication during the WEF. Its fourth incarnation in 2023 was no exception. The House of Switzerland has become a label of quality for federal institutions and public and private actors alike.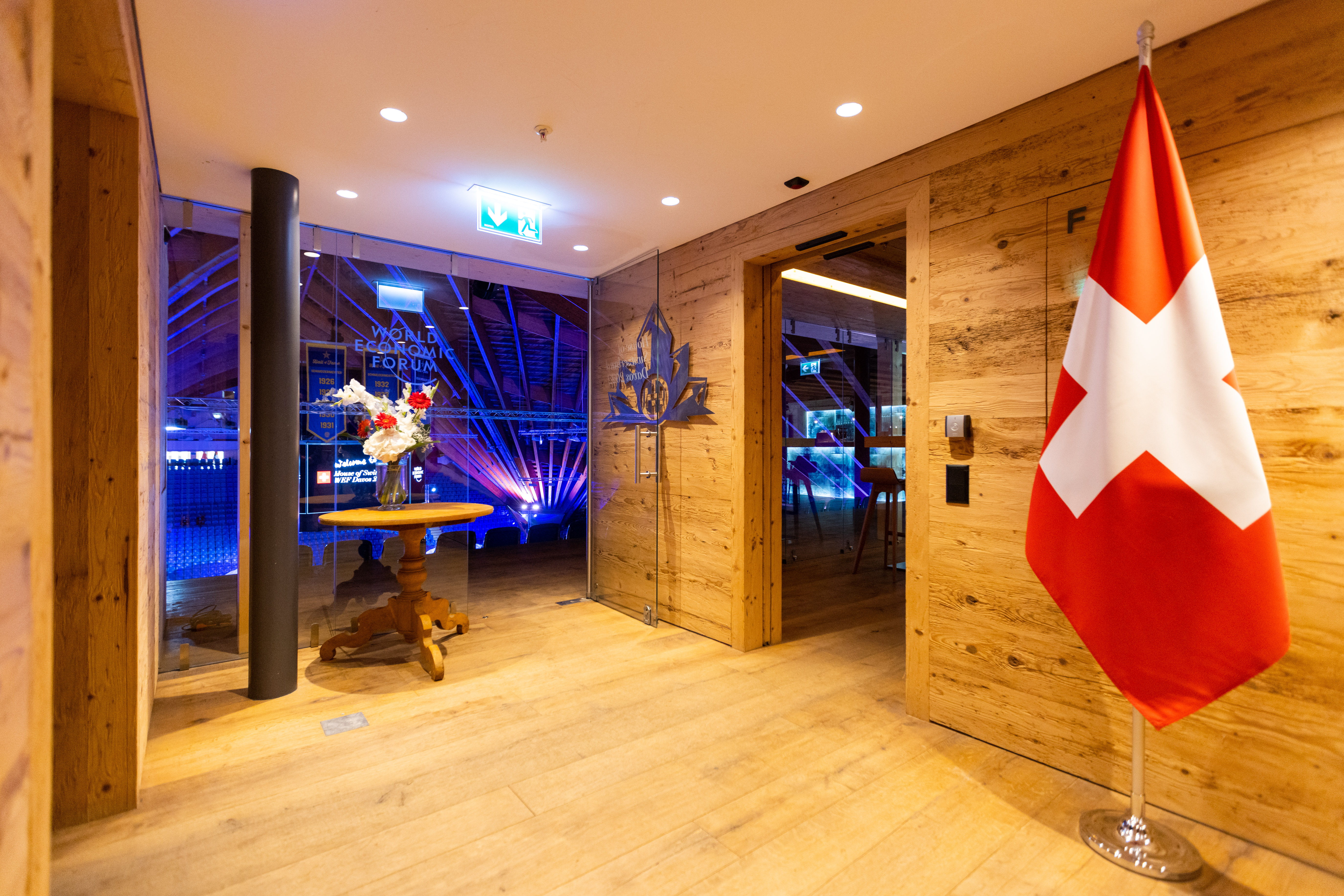 The House of Switzerland at the WEF was the fruit of a long-standing collaboration between Presence Switzerland at the Federal Department of Foreign Affairs (FDFA) and the Federal Office for Buildings and Logistics (FOBL), which contributed with its experience and provided support for setting up the venue, logistics, and event and access management. Moreover, in 2023, Schneider's in collaboration with GAMMA-Catering took care of the physical well-being and culinary creativity. The catering specialists celebrated the dishes with tasty products also supplied by Davos producers such as the Schneider's bakery, the Davos Betriebs AG dairy, the Stiffler butcher, the wine shop Kaufmann Weinhandlung AG and the beverage supplier Meisser Getränke Kultur AG.
How to get to the House of Switzerland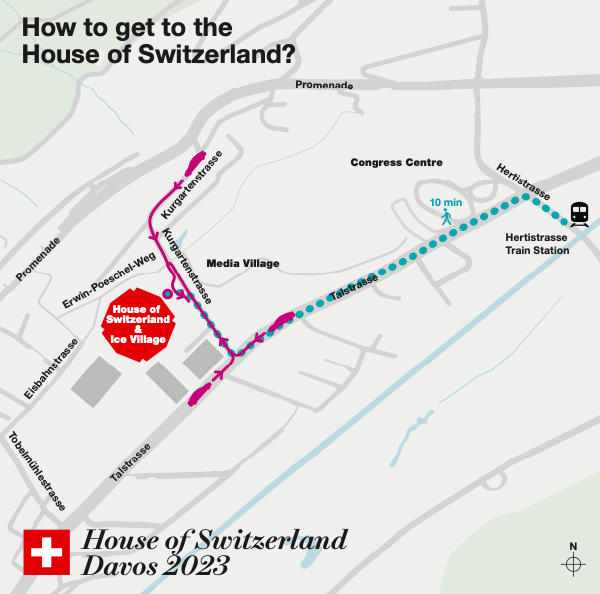 #SwissHouse #aplus4innovation
THE EVENT TOOK PLACE AT
Eisstadion Davos
Activities – House of Switzerland at the WEF Annual Meeting 2023
All the activities of this event have taken place. If you would like to see or revisit them click on the button below.