World's first high-altitude floating solar farm – in the Swiss Alps
The Swiss mountain village of Bourg-Saint-Pierre has a unique claim to fame: a floating solar power plant at 1,810 metres above sea level.
This is the world's first high-altitude floating solar farm, perched like a raft atop Lac des Toules, a man-made reservoir near the village of Bourg-Saint-Pierre in the canton of Valais near the Swiss–Italian border. It is a one-of-a-kind power plant, installed in December 2019 by Romande Energie, the main supplier of electricity in French-speaking Switzerland. "We came up with the idea in 2012 over a coffee," recalls Guillaume Fuchs, project lead in wind and floating solar plants at Romande Energie. "We were thinking about ways we could use dams to produce more electricity. First we considered wind power but there were too many constraints. So then we looked into a project with floating solar panels." 
Great St Bernard region
As Romande Energie part-owns the company operating the Toules dam (Forces Motrices du Grand Saint-Bernard), this was the site it chose for its exploratory work. "We tested a pilot structure near Lac des Toules in August 2013. It was clear early on that photovoltaics and the mountain environment made a good match. Our test system generated up to 50% more energy than a similar system down in the valley," reports Fuchs with some pride. Once the team decided the project was a go, they applied to the Swiss Federal Office of Energy (SFOE) – which had already supported the pilot study through its Photovoltaics research programme – for co-funding of the current trial phase through its Pilot and Demonstration programme. Karin Söderström, an energy research specialist at the SFOE, explains: "The Pilot and Demonstration programme promotes the development and testing of new technologies in the fields that will help us reach the goals of Switzerland's 2050 energy strategy: the efficient and economical use of energy, the transmission and storage of energy and the use of renewable forms of energy. This programme helps to advance new technologies to a higher level of maturity so that they can eventually be taken to market, and we believe the Lac des Toules project meets the criteria for our support." Romande Energie applied for planning permission to install a demonstration project on Lac des Toules in March 2017, obtaining the canton's approval six months later.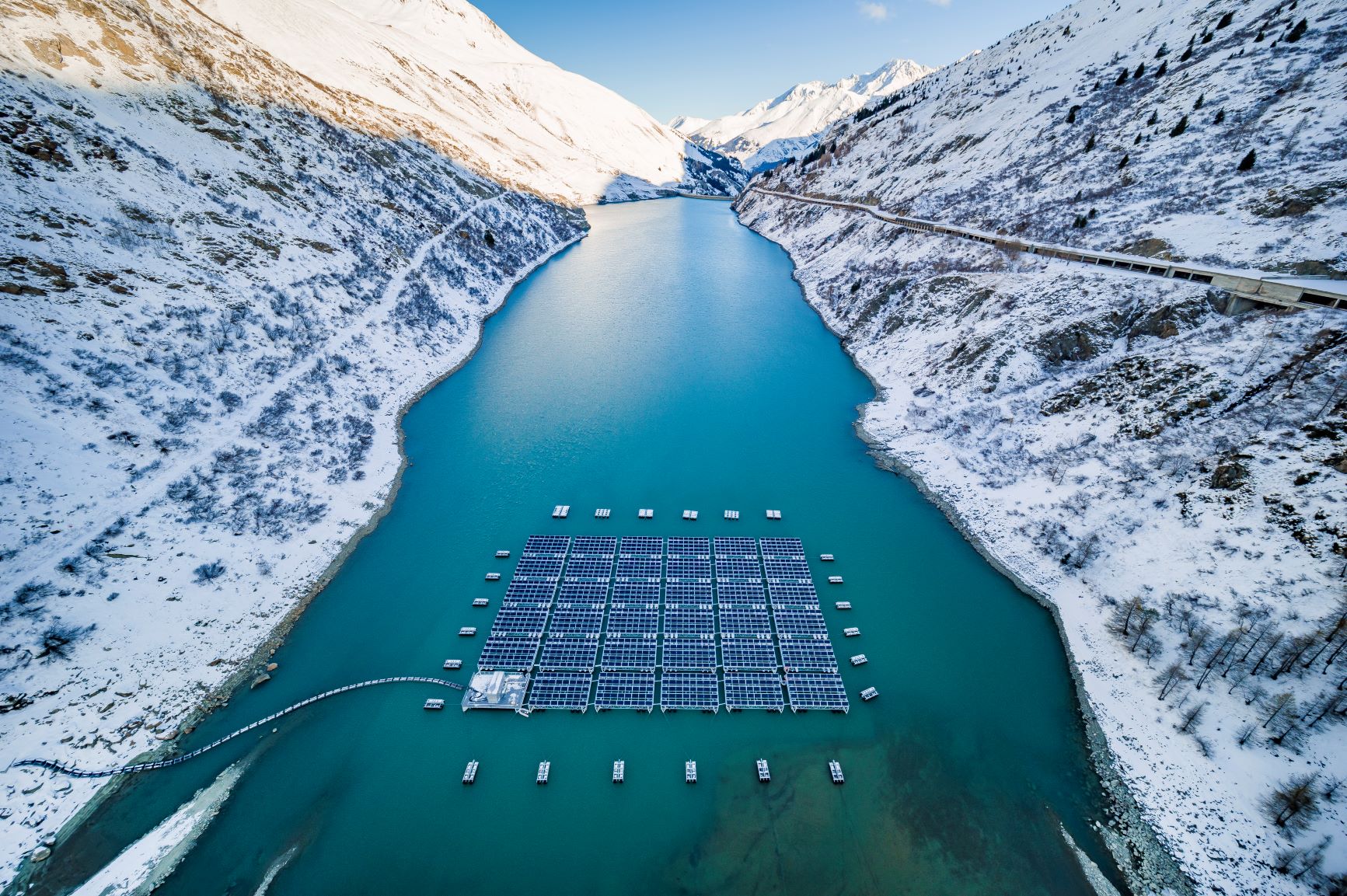 A floating structure
The installation consists of 2,240 square metres of solar panels, arranged in five rows of eight over all but one of the 36 floats. "The floats are made of polyethylene and the frame supporting the solar panels is aluminium," explains Fuchs. "The solar panels are two-sided and made of glass. They were assembled on the ground near the lake and then airlifted by helicopter to the floating structure. The entire installation covers less than 2% of the lake's surface," he adds. The solar farm floats on the surface of the water and then rests on the bed of the empty lake when the water is drained out between November and March. It has no environmental impact on aquatic flora or fauna. "A number of environmental groups have confirmed that our project does not threaten any ecosystems in the lake. The water is drained out every year over a period of several months, so there's practically no aquatic wildlife growing there anyway," notes Fuchs. But as Söderström points out, this type of installation is clearly not for all mountain lakes: "Installing solar panels on a lake could indeed disrupt the ecosystem in a normal lake, but it's different for reservoirs that are completely drained every year. Here, the solar panels have very little environmental impact."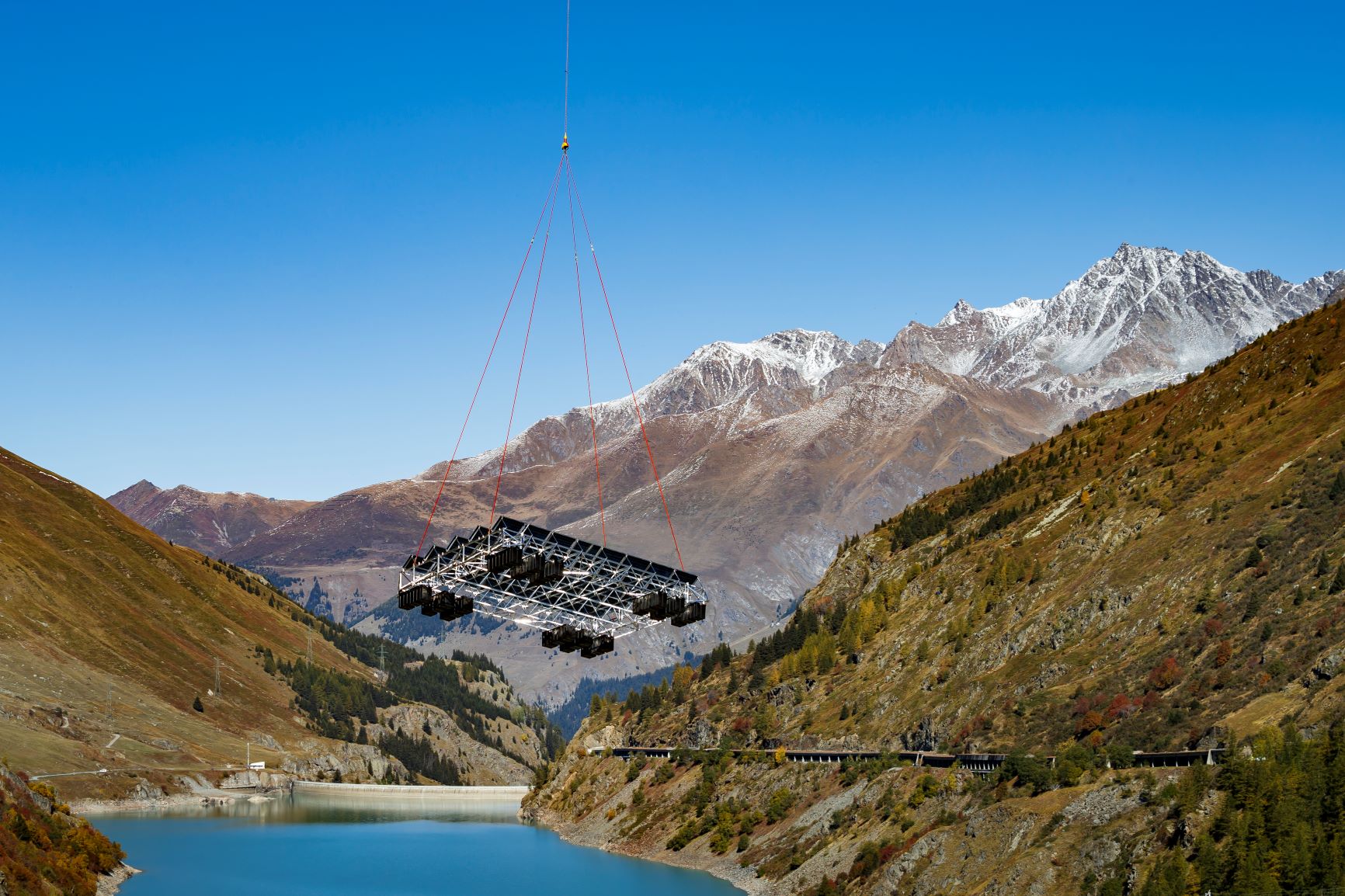 The Alpine effect
Three factors come together to enable this high-altitude solar farm to produce up to 50% more energy than one on low-lying land: the cold temperatures, stronger UV rays, and light reflected from the surrounding snow. Photovoltaic cells are more efficient in cold weather, as Fuchs points out. Söderström also highlights the potential of this choice of location for generating power, especially in winter: "There is much less fog at an altitude of 1,810 metres than lower down. And the snow reflects the sunlight, so the panels can harness more energy – a phenomenon known as the albedo effect." The use of two-sided modules is very effective here because, when snow lands on a panel, the light reflected from one side heats up the other side by generating energy, causing the snow to slide off.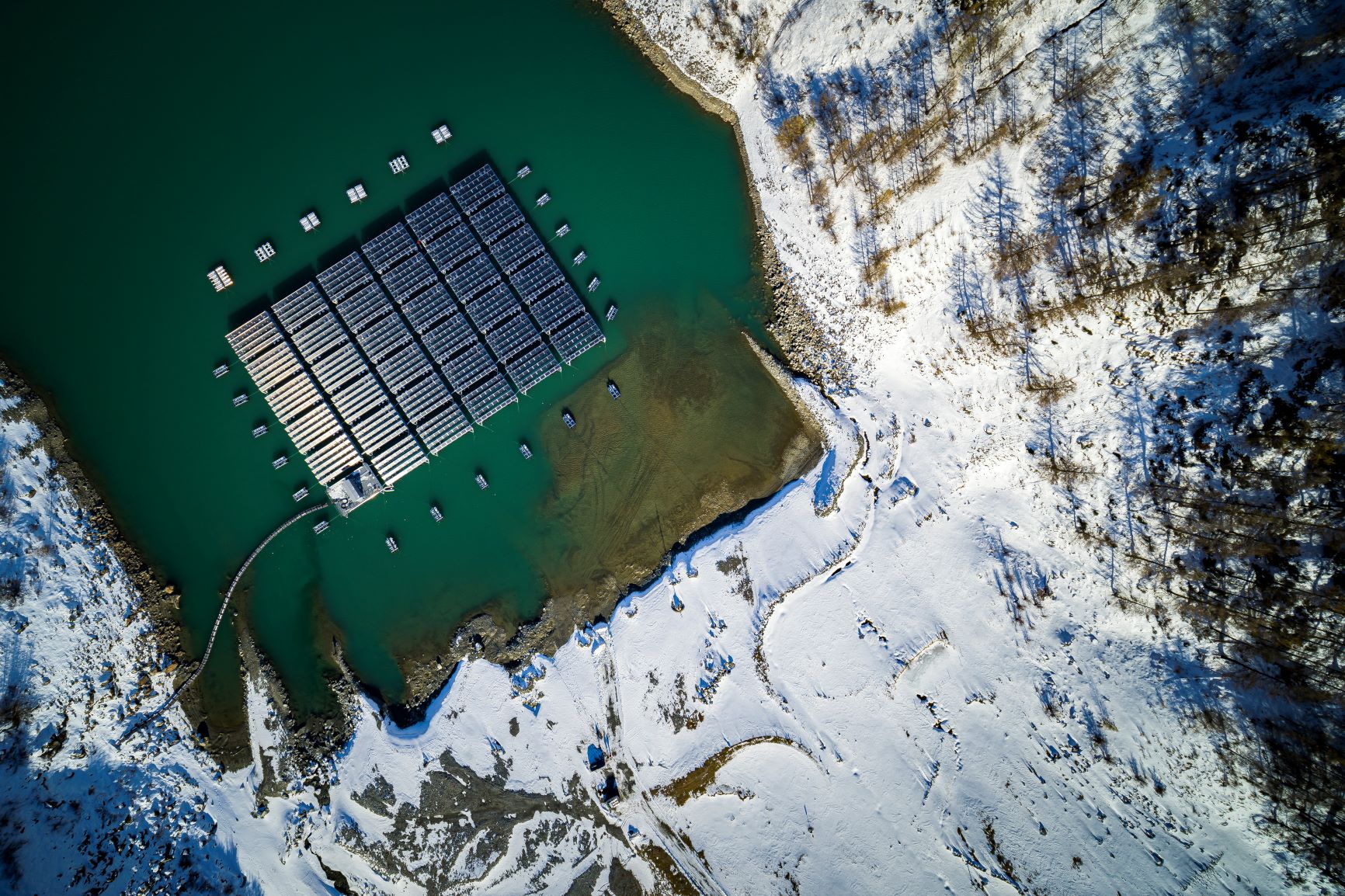 The overall effect of this Alpine environment is a higher energy yield, particularly in the winter months. It was thus a bold but winning decision. Söderström points out: "There is nothing new or exceptional about floating solar farms, and there are many examples around the world, but this is the first one that has to withstand the harsh climatic conditions of an Alpine winter. It stands as both an addition and a testament to Swiss expertise." According to SFOE figures, electricity from renewable sources accounted for around 75% of Switzerland's electricity consumption and 62% of electricity production in 2019. 
This world-first project is drawing much interest from electricity companies around the world and has even become a tourist attraction in the region. "We are in contact with other electricity suppliers in Switzerland and Europe with a view to exporting our technology," says Fuchs. The mayor of Bourg-Saint-Pierre, Gilbert Tornare, adds: "Here at the end of the valley, we live off what few natural resources we have – sunshine, water and wind. So we welcomed this project with great interest and enthusiasm. And we get quite a few tourists coming to look at our floating solar farm. This project is good for our energy independence – but also for our economic survival as a region."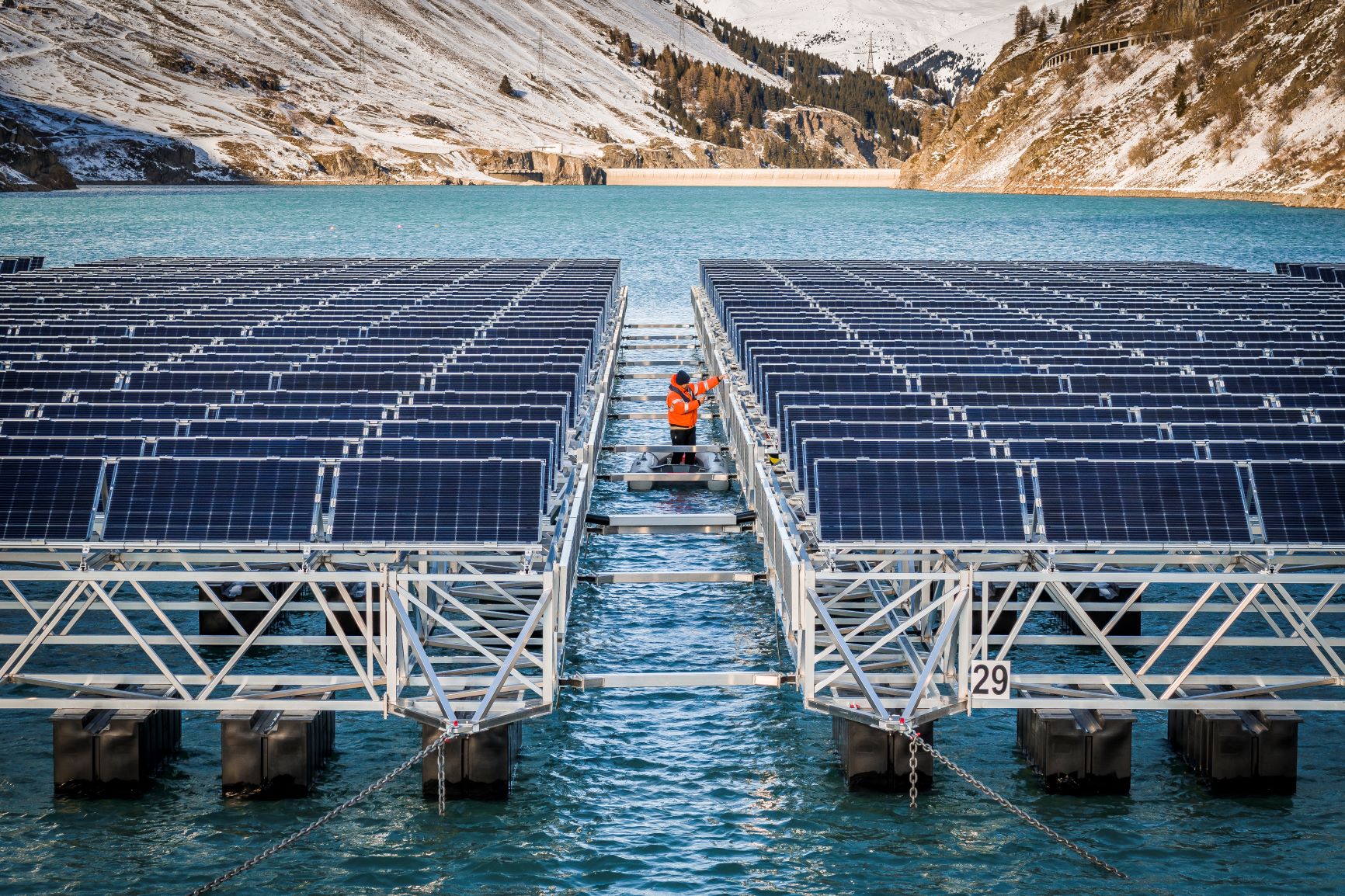 2021 Watt d'Or award
The Lac des Toules solar project has cost CHF 2.35 million to date. It currently produces 800,000 kWh of electricity per year, which is enough to power 220 households. In recognition of its pioneering technology, Romande Energie was awarded the SFOE's 2021  Watt d'Or in the Renewable Energy category. However, the current structure – while efficient – is still only a demonstration project. As Fuchs reveals, Romande Energie has much bigger plans for the future, with a larger and more permanent structure to be built on the same lake in 2022: "The goal is to produce 22 million kWh per year, enough power for some 6,100 households." Romande Energie hopes to obtain planning permission for its new system in early 2021.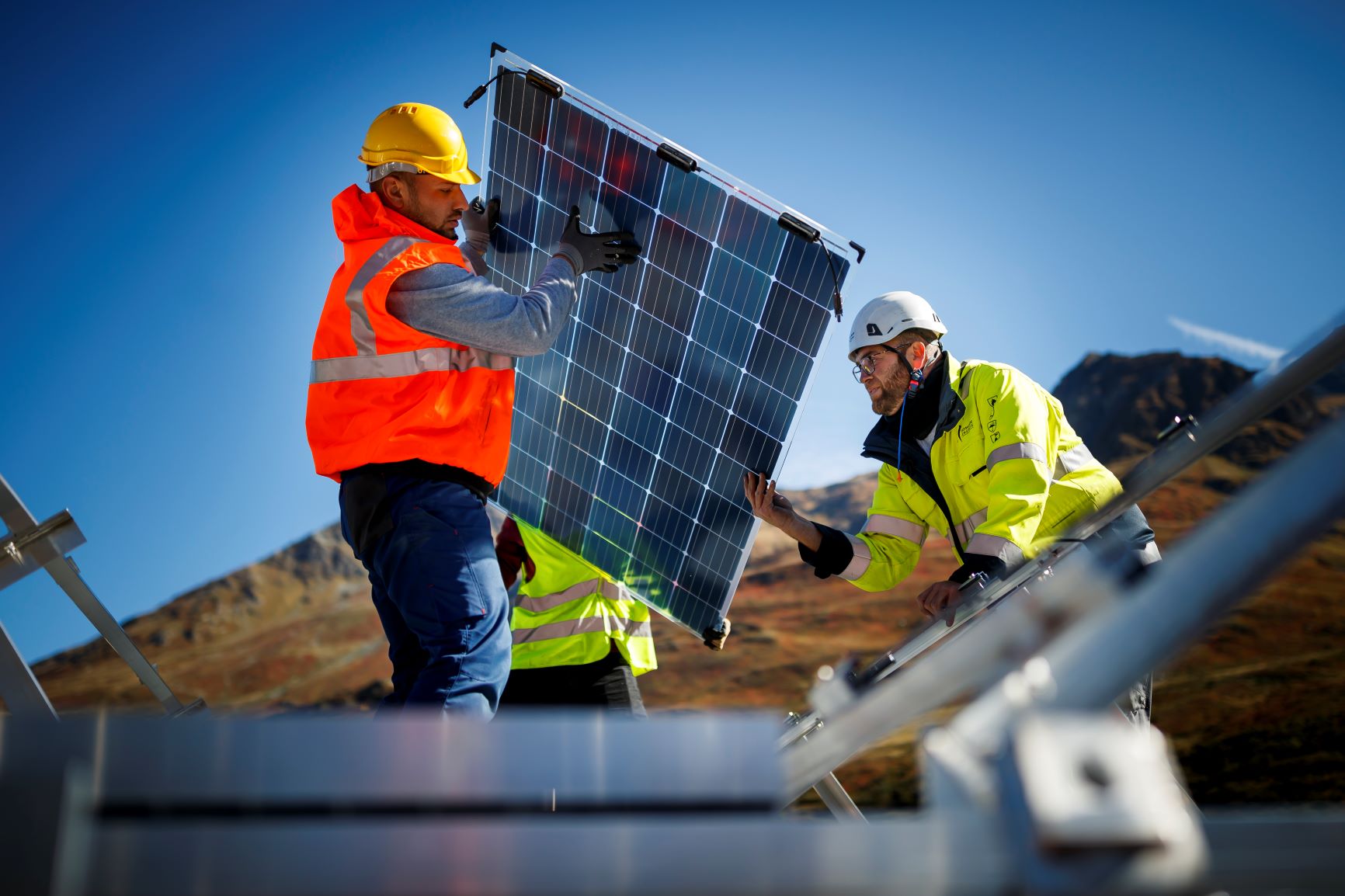 Other recent stories from this category