The Bernese wonder drink in the orange tin
In the 1860s, young German chemist Georg Wander obtained from malted barley a powerful extract with health-giving properties. It was later used as the basis for the powdered drink Ovomaltine. This Bernese invention in an eye-catching orange tin then set out to conquer the world (you might be familiar with one of its many incarnations that go by the name of 'Ovaltine').
In 1862 when Georg Wander (1841-1897) began lecturing in chemistry and pharmaceuticals at the University of Bern, he was earning a measly 320 francs a month. By comparison, a professor at that time would earn 2,800 to 3,200 francs. Even his colleagues in other faculties were paid roughly double what Wander was getting. 
No wonder the gifted young Dr Wander was looking around for alternatives. He left the university after just three years, but not before he had got the most out of its laboratories and libraries, where he equipped himself with the knowledge he would need to launch his first business.
Malty goodness
In 1865 Wander took over the mineral water plant Sommer & Comp. in the Bernese old town. A short while later, the company reinvented itself as 'Dr Georg Wander's chemical-technical and analytical laboratory', manufacturing tinctures, ointments and pastilles, oils and refreshing beverages. Wander also undertook soil analyses as a service for local farms. But at least at first, his main interest was malt extract. To test the effectiveness of his products, Wander worked closely with doctors at Bern University Hospital, who testified to the excellent results of his fortifying supplement on their weak patients.
"It must, of course, have seemed a wonderful innovation to the practising physicians when presently a thick, honey-like preparation was produced from the malt which was free of alcohol and carbonic acid, and contained only the excellent and long-appreciated nutrients of the malt in a highly concentrated form", noted the inventor proudly in 1869.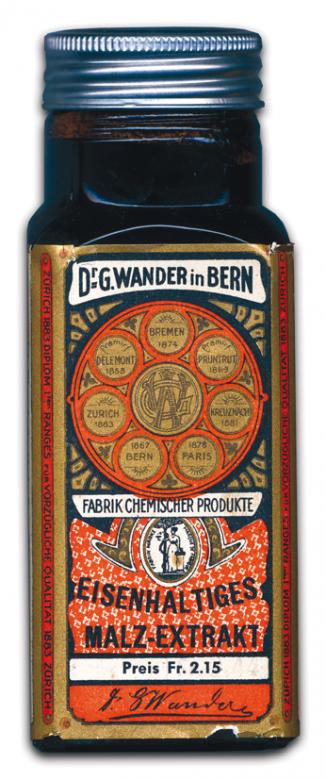 Entrepreneurial success in Wander's adopted city of Bern
Wander's business grew, and in 1873 he built a small factory by the town brook. His private life was also flourishing – in 1867 his wife Anna Maria Katharina Webel gave him a son, Albert, who would become Wander's most important employee and successor. Wander was adopted into the honourable Bernese Burgergemeinde or bourgeoisie – which meant he was considered a Bernese citizen.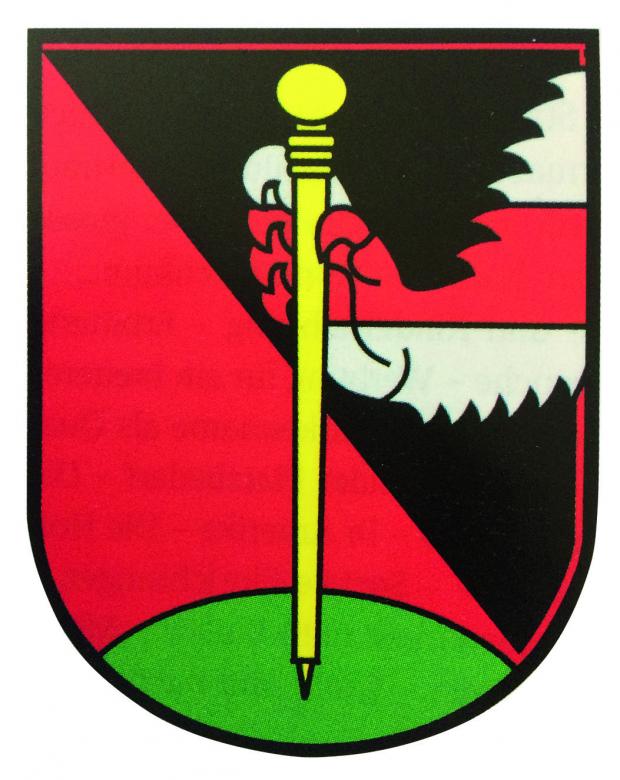 In the 1890s, father and son worked side-by-side with equipment such as spirit lamps and vacuum evaporators. In 1897 – the year of Georg Wander's early death – another cult Swiss product hit the shelves: Herbalpina herbal bonbons.
In 1904 Albert Wander perfected his late father's recipe and Ovomaltine was ready for launch. The product was a new kind of malt extract to which milk, eggs and cocoa were added before it was turned into a powder. The 'dietary supplement' was initially only available from chemists, but once reclassified as a foodstuff, it flew off the shelves. 
Just what the doctor ordered
Although Ovomaltine was never strictly proven to have medicinal properties, the product began to conquer all sorts of new consumers and markets, including nursing mothers, exhausted factory workers, stressed motorists and sportspeople. Next the Swiss wonder drink was adopted by the armed forces, where it was deployed to 'strengthen Switzerland's defences'.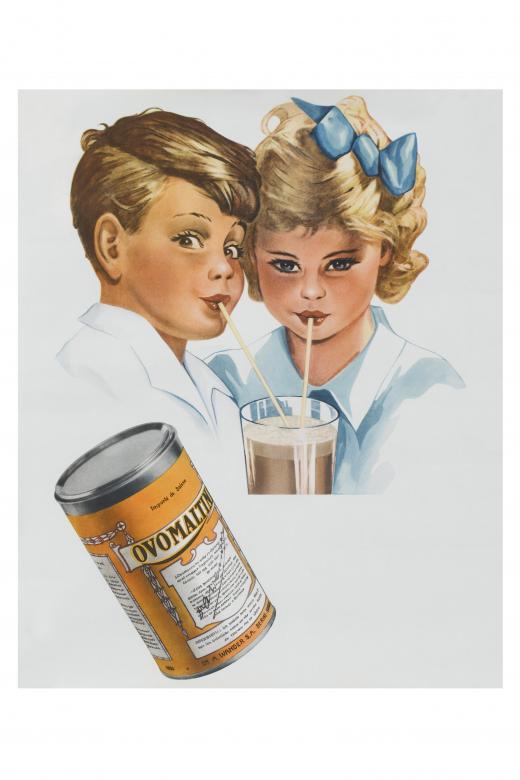 Subsidiaries began popping up all over the world: Milan (1906), Frankfurt and London (1910), Vienna and Budapest (1912), Chicago (1917), Prague (1929), Zagreb, Toronto and St Petersburg (1930), Warsaw and Krakow (1931), Brussels (1935), Copenhagen (1937)... By the end of its expansion, Wander had established itself in all five continents. 
"Have you had your Ovomaltine today?"
Every Swiss person is familiar with the slogans "Hesch Dini Ovo hüt scho gha?" (have you had your Ovomaltine today?) and "Mit Ovomaltine chasches nöd besser, aber länger" (with Ovomaltine you can't do it better, but longer'), which appeared in advertising spots featuring Ovo-drinkers engaging in various strenuous outdoor activities. The idea to associate the revitalising drink with sport turned out to be a triumphant marketing strategy that cemented Ovomaltine's success to the present day. 
Wander supplied Ovomaltine to major events such as the Olympic Games, World Cup and Tour de Suisse. For decades the brand has gone hand in hand with snow sports, to the extent that the brand, too, is now part of the Swiss national identity. It all began in 1972, with the launch of the Ovo Grand-Prix to showcase the skiing nation's young talent. Over the next 25 years, this competition would kick-start the careers of many top athletes to be, including Pirmin Zurbriggen.

A whole series of wintersports stars have worn the orange helmet for Ovomaltine, including three-time Olympic gold medal winner Vreni Schneider, photogenic snowboarder Ueli Kestenholz and the hugely popular ski-racer Didier Cuche.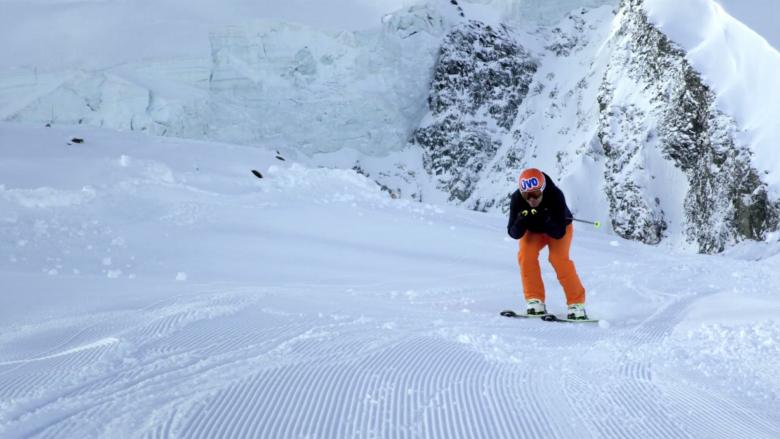 Given that Switzerland's beloved 'Ovo' still occupies a prime spot in the nation's collective consciousness, the announcement in 2002 that the Swiss brand Wander would be sold to Associated British Food (ABF) was met with understandable dismay. But at least Ovomaltine products for the whole of Europe are still produced at the company's Neuenegg location in Bern. And in its many incarnations – chocolate spread, cookie or instant beverage – the orange treat is as ubiquitous to everyday life in Switzerland as it has ever been.