The forbidding side of Val Bavona, frozen in time
Val Bavona is one of the wildest valleys in the Swiss Alps. Bordering Ticino, it has remained frozen in the 16th century. The valley is only inhabited in summertime and has opted to remain true to its rustic roots, even shunning electricity.
A narrow strip of land enclosed by two vertical cliffs. High waterfalls cascade down the steep slopes – such as Foroglio, which measures 110 metres. When it rains, there are hundreds of them. They crash onto the small plain below, a winding strip of land vulnerable to landslides. And where the mountain hasn't collapsed, massive boulders lay strewn about randomly, as if they had fallen from the sky. First impressions? This is a land hostile to humans. And a second glance doesn't change that impression much either. 
But not for the people of Val Bavona, who have made this place their home – wrested from the slopes of the surrounding monoliths and in the shade of the fallen boulders, so that they can subsist even in this environment. They've lived here since time immemorial, making the odd concession to modern-day comforts. But only a few. So don't go looking for a light switch when night falls – the valley still isn't on the grid. The wild DNA of north-western Ticino is not about to be tamed any time soon.
Bleak and inhospitable
"It's rocky, steep and unforgiving. But if all the other good land has been taken, you've no choice but to look elsewhere." With his small round glasses and rugged features, Flavio Zappa is a living testament to the place. Historian, archaeologist and medievalist, he has carried out excavations and renovated and mapped most of the valley's splüi – the distinctive houses buried beneath the rocks. Armed with the manual he wrote himself, Zappa takes us on a tour of his world. 
Although the region isn't far from Locarno, it doesn't match the stereotypical image of Ticino. There are no golden palm trees, riviera or vineyards, and very little sun. "In winter, a lot of places don't get any light at all," says Zappa, walking at a brisk pace. Val Bavona is surrounded by sheer rock walls, and less than 2% of its surface is suitable for cultivation. To preserve these meagre resources, the valley subscribes to an almost cave-like architecture. 
"These days, we just blow up boulders that are in the way. But that wasn't possible before. So people built their homes underneath them, above them, anywhere they could." The end result reminds one of a stony Smurf village. People also built terraces on the mountain slopes as a way to salvage fertile ground. In this way they were actually able to cultivate land between and above the rocks, which became known as hanging gardens. Livestock weren't left out either, receiving shelter in dugouts beneath the numerous boulders. All of the crooked buildings in the valley's 13 villages look like they've either been crowned with an imposing monolith or squeezed into a few square metres between two rocks.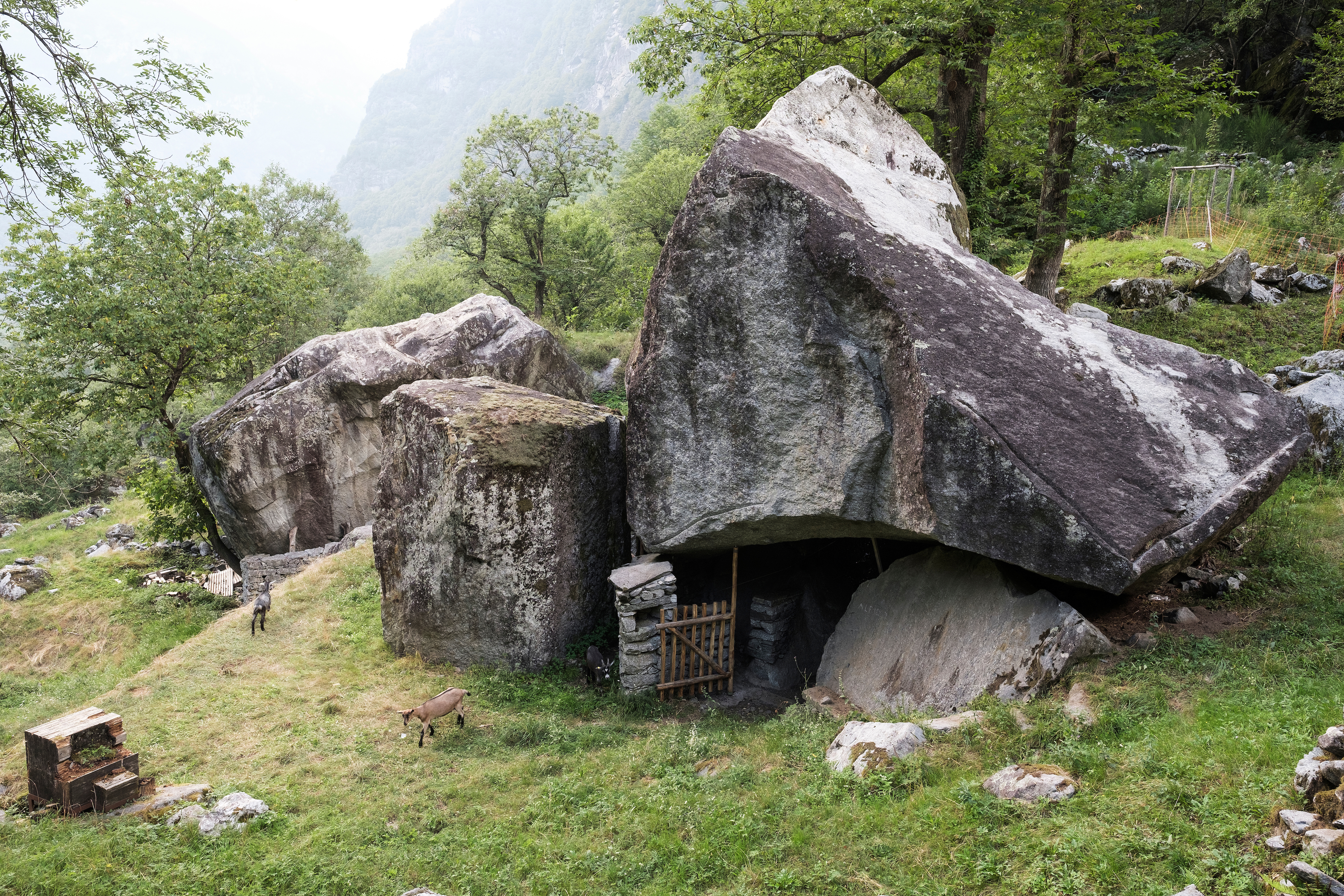 Everything that was done had a reason: to preserve every last inch of fertile ground. That's why they built such tall houses – early skyscrapers – to use up less land. The small town of Sonlerto was built entirely in the middle of an ancient rockslide. And people have lived there for millennia, despite the harsh conditions. "Judging from the first human traces found at the foot of Monte Basodino (3,200 metres), the area was already populated during Ötzi's time more than 5,000 years ago – mainly by hunters and people searching for crystals," says Zappa.
The great exodus
Val Bavona does have some advantages: it has plenty of water, forests, semi-precious stones and mountain passes that are relatively easy to access. The discovery of a Roman necropolis in the valley's south indicates that these ancient European rulers had already begun visiting the region in the early years of the first millennium BC. Their successors went on to develop a pastoral economy based on small goat herds, hard cheeses and modest farming. During winter, people's diet mainly consisted of dried chestnuts. Life was hard, but they carried on. 
Until misfortune struck.  "In the sixteenth century, the Little Ice Age began," Zappa explains. "Winters became longer, summers wetter, and it rained more." Colossal landslides swept away parts of the territory on an unprecedented scale, the river overflowed, and the scarce amount of farming land available became waterlogged. That's when people lost hope, and were forced to leave. Since then, the place has barely changed.
"People who had to leave settled at the bottom of the valley, and only used their old houses during summertime," Zappa explains. By returning to their previous dwellings in summer, the valley's farmers have stuck to the basic principle of transhumance. Although these days they only invest in their winter homes. "Coupled with the fact that there weren't any roads until the 1950s, this means that the villages have kept their original rudimentary look." Inhabited only during summer, the small villages appear frozen in time in their craggy, unassuming setting, still without electricity.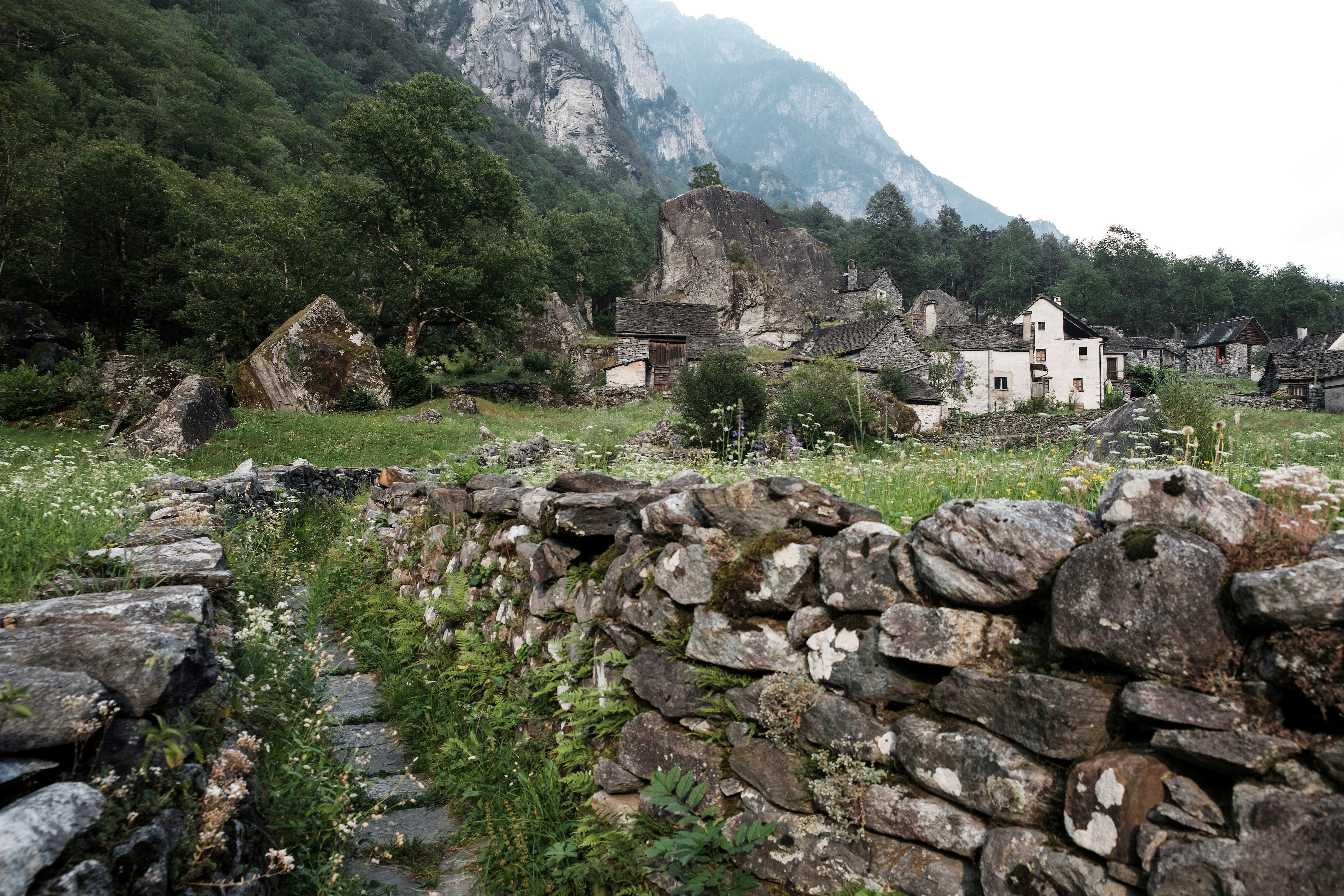 This last point is hotly debated in the valley on a regular basis, with some in favour of connecting the villages to the grid. But all the talk never leads anywhere. "It isn't really seen as a big disadvantage," says Zappa. "People are used to doing without electricity. They use wood and candles instead. It's also a way of returning to their roots." Although the odd blue square peeking out from amongst the stone roofs shows how the valley's traditional way of life can benefit from the occasional solar-powered boost. 
A heritage to protect
Val Bavona's biodiversity, kitchen gardens growing on boulders and abandoned rural landscape all symbolise a heritage that needs to be protected. The valley was also chosen to illustrate the 2020 chocolate gold coin, an initiative of the non-profit organisations Swiss Heritage Society and Pro Natura.
Article originally published in Le Temps, Boris Busslinger, 19 August 2019.
Other recent stories from this category