Monte Verità: the Swiss early hippie colony
As a young woman, Ida Hofmann was a successful piano teacher and glamorous socialite in Russia, Austria and Montenegro. She then made a radical new beginning in Ticino and founded the soon-to-be legendary Monte Verità.
In the autumn of 1900, a group of six young people – lovestruck Ida Hofmann and Henri Oedenkoven among them – travelled around northern Italy and southern Switzerland. They were hippies avant la lettre, with loose-fitting linens, long hair, headbands and sandals, and they had an ambitious plan: to buy a large piece of land. In Ascona these scions of well-to-do families who had turned their backs on society found just what they had been looking for – an abandoned vineyard  – and they had the cash to buy it and the hill on which it stood straight away. What was their plan for this unknown corner of Switzerland? Nothing less than to create a new world, an alternative to the mad rush to industrial modernity that threatened body and soul.
The life reform movement
By the age of 36, Hofmann (1864-1926), who had left her native state of Saxony in eastern Germany, had an impressive career behind her in Vienna, Russia and Montenegro as a piano and music teacher to daughters of the nobility. She was said to be fluent in seven languages. Within a year of the group's arrival in Monte Verità, Hofmann had masterminded the establishment of a health retreat founded on natural healing, vegetarian and vegan nutrition, and bold calls for a feminist awakening: "Stop being marionettes. Become human beings of flesh and blood!"
To work!
It was a hard beginning. They worked up to 12 hours a day, laying out vegetable gardens, planting fruit and olive trees, and building huts made of timber, stone and lime. A return to manual work and craftsmanship was part and parcel of the project. Rhythmic dancing, 'sun baths' and 'free love' promised to release pent-up emotions. The founders of the Monte Verità community were unconventional but by no means economically naive. Their project straddled a fine line between social utopia and a successful tourist model. Almost from the start they had decided that paying guests were welcome. "The weather allowed us to take the first sun bath in mid-February of 1902, and by early spring we had already put together a brochure. We call this place 'Monte Verità' because our undertaking was founded by truth seekers and is consecrated to truth seekers," wrote Hofmann in her diary.  For a fee, guests stayed in well-ventilated, sun-drenched and south-facing 'light and air huts', and spent part of each day communing with the founding members. Creature comforts were kept to a minimum, but there was a community house with dining areas, a library and a recreational space.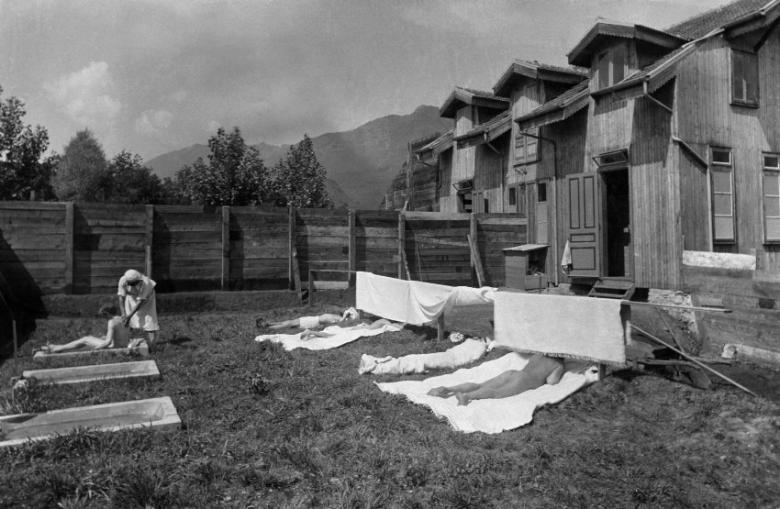 Practising abstinence
'Strong and noxious stimulants' like alcohol, tea, coffee and tobacco were strictly prohibited.  Even salt was banned. But not all guests observed the rules: "We had some guests sneak out, under cover of dark summer nights, to a nearby village to enjoy forbidden things like spiced salami and good local wine. Henri Oedenkoven kept finding the telltale rind of the rich local ewe's cheese. He would hold up the evidence between two fingers as if it was poison. Eventually, the rules were relaxed somewhat, meat was put on the menu, and flowing robes were no longer mandatory. 
An experiment in alternative art and lifestyles
Monte Verità exerted an enormous gravitational pull. Over the years, the Monteveritans were joined by the writer Hermann Hesse, the playwright Erich Mühsam, the dancer Isadora Duncan, the dancer-choreographers Mary Wigman and Rudolf von Laban, and the sociologist Max Weber – in short, a Who's Who of intellectuals and Bohemian celebrities. After the First World War, Hofmann and Oedenkoven's passion for Monte Verità and for each other – they had been lovers for years – waned. They left the Lake Maggiore region and emigrated to Brazil, where Hofmann succumbed to a serious illness in 1926. But the legend held fast. Monte Verità's reputation as a special place outlived the original community by decades.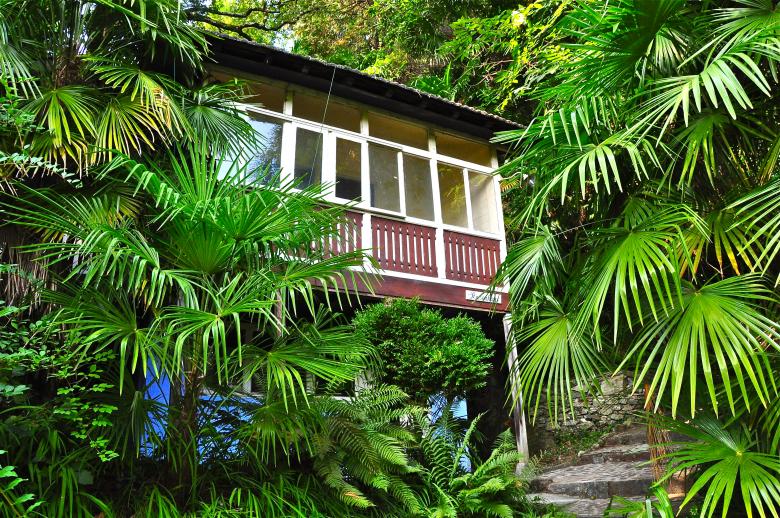 Source of energy and inspiration
Monte Verità's fame had reached Baron Eduard von der Heydt, a German-Swiss banker. In 1927, he bought the site and commissioned the architect Emil Fahrenkamp to build an elegant hotel in the Bauhaus style. Overnight, the life-reform community became a glamorous address. Today Hotel Monte Verità hosts international conferences and draws culturally-minded tourists who marvel at the meticulously restored wooden huts and the original open-air shower. Hofmann's and Oedenkoven's life-reform experiment was short-lived, but it continues to exert an unbroken fascination. It reminds us that the utopian ideal of a natural, self-determined life is as alive today as ever.
Other recent stories from this category