Four Swiss coaches dazzling the world of football
Three Bundesliga teams have Swiss coaches – Lucien Favre, Urs Fischer and Martin Schmidt – while Bernard Challandes is currently the manager of Kosovo, one of the standout teams during this year's Euro 2020 qualifiers. The Swiss touch is winning over football fans!
This season, an unprecedented number of Swiss coaches are at the German Bundesliga, one of the world's top football leagues. With Lucien Favre from Vaud, currently one of football's most sought-after coaches, Borussia Dortmund is hoping to finally oust Bayern Munich, the most successful club in German football history. Under the leadership of Urs Fischer from Zurich, Union Berlin, a working class club from its inception, has reached the highest position in its history. And FC Augsburg is pinning its hopes on Walliser Martin Schmidt from Upper Valais. But these three are not the only Swiss coaches excelling abroad. Kosovo, one of the standout teams in this year's Euro 2020 play-offs, is poised to qualify for its first-ever international championship, sending this tiny nation of two million into a veritable frenzy. And the miracle-maker is 68-year old Bernard Challandes from Neuchâtel, who is just as mad about football as they are. "The fact that our coaches are going abroad – just like our players – is obviously one of the best things that could happen to promote the image of Swiss football" says a delighted Yves Debonnaire, a coach at the Swiss Football Association. His sentiment is shared by Michel Pont, former assistant coach of the Swiss national team. "They make excellent ambassadors, bringing credibility to Swiss football and proving just what we can do here in Switzerland."
Lucien Favre, perfectionist
"Today, Lucien Favre is regarded as one of the top ten coaches worldwide" adds Pont. Favre's team, Borussia Dortmund, went nine points ahead of FC Bayern at Christmas last season, staying hot on their heels before finishing third. This season, the club from the Ruhr is hoping to finally land the Holy Grail. Unusually, this title challenge has come straight from the mouth of the ever-modest Lulu, as he is known back home. "We are going to fight for the title!" That's the dream for the 80,000-strong Westfalenstadion with its famous Yellow Wall.
Lucien Favre has already had incredible success abroad. When Borussia Mönchengladbach were close to relegation, he hoisted them all the way up to the Champions League. And when he arrived in France, Favre led modest Nice, which had spent a long time at the the top of Ligue 1 before Paris Saint-Germain, to a third-place finish.
 A meticulous workaholic, Favre is well known for his tactical approach and flexible formations. "He's a perfectionist who works day and night. And he advocates an attacking style of football that is also efficient," German footballing legend Ottmar Hitzfeld recently pointed out. Like so many others, Yves Debonnaire doesn't hide his admiration for his friend Lulu. "He analyses everything with exceptional skill and knows how to get the best out of each player. He's really at the top of his game. All he needs is a major international title." Michel Pont adds: "Lucien has always stuck to his philosophy and to his convictions. One day, he'll coach one of the world's top clubs like Man U or Barça. He's earned it. "
Urs Fischer, no frills
Unlike the more affluent Herta Berlin, Union Berlin, located in former East Germany, is the city's working class club, supported by a dedicated fan base. In 2008, some two thousand fans got hands-on with the renovation of their stadium because the club was short of cash. Union Berlin has always managed with modest means, and reached its highest placing with Urs Fischer at the helm during his first coaching experience abroad. Although Union Berlin is currently at the bottom of the table, they dominated Lucien Favre's mighty Dortmund in a full-on Swiss clash last August in their small stadium of 22,000 red seats matching the club's home colours. Simple, clear, and no frills: Urs Fischer fits in perfectly with the club's values. "We talk a lot with him, sometimes like friends," said goalkeeper Rafael Gikiewicz recently. "Urs has a very positive relationship with the players," confirms Yves Debonnaire. For his part, Michel Pont is delighted "that such a humble and unassuming man is thriving in the German league."
Martin Schmidt, total commitment
Just like his team Augsburg playing in the glittering world of the Bundesliga, Martin Schmidt hasn't changed a bit, which is what makes him a force in this league of glitz and glamour. His grandfather was a cowherd in the Conches valley in the Swiss canton of Valais and he remains a true lover of this region – often speaking of his "Heimat", homeland in German, which is so dear to his heart. To prepare his players, Schmidt has even taken them to Belalp near the Aletsch glacier, on a five-day trek in spartan conditions without showers or telephones. "Some players had a hard time with cramps because they'd reached their physical limits, but it was a great bonding exercise for the team too," he says. Michel Pont notes: "Martin is a true Walliser, a fighter who never admits defeat." "He is totally committed" adds Yves Debonnaire. Lacking the type of resources available to the clubs at the top of the table, Augsburg relies on the team's mentality – which is also what inspires Schmidt's choice of captain. "The teams Schmidt coaches are very athletic and put a lot of passion into the game," said the club's technical director Stefan Reuter recently. This is Schmidt's third Bundesliga stint after Mainz and Wolfsburg, a score he can definitely enjoy.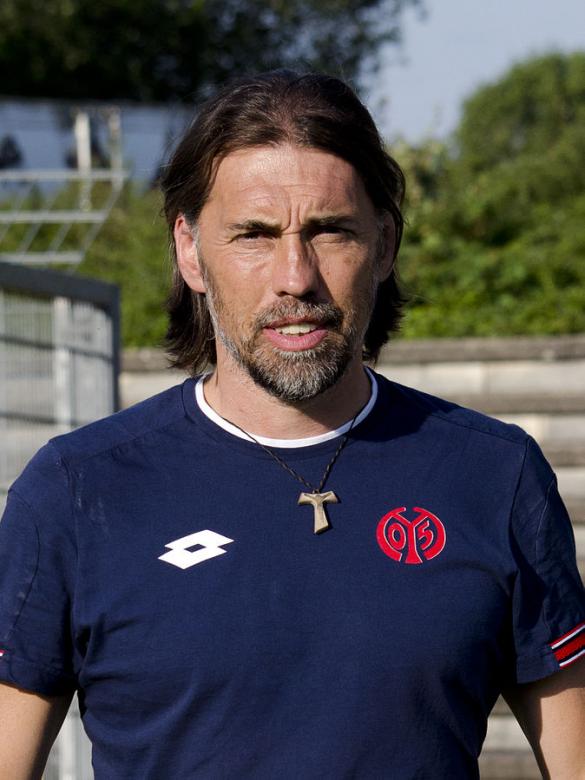 Bernard Challandes, the passionate one
A new country, a new destiny. Everyone thought that 68-year old Bernard Challandes from Neuchâtel had seen it all in his coaching career – champions with Zurich, successes with Switzerland's junior teams, always hot-headed, extrovert and passionate. But Challandes' experiences since joining Kosovo may go beyond anything he has been through before, emotionally. After beating Bulgaria, Czech Republic and briefly rattling England, the team from this small nation, which was only recognised by the international community in 2008, has a good chance of qualifying for Euro 2020, an absolute first. Kosovo has been wowing the world of football, and Challandes is already a national hero there. "Challandes is the man behind this extraordinary development," the country's leading daily newspaper Koha Ditore recently wrote.
There are grandmothers coming up to me to thank me, telling me about all the good I'm doing for their country. I hadn't considered the emotional impact of being shortlisted for these people. It's a very young country that needs recognition.
- Bernard Challandes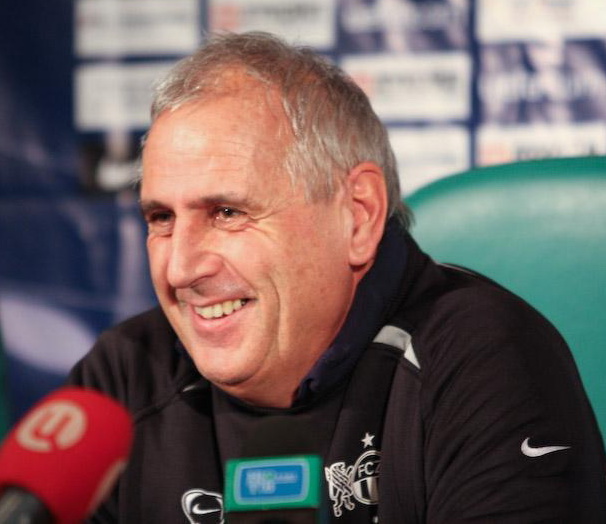 Kosovo's players come from its diaspora, young men playing in 14 different leagues that make up a daring team ready to risk it all. "The team is good at attacking, although sometimes it's a bit hit and miss. But they do attack." Yves Debonnaire has fallen under Kosovo's spell.   "What Challandes and Kosovo have together is a marriage of passion". Michel Pont goes even further. "With Bernard there's no age, only passion."
Switzerland has much to be proud of, with these four coaches projecting an image of our country that is both victorious and humble at the same time.
Other recent stories from this category