Four unusual Swiss museums you might not have heard of
With over 1,110 different museums covering everything from art, science, or history, Switzerland's museum landscape has much to offer. No wonder it has gained a reputation near and far. Yet, when asked about Swiss museum experiences most of us can only think of the usual suspects. With this Swiss Story, we want to take you on a journey to four unusual museums that you might not have heard of yet and that might just tell you something unexpected about Switzerland.
There is nothing like deep diving into the microcosm of knowledge and inspiration of museums – as a nation of museum-goers at least the Swiss like to think so. According to the Swiss Federal Statistical Office (FSO) over 70% of the Swiss population visit the country's museums, making them among the most visited cultural institutions in Switzerland.
However, of the over 1,100 museums that the Swiss have at their disposal only about 5% draw the curiosity of a majority of visitors – leaving many museums and the stories they have to tell about Switzerland and its people relatively unknown. In this Swiss Story, we want to awaken your curiosity for the multifarious nature of the Swiss museum landscape by taking you on a journey to four unusual museums in Switzerland that often manage to surprise their visitors with an unexpected focus and unique experience.
Museum Tinguely – Basel
Don't touch!
We all have heard, read, or at least deeply internalised that common credo of museums. Time to unlearn it and much more at the Tinguely museum in Basel. A place where art novices can reconsider their conception of what an art museum is.
For what awaits the visitor when stepping in is not peaceful silence or sombre and delicate art objects. Instead one is greeted by buzzing and whirring, colossal kinetic constructions. Some of which come alive at the touch of a button, convincing even the last of art sceptics that the Tinguely museum will not offer them a conservative art museum experience. That is in the spirit of the museum's patron, of whom it holds the most significant collection.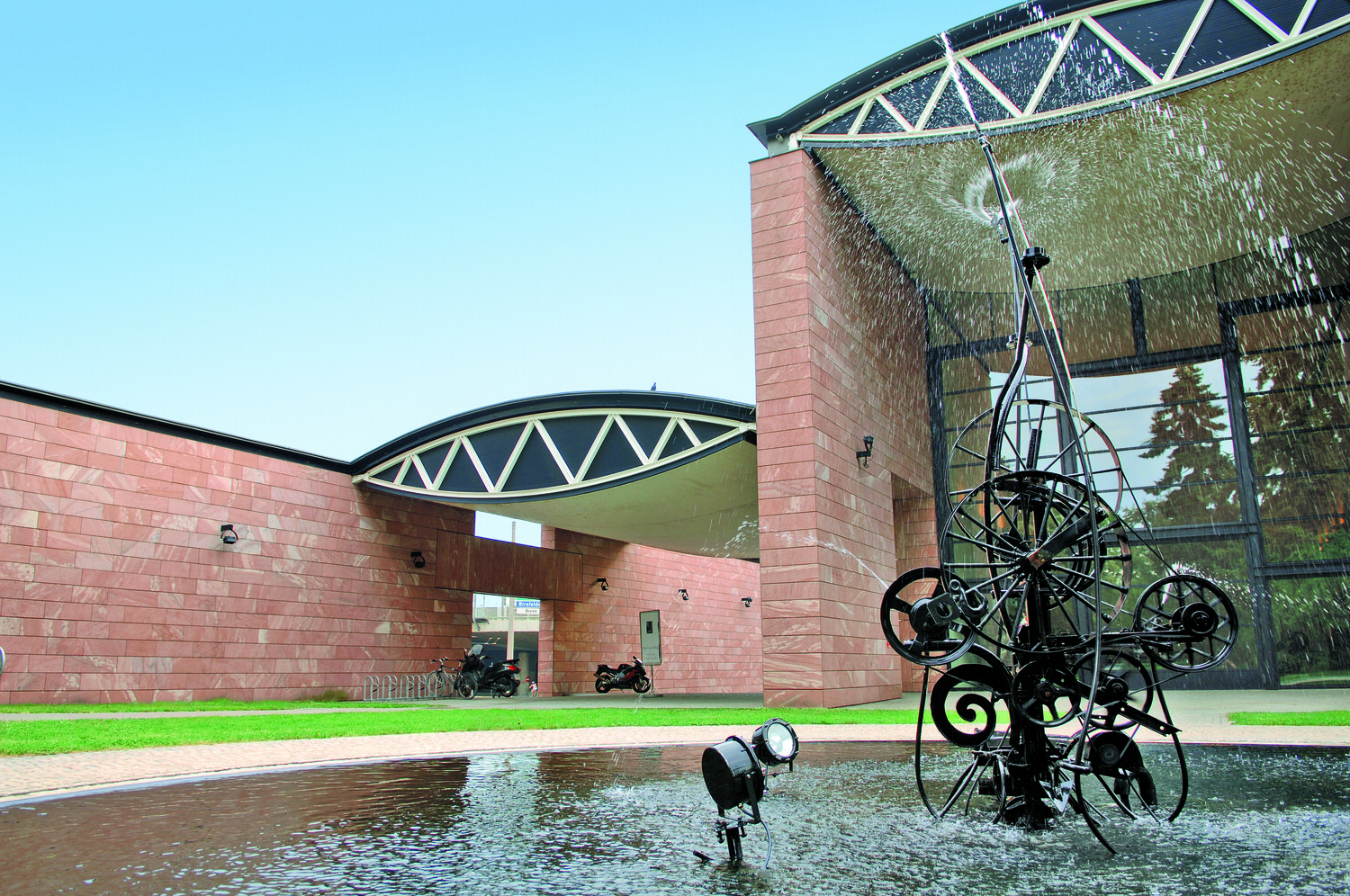 Regarded in his time as unorthodox, Swiss Artist Jean Tinguely (1925–91) was a sculptor and pioneer of kinetic art who took joy in exploring several avant-garde art movements of the 20th century as well as satirising society and its obsession with technology. Ironically he became famous for his tech-like moving mechanical sculptures that strongly contrast with static art people  were accustomed to.
HR Giger Museum – Gruyères
Aliens and Switzerland – not an association that people usually make.
Aliens, grotesque landscapes, AND nightmarish visions displayed in a 13th century Swiss castle – even less so. That is however what one can find at the HR Giger museum in Gruyères, a medieval Swiss village. The museum pays homage to the renowned Swiss artist H.R. Giger (1940–2014). Giger was an airbrush artist and sculptor who developed an unusual, often grim and futuristic-appearing bio-mechanical visual language. A signature visual style that captured the imagination and won the hearts of Oscar juries and sci-fi enthusiasts around the globe, when Giger masterminded the visual effects, creature design and nightmarish landscapes for iconic films such as Ridley Scott's iconic 'Alien' and Roger Donaldson's 'Species'.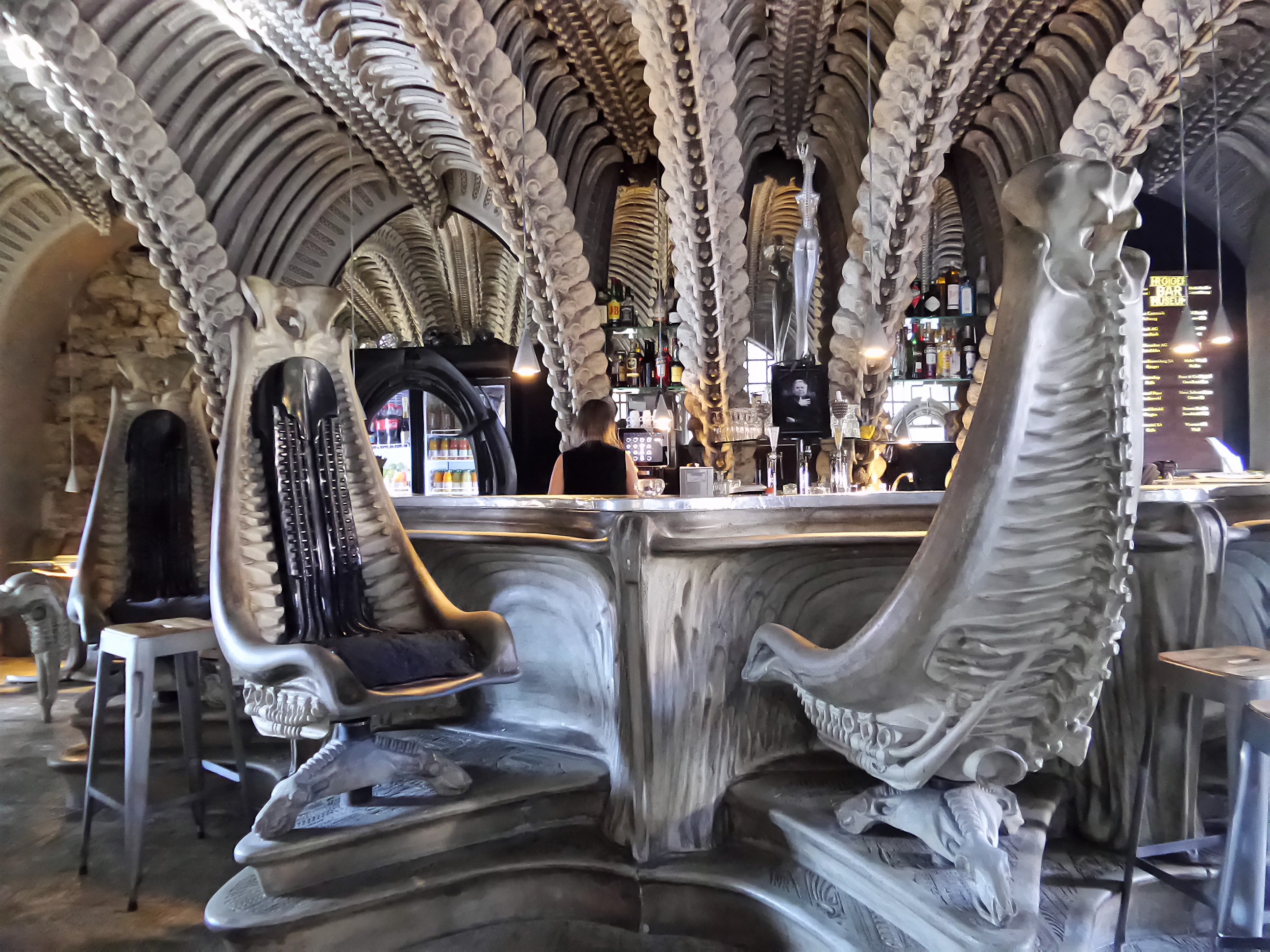 Of course, the museum with its worldwide largest collection of Giger's work showcases such pop-cultural contributions as well as his other sculptures, futuristic landscape drawings, and special effects creations. Designed and curated by H.R. Giger himself, the museum goes further than that however: elaborately designed in almost film-set like interiors, the exhibition and adjoining HR Giger bar gives visitors the experience of stepping into what could be an alien's belly, immersing them in Giger's visual world.
WOW Museum – Zurich
If you want to play tricks on your eyes and enjoy funny - amazing illusions, the WOW Museum is the place to visit. Located in the heart of Zurich, this trompe l'oeil filled space shows that everyone sees things differently and that there is no right way to see!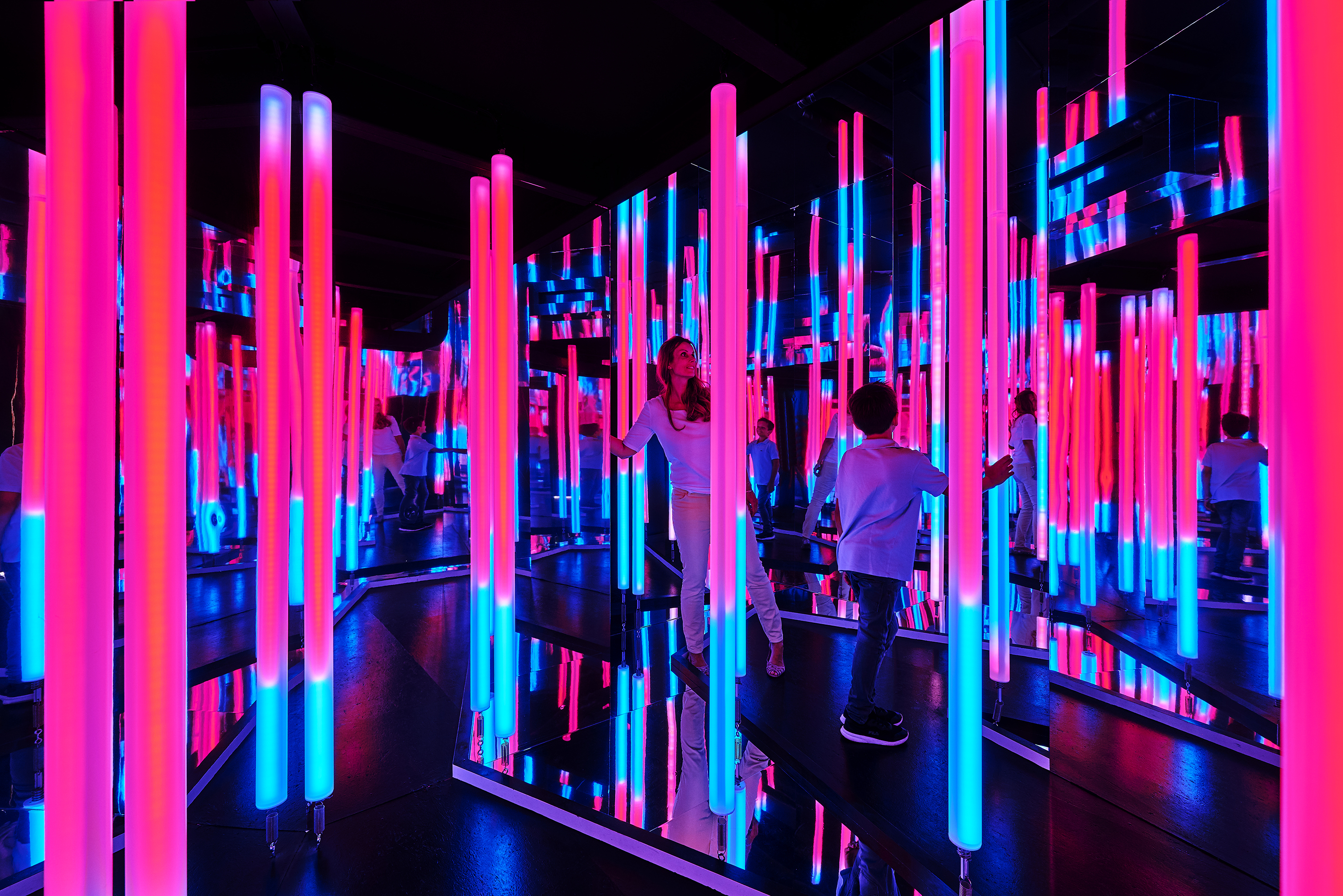 The museum of almost 400 square meters, is a dynamic place that announces the color (or rather plenty of colors) as soon as you enter.The dazzling stars, the long, stunning corridors and the large rooms with their fluorescent columns will undoubtedly titillate your brain's visual area
This unusual museum was created by the Kamermanns in collaboration with the Aroma agency, their ultimate goal being to offer an intergenerational and cultural place to the people of Zurich but also to tourists from all over the world. And above all to bring a little more "WOW" into everyone's everyday life.
There are four photo stations in the museum, which take photos of yourself. But beyond that, you have the opportunity to take some great photos anyway.
Arenenberg Castle – Thurgau
Switzerland a home to emperors? Well sort of – it's a long story.
So long in fact, that it requires an entire castle to tell it.
Arenenberg Castle – the only museum on Napoleonic history in a German-speaking region – in the Swiss canton of Thurgau to be exact. 
Particularly unusual, the castle (now turned museum) used to be the home of the very Swiss emperor of France in question: Napoleon III (1808–73).
But let's start at the beginning. Napoleon III (1808–73), born Louis-Napoleon Bonaparte, was born in Paris while his infamous uncle, Napoleon Bonaparte, was emperor of France. He did not get to stay there long, however, as after 1815 he and his family were forced into exile and ended up at Arenenberg Castle. That fateful development led Louis-Napoleon to grow up alongside Swiss village children, volunteer for the Swiss army, become captain in the Bernese army, receive honorary Swiss citizenship, and befriend key Swiss figures who would significantly influence him as emperor of France. An unusual chapter in Swiss history, which visitors can contemplate in the impressive, imperial surroundings of the castle – still with its original furnishings – and the magnificent lush park surrounding it.

And with this, our tour of four unusual Swiss museums (that you might not have heard of) comes to an end. Whether your curiosity is aroused by the promise of ultra-modern fantasy worlds or the intrigue and adversity of history – these four are but a handful of the many museums in the Swiss museum landscape that have plenty of usual and unusual stories to tell.
Cover image :Tinguely Museum © Basel Tourismus
Other recent stories from this category