Sophie Taeuber-Arp – Living Abstraction in the 20th century
Three exhibitions, in Basel, London and New York, have recently paid homage to Sophie Taeuber-Arp, one of the foremost Swiss artists of the last century – a fitting tribute to this multi-talented, innovative pioneer of abstract arts and crafts.
Any impression of Switzerland as a conservative, materialistic country dominated by bourgeois values ought to be quickly dispelled by discovering the life and work of Sophie Taeuber-Arp (1887-1943). After decades of relative neglect – though the artist's face is familiar to Swiss people thanks to her former presence on the 50-franc banknote – she is now firmly established as a leading avant-garde artist. Her work has now been shown at exhibitions at three major institutions: the Basel Kunstmuseum, the Tate Modern in London, and the Museum of Modern Art in New York.
Studies in arts and crafts – and dance!
Born in Davos in Switzerland, as a child Sophie Taeuber-Arp already showed an interest in indigenous art. She left home at eighteen to study arts and crafts, first in St Gallen and then in Munich, where she specialised in textile design and then wood sculpture at the Debschitz School. At that time, arts and crafts were experiencing a re-birth as a reaction to mass industrial production.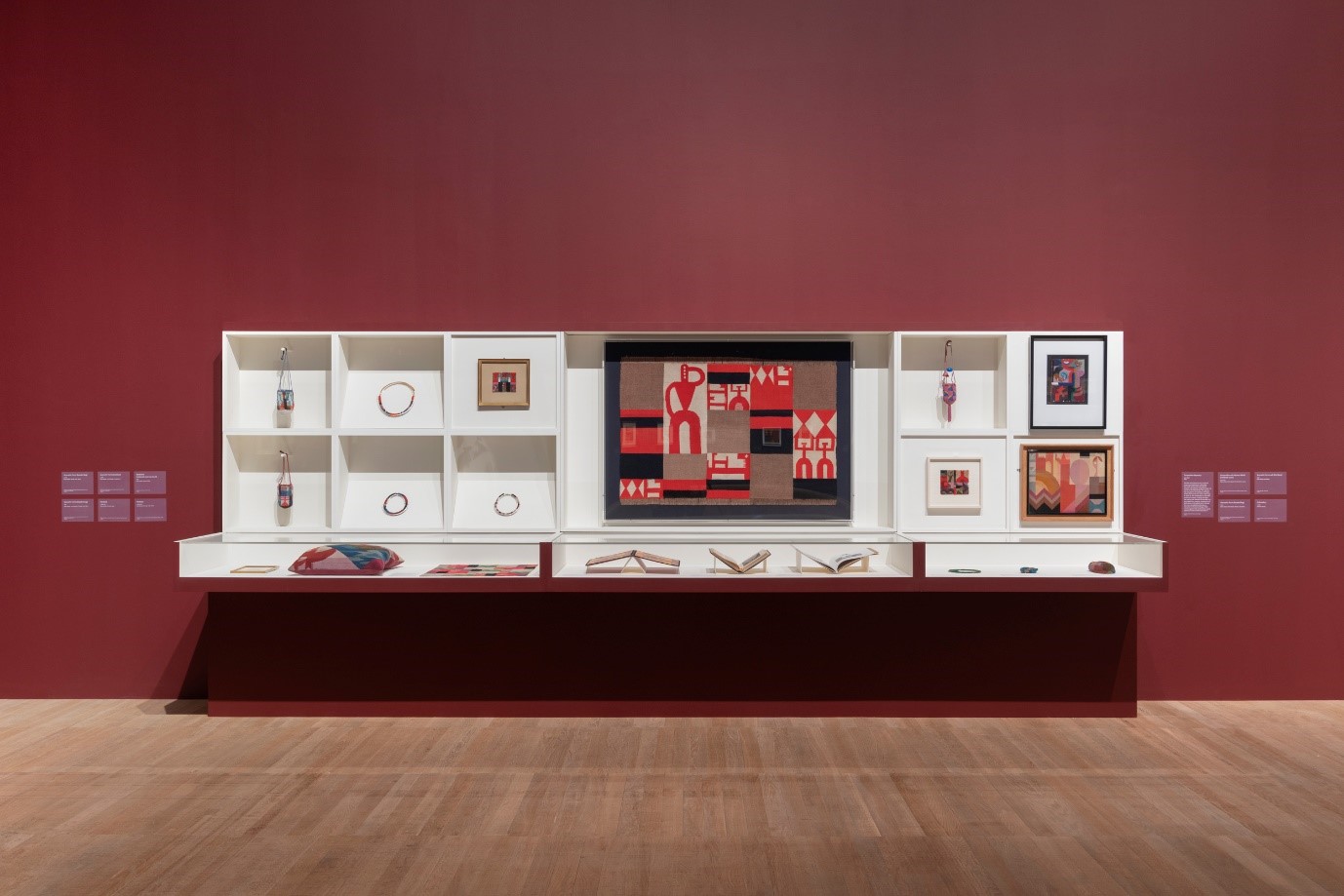 After returning to Zurich in 1914 she taught applied arts, and between 1916 and 1929 was head of Textile Design at the Zurich School of Arts and Crafts. This period heralded the beginning of an extraordinarily diverse career during which she applied the criss-cross alignment of warp and weft used in weaving, inspiring her to adopt vertical–horizontal grids in her compositions.
At the same time, she attended courses in modern expressive dance, taught by Rudolf von Laban and Mary Wigman in Zurich and Ascona. Dance was to be a defining influence in the years between 1914 and 1926.
Embracing the Dada movement
One of the most interesting movements to emerge from the war was Dada. This group of artists, poets and performers challenged the rationalism and social conventions that they believed had led to the war. Taeuber-Arp was one of the few women artists within the group, and embraced Dada's absurdist, playful and radical practices. 
During this period, Taeuber-Arp also began making puppets, and in 1918 she received a commission to create the characters for the play King Stag. In parallel with her puppet theatre project, she also created a series of colourfully painted, turned-wood heads that took on artistic significance in the context of Dada.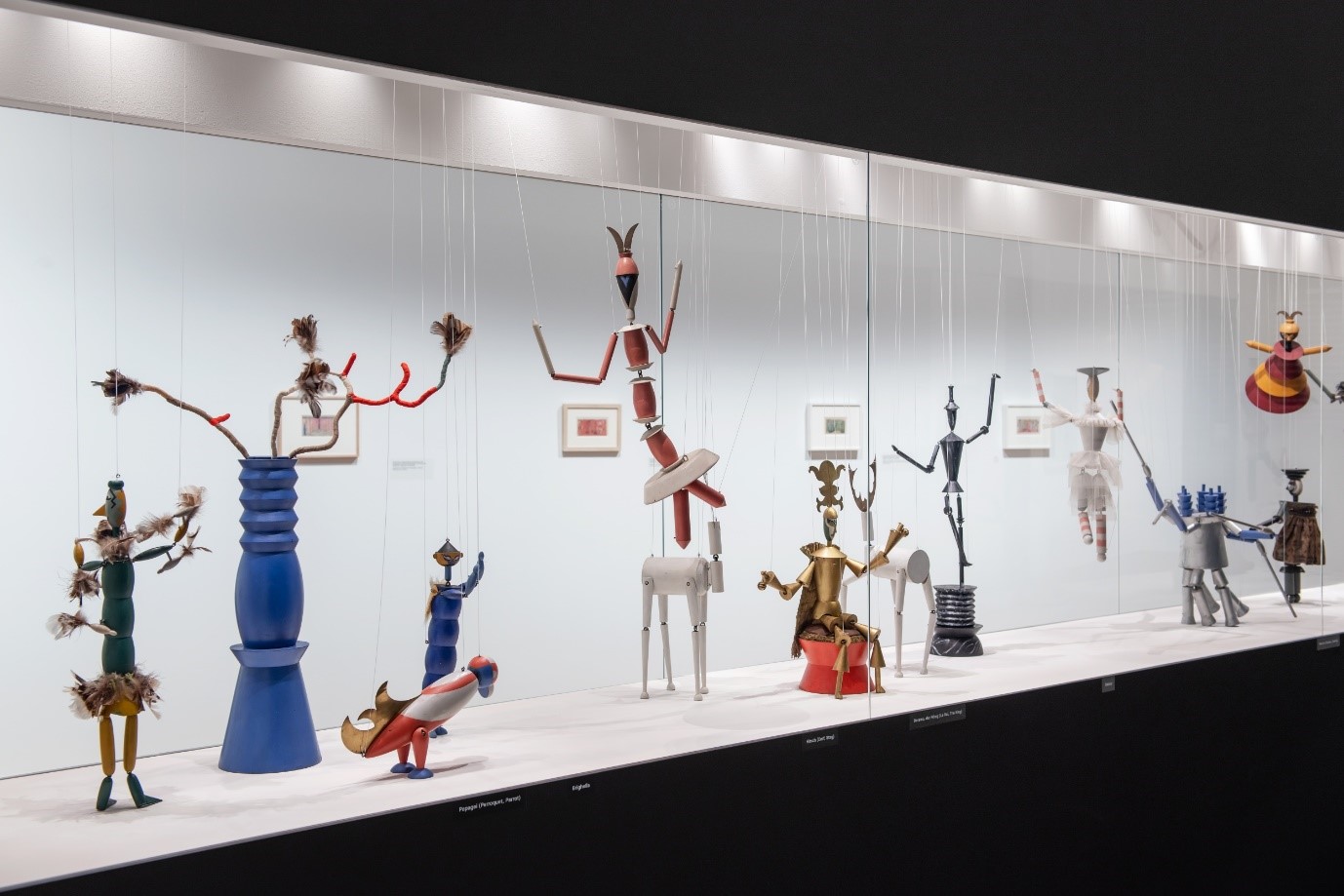 A safe haven in Zurich
Switzerland had remained neutral during the First World War. Many artists, writers and thinkers from across Europe, wanting to escape from the conflict, had settled in Zurich, which became a sanctuary for the avant-garde. This resulted in unprecedented freedom of expression and experimentation across a broad range of media. Among these refugees was fellow artist Hans (Jean) Arp, who would becomeSophie Taeuber's lifelong partner. They married in 1922, and the couple began working in both Switzerland and France. 
Architecture and interior design projects
Between the mid-1920s and early 1930s, Taeuber-Arp's focus shifted to architecture and interior design. In 1925, she travelled to Paris to represent Switzerland, exhibiting various works and winning a prize. She and her husband then applied for and obtained French nationality, and received a commission to transform part of a historic building in Strasbourg, known as the 'Aubette', into a multi-purpose leisure complex.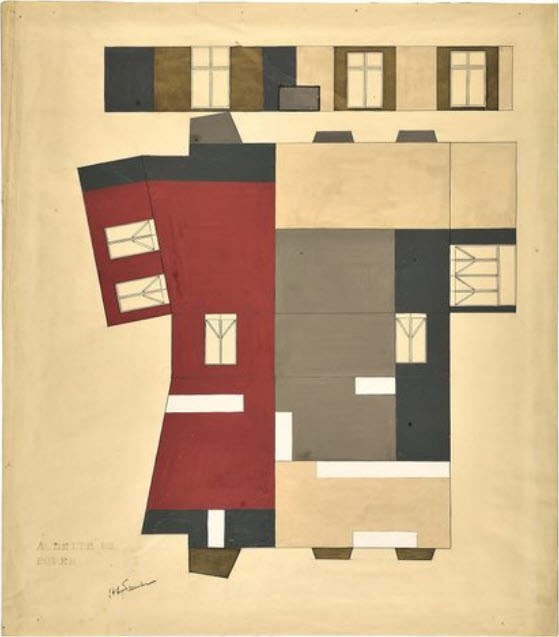 This commission brought her international recognition in interior design, and in 1928 the couple decided to build a 'studio house' in Meudon near Paris. They each had their own studio in an open-plan configuration, to encourage a free-flow of ideas and synergies. The house and garden became a meeting-place for many well-known modern artists, many coming from abroad.
In France, she logically became part of the Circle & Square and Abstraction–Creation movements, which counted Wassily Kandinsky, Piet Mondrian and Kurt Schwitters among their members. These groups were committed to bridging the gap between applied and fine arts. However, she still maintained close ties with Basel, in particular through her involvement in an exhibition showcasing Constructivist art at the Kunsthalle in 1937, to which she submitted numerous works.
Nazi occupation of France and refuge in Grasse
In the spring of 1940, the Arps fled Paris ahead of the invading Nazi troops. Heading south, they first stayed in Nérac with their close friend Gabrielle Buffet-Picabia, before staying for a few days with the American collector Peggy Guggenheim in Veyrier-du-Lac. In September, they arrived in Grasse, where they were reunited with artist friends, but this was a period of isolation and poverty, with very few artists' material available.
In 1942, an application for visas to travel to the United States was granted, but the couple decided against leaving Europe. A temporary visa for Switzerland enabled them to escape the occupation of southern France.
Return to Zurich and accidental death
At the time of her death in a tragic accident in 1943, her work encompassed textile pieces such as pillows and tablecloths, bead works, a puppet theatre, costumes, murals, furniture, architecture, graphic design, paintings, drawings, sculptures, and relief art. 
Her application of art to everyday life is without parallel in the era of classical modernism, and she can justly be regarded as one of the most innovative artists of the 20th century. Her influence on design and art continues to this day.
Cover image : Extract of tapestry – wool on canvas: © Museum für Gestaltung, Zurich
Other recent stories from this category