You may have already heard bells reverberating through Swiss pastures, in the mountains or maybe on a farm. Unless there is a church nearby, the sound of bells in Switzerland signals the presence of animals grazing. "There are parallels between the sound of cowbells and the chiming of church bells," explains Sylviane Messerli, who has produced a book entitled Des cloches et des hommes ('Bells and Humankind') together with the photographer Hélène Tobler.
Sylviane Messerli, who heads the Bernese Jura Research and Records Centre, points out that humans also wore bells in the past. "Bells represented power when worn by monarchs and the divine when adorning ceremonial robes. Lepers also carried bells to warn people of their approach". According to Sylviane Messerli, two types of bell are found in Switzerland nowadays: "bronze bells, which are cast in moulds, and steel bells that are hammered into shape."  
Folklore symbol
Bells, as symbols of traditional folklore, serve as shorthand for Swissness. Both in Switzerland and in other countries, bells are symbolic of Switzerland at traditional and official ceremonies. As Sylviane Messerli mentions in her book, it is also customary at sports events to cheer people on by ringing bells vigorously or to sound a bell to indicate the final lap of a race. The book also reveals that a Neuchâtel manufacturer has been supplying bells to the Olympic Games since 1980. The Blondeau foundry in La Chaux-de-Fonds supplied its first Olympic bell for the Moscow Games. 
Since the end of the eighteenth century, there have been only around two hundred registered bell founders, or craftsmen who cast bronze bells. There are bell founders working in all four language regions of Switzerland. Some models bear religious motifs, prayers, animals, flowers or other images. According to Sylviane Messerli, these symbols express beliefs and hopes, but also fears. "By using bells with religious motifs, farmers are protecting their cattle through faith, as though each bell were a prayer. They also serve to ward off evil."
Cattle bells
Forged bells are made from metal sheets that are heated in a furnace and then hammered into the desired shape. An embroidered leather strap is then attached so that the bell can be hung around the animal's neck. These handcrafted bells cost between CHF 850 and 900.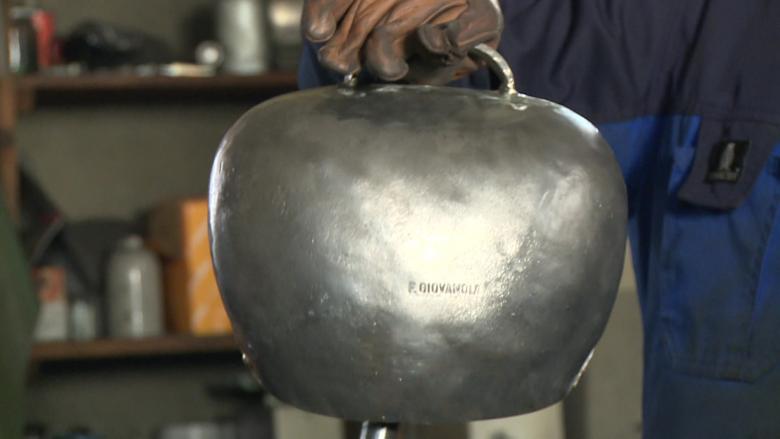 The practice of attaching bells to animals dates back to the early days of livestock rearing. "Bells were hung on cows, goats, sheep, horses and even elephants as a sign that the animal was domesticated," explains Sylviane Messerli. "Shepherds can locate their herds by bells in fog, at night and deep in the ravines. The sudden ringing of bells warns of danger, while their rhythmic clanging soothes the herd." Once the bell has been attached, the animal will wear the bell for the rest of its life unless there is a change of owner. 
François Giovanola's story 
François Giovanola is a blacksmith and maker of forged steel bells, or sonnettes, as they are known in the canton of Valais. He started out as a locksmith's apprentice and later learned the art of bell-making from his uncles. "At first, my uncles didn't sign their bells because of their Italian name which didn't go down too well in those days. They were worried that the bells wouldn't sell. The Besse family, based in Bagnes in the same valley, also made forged steel bells, which were very highly regarded". François Giovanola has built up a reputation over forty years, especially in relation to the Hérens breed of cattle. "I went everywhere in Switzerland which had the Hérens breed of cows, even across the border into Val d'Aoste," says François Giovanola.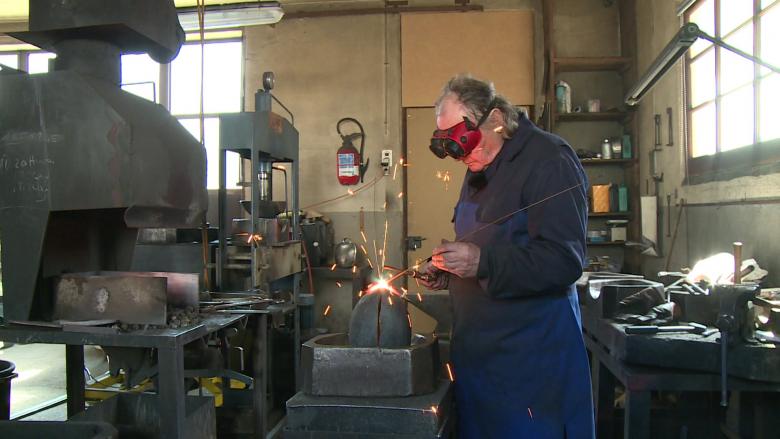 "It takes a whole day to make a steel bell from scratch and 14-15 different steps are involved in transforming a crude metal sheet into a finished product. Pinpoint accuracy is needed at each stage," explains the craftsman from Bagnes. It is impossible to say how many models François Giovanola has produced in the past forty years. However, he always recognises his own bells from their shape and sound. "As soon as I see one of my bells, I can tell it's one of mine from its shape and the sound it produces. I always try to ensure that my bells produce a clear tone that is pleasing to the ear. The bell should sing out and, most importantly, shouldn't produce a metallic clang". At 73 years of age, François Giovanola is still producing bells in his Sembrancher workshop because, as he told us, bell-making is his passion, but it also helps to keep him fit.
Other recent stories from this category