Swiss cows and goats seek sponsors
Ever thought of adopting a cow or a goat to help support Swiss farmers? The idea is catching on in our cities and is proving popular with the farmers too.
On farms high in the mountains and also closer to the towns, Swiss cows and goats are being adopted by city dwellers. If you have a yearning for the countryside you can sponsor Daisy the cow or Billy the goat for a season, say, and come visit whenever you like. In return for your donation, you will get an insight into life on the farm and get special discounts on the farm's products. You'll even get some free cheese!
It's a concept that works, especially now as more and more people feel cut off from the country and are looking for contact with the land and the taste of real food. The producers themselves are also keen to forge new links with the people in the cities so that they have a better understanding of their way of life.
Below are three concrete examples of farms that use sponsorships to support their activity.
The goats of La Touvière
Without the help of sponsorships, the goat-breeding project at la Touvière would never have seen the light of day. Since October 2016, four young people have been renting a farm near Geneva and have transformed it into a cheese dairy. Their project, which used a crowdfunding-style sponsorship system to raise funds, won them the IDDEA Sustainable Development Award.
"The sponsorship money made it possible to buy the herd and start production, but our long-term model is based on the sale of our products," explains Sophie Regard, one of the four partners. "We didn't have money of our own to invest."
The 27 goats were quickly adopted, with sponsors committing themselves over several years for a total price of 3,500 Swiss francs. Eventually the operation will have about sixty animals – and they are already reserved. "The system works very well, but that's also partly thanks to the fact that we're lucky enough to be on a site that is well known in Geneva and which is very close to the city," says Sophie.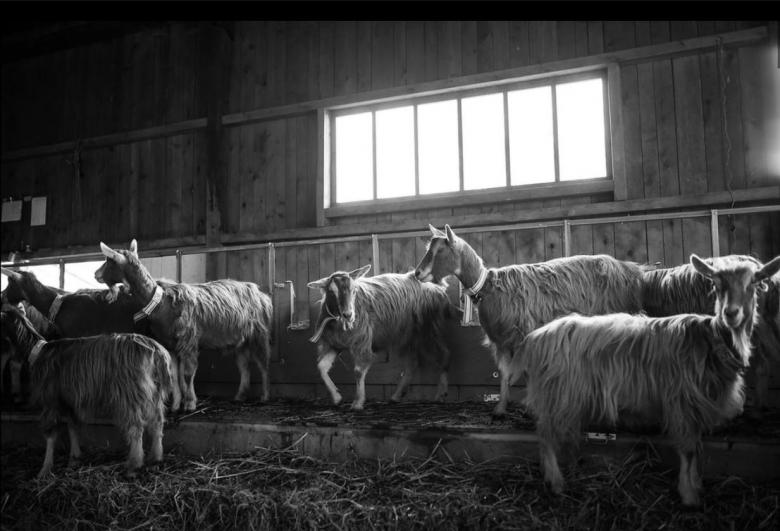 Donors sponsor their goat for the duration of their lives (about 8 years) and can choose their name. Trifoline, Frisette, Flocon and Suzette are then visited regularly by their sponsors. It is a gift that grandparents or parents like to give to a child in order for it to create a link with the land. Sophie Regard is also keen to show visitors of all ages what goes on behind the scenes. "When we talk to people, we see how far removed they are from life on the land: they have no idea what farming is really like."
The foursome behind the operation have also introduced some other original ideas, such as a cheese subscription, or loans from supporters reimbursed in the form of goat's cheese.
Adopt a cow in the Alps
Michel Isoz has been offering his cows 'for rent' to city dwellers for the past 15 years, on his farm in the Pays-d'Enhaut in the canton of Vaud. He is one of the pioneers in the French-speaking part of Switzerland. "I took over the farm from my father and I wanted to create a dynamic between people living in the towns and those in rural areas. I wanted to find something to attract them to the countryside." He soon discovered the concept of 'Cowleasing', a system of sponsorship dreamt up by the Bernese – the first of its kind in Switzerland – and decided to give it a go himself, launching the business with his website 'Mavachamoi' (French for 'my very own cow').
His aim is to draw city dwellers up to his place in the mountains, in order to sell directly products from his farm. "Creating an alternative route involves more work. But I value my production of cheese and meat," explains the producer, who plans to open soon a table d'hôtes. "My goal is for the city dwellers to feel at home here!" he says.
The farmer 'rents' only about ten of his total herd of 36 to 38 cattle. His goal is to get more sponsors, but that takes up a lot of time. In addition to the individual visits, he organises a party for them and invites them up to celebrate whenever their adopted cow has a calf.
The sponsors are also expected to muck in and experience life on the farm for themselves. "It's a tough job up here in the mountains, there's no denying that!" says Claude Kobler, who has been sponsor of Sirène the cow for the past five years. "I helped to bring in the hay by hand –  you can't use a tractor on the steeply sloping hayfields up here".
This Genevan lover of local products goes to the farm once a month to buy cheese and cold meats, often after a hike. "Sponsorship allows me to connect with nature and the countryside, and it's a way to get good-quality products. It's not to make a return on an investment, but rather it's a way of supporting a local producer," he explains. The price for renting a cow is 380 francs for a season and that entitles you to a discount on the products.
Over time, Claude Kobler has not developed a special bond with his cow – which he suspects of forgetting him as soon as he's no longer there – but rather with the farmer himself.
A rescue operation for a beekeeper
If Didier Bettens is still beekeeping today just outside Oron in the canton of Vaud, then it is thanks to the sponsors of his hives. In 2011, during a particularly hard winter, he lost all his bees. "It's difficult these days to survive as a beekeeper in Switzerland and many are jacking it in," he says. The donations enabled him to overcome this challenge by financing the purchase of new hives (each one costs 400 francs). Today, he has 46.
The sponsorships enable him to guarantee the continuation of his activity, compensating each winter for any loss of bee colonies, irrespective of the income he gets from the sale of honey. "With this support, I can be sure my expenses and overheads will be pretty much covered, whether the year is good or bad."
"If it's a good year, sponsorship money is not used to increase my income, but to carry out various projects which I publicise among the sponsors every year," he says. For example, he purchased a demonstration hive with transparent walls, to show schoolchildren.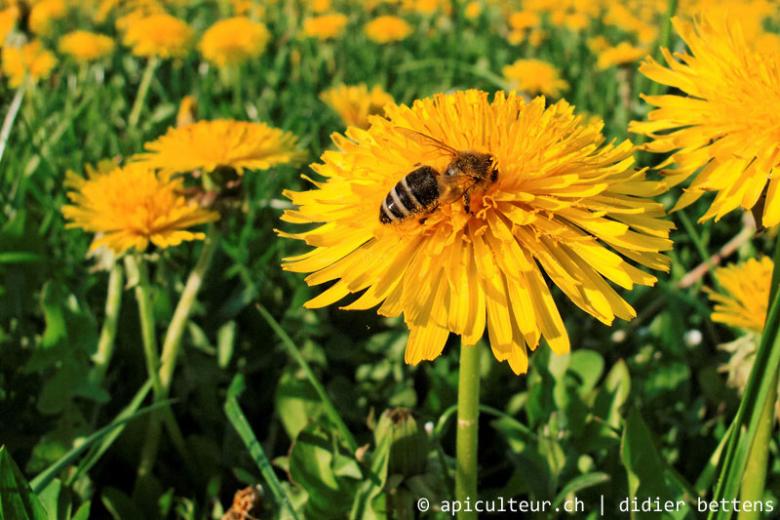 "In order to protect the bees, you need to protect the beekeepers first, because we are the ones who care for them!" he says. He notes with satisfaction a real interest from the public to support Swiss honey, to such an extent that he even has to turn down new sponsors. He limits their number to 10 to 15 per year, in order to be able to provide closer contact. For a donation of 250 francs the sponsors receive 3 kilos of honey and are entitled to a discount on the products from the hive.
They are also invited to come and visit to learn about the business and they receive news about projects by email. "I get great pleasure out of having visitors round and showing them the bees. It's a good experience to share!" says Didier Bettens.
Spirit of the age
This system of sponsorship seems to be on to a winner. The three businesses illustrated above have their quota of sponsors well filled! Their philosophy is to limit the experience to a small number of people, to foster a better kind of contact. The system should not be seen as a means of generating as much money as possible, but rather to create exchanges and an alternative sales channel.
Food for thought for other producers, perhaps. Other examples can be found elsewhere in Switzerland. The Breitenmoser family 'rents' its cows in Appenzell, while Bérangère Carron just outside Martigny in the canton of Valais offers goats, donkeys and rabbits for adoption. A programme of the Pro Specie Rara foundation also proposes sponsorship of endangered farm animal breeds, such as the mirror sheep and the bearded Appenzell hen.
Other recent stories from this category