Switzerland's military peace support activities
Some 250 Swiss nationals are currently engaged in military peace support missions worldwide. With its strong commitment to international conflict management efforts, Switzerland is thus helping to preserve peace and protect local populations. Swiss military personnel are highly valued because of their consensual approach and multilingual skills and their country's neutrality.
Peace support: a key task of the Swiss Armed Forces
Switzerland has been involved in civilian and military efforts to support peace and promote human rights for several decades. International peace support is one of the three main tasks set out in the Armed Forces Act. 
Because civilian expertise is essential for certain tasks, Swiss women who have not undergone basic military training can also take part in Swiss peace support missions. They receive appropriate military training and equipment to perform their tasks. In April 2020, the thousandth female peacekeeper boarded a flight to take part in a Swiss peace support mission. 
Women play a key role in such missions as direct contact with women in local communities is often easier for the women peacekeepers.
Switzerland's quiet commitment
The Swiss Armed Forces are involved in peace support operations within the framework of the Organization for Security and Co-operation in Europe (OSCE), the United Nations (UN) and the European Union (EU). Some 250 Swiss soldiers and civilians are deployed in over a dozen peace support operations in Europe, Africa and Asia.
Because of their neutrality, the Swiss servicemen and women engaged in these operations are highly valued by all sides, especially by government authorities, local communities and international organisations. Another positive factor is that Switzerland does not have a colonialist history. Swiss peacekeepers are therefore ideally equipped for international peace support operations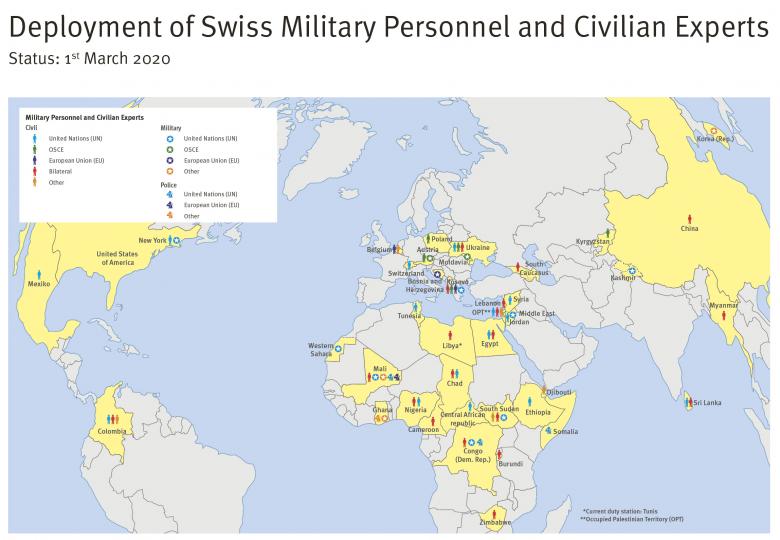 A decades-long commitment
Switzerland's involvement in military peace support operations began in 1953, when the Federal Council dispatched 146 armed members of the Swiss Armed Forces to the Korean Peninsula. Five Swiss officers are still deployed at the headquarters of the Neutral Nations Supervisory Commission (NNSC) in Panmunjom, a village located on the military demarcation line between the two Koreas. The NNSC's mandate is based on the ceasefire agreement signed by North and South Korea. The largest deployment of Swiss military personnel to date, however, is in south-eastern Europe.
Kosovo: SWISSCOY
For more than two decades since the end of the Kosovo war in 1999, the Swiss Armed Forces' SWISSCOY contingent has been engaged in the peacekeeping mission of the UN-mandated Kosovo Force (KFOR)in Kosovo, which declared its independence in 2008. Up to 165 Swiss servicemen and women, who are armed for self-protection, are currently performing a wide range of tasks for KFOR. This makes SWISSCOY Switzerland's biggest deployment in personnel and logistical terms to date. The Swiss nationals serving in the SWISSCOY mission perform a wide range of tasks throughout Kosovo, including monitoring and logistics operations and providing medical care for KFOR troops and the multinational military police force. SWISSCOY also has an explosive ordnance disposal team that defuses and removes unexploded ordnance. In addition, the Swiss Air Force has made an air transport unit with two helicopters available to KFOR.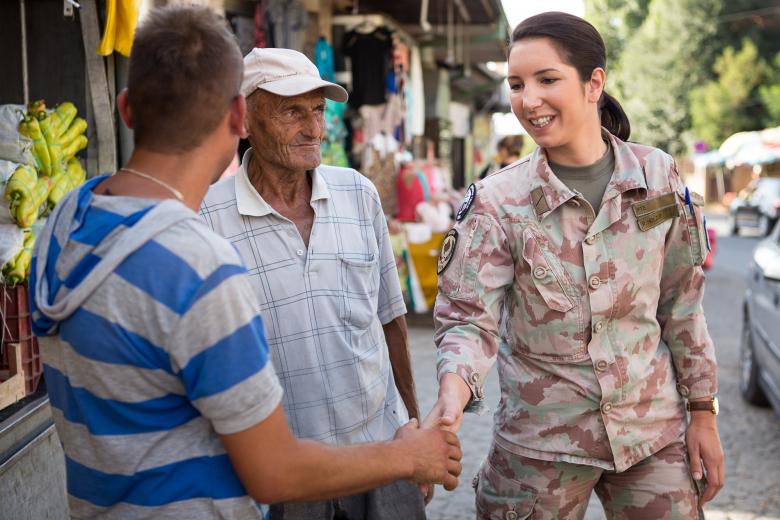 Bosnia and Herzegovina: EUFOR Althea
Switzerland has also participated in the European Union Force Althea (EUFOR Althea) in Bosnia and Herzegovina since 2004. Sixteen Swiss servicemen and women are currently deployed in monitoring and liaison teams in Mostar and Trebinje. They report to EUFOR and maintain good relations with the local community, the authorities and with international organisations active in the two cities. As is the case in Kosovo, the work carried out by Swiss servicemen and women enables them to keep a finger on the pulse of the local population and to identify potential conflict early on. In addition, four staff officers are deployed at headquarters in Sarajevo to carry out coordination and administrative tasks.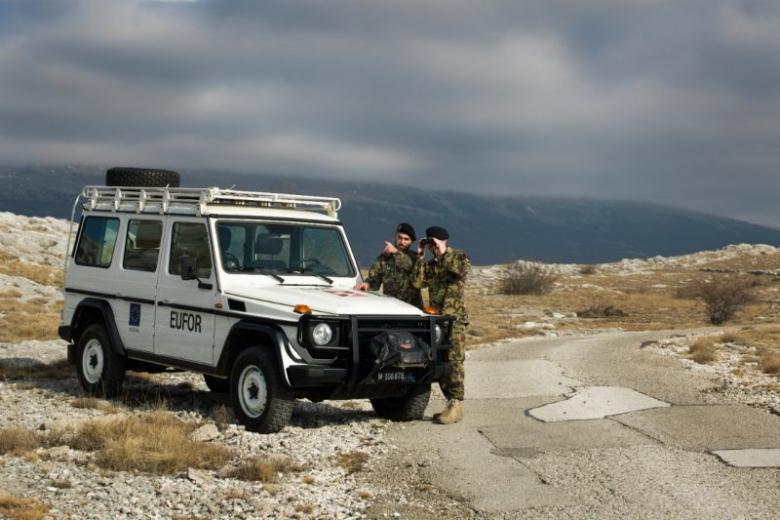 Blue Helmets and staff officers on mission for peace
Unlike the Swiss servicemen and women in the Balkans, Swiss military observers, liaison officers and staff officers deployed in the Middle East, Africa and Asia are always unarmed. 
To ensure impartiality, military observers serve in international teams. Their tasks include monitoring ceasefire agreements and mediating between parties in order to prevent the outbreak or spread of new conflicts. Swiss nationals deployed as UN military observers – also known as Blue Helmets – patrol and monitor designated areas and talk with all stakeholders involved in a conflict. Swiss staff officers are also deployed as military specialists in UN missions, e.g. at the headquarters of international missions. 
Swiss nationals are also involved in humanitarian demining operations and work at the headquarters of the OSCE in Vienna or the UN in New York. 
Another important element of military peace support is capacity building, which serves to transfer valuable peacebuilding expertise. Since 2006, the Swiss Armed Forces have been providing personnel and financial support to training centres in Africa, including the Kofi Annan International Peacekeeping Training Centre (KAIPTC) in Ghana and the École de maintien de la paix Alioune Blondin Beye (EMPABB) in Mali.
Military peace support with a 'Swiss touch'
Because the Swiss Armed Forces are based on a militia system, Swiss servicemen and women offer a broad range of experience and expertise. Swiss nationals trained in Switzerland for missions abroad are highly valued by their counterparts in other armed forces because in addition to their military expertise they also have civilian professional skills. Swiss servicemen and women generally also speak two or more languages and are keen and able to reach a consensus, all of which are very useful skills for peace support missions.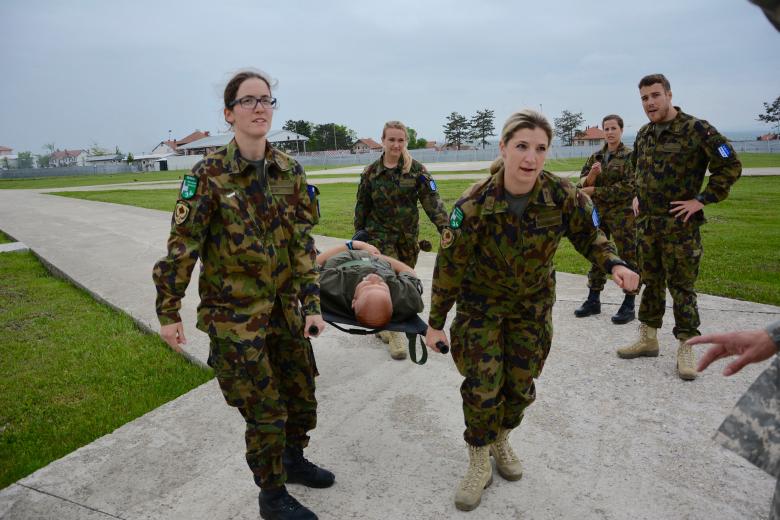 Switzerland's long-standing participation in military peace support operations has made Switzerland a reliable, credible and much sought-after partner in efforts to achieve lasting peace. Efforts are under way to ensure that Swiss expertise in this area will continue to be brought to bear and further developed in the future.  
For further information on SWISSINT and recruitment procedures: www.peace-support.ch