Tones, a trailblazing Swiss graffiti artist
Interview with Tones, the acclaimed master of the Swiss graffiti scene whose tag now graces walls around the world, even Nike's headquarters in Oregon.
Waiting at a terrace table in a Genevan coffee shop, I am suddenly gripped by a minor panic that I have no idea what the man I'm about to interview looks like. In fact, I don't even know his surname. But I do know his tag. Tones has tagged his five-letter moniker in sun-fiery yellows or shades of blue all over his Instagram account, his Facebook wall...and on walls around the world. The Genevan graffiti artist is a widely acclaimed master of the form.
Tones' signature artworks are now in demand internationally: he has just come back from a three-month stay in Latin America at the invitation of a prestigious street-art festival. When I finally spot Tony (Tones' first name) – his shirt and retro glasses are dead giveaways – we sit to talk about his trip, the people he met in Latin America and the street art he improvised. In a nutshell: "It was an insane experience."
Rap and Michael Jordan
Tones fits the image to perfection: he's cool, laid back and fluent in the language of young urban artists everywhere. Yet nothing in this thirty-year-old's background suggested he would one day wield a spray can like a painter wields a paintbrush. Certainly not his academically-minded parents, who left their native Cambodia to study in Switzerland.  "Though come of think of it, my dad's fine calligraphy may have left a mark on me."
When he was six, Tony started copying out characters from his favourite comic books – first on paper and later on his school desk. A classmate who shared his passion started competing with him to see who could draw the best comic book characters. "Every Monday, we'd take out a new drawing from our backpacks to impress one another." They took their inspiration from hip-hop videos and Michael Jordan's feats on the basketball court.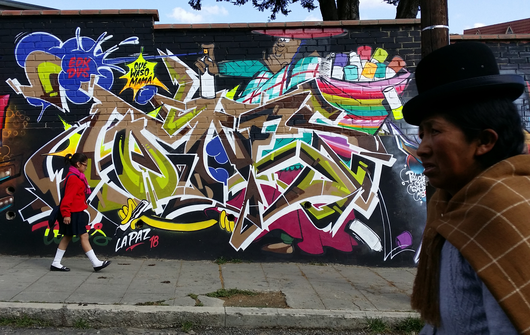 Making the alphabet dance
Tones picked up his first spray can in 2000 to join a group of friends who were going out under cover of night to tag walls all over town.  "But… what's the difference between a tag and a piece?" I've evidently betrayed my ignorance. Tony improvises a quick tutorial with the aid of a writing pad. "A tag is a spontaneous, stylised signature," he explains, tracing his own tag on the page. "It's the foundation of the graffiti movement." The pared-down simplicity of the tag expresses Tones' artistic vision better than the bubble-shaped letters of the throwie or the elaborate arrows and curves of the wildstyle. Unlike street artists, taggers only use letters, which is why they used to be called 'writers'. "Some people think that writing your name all over the map is an ego trip. But there's an art to breaking down the alphabet, making it your own, and making it dance."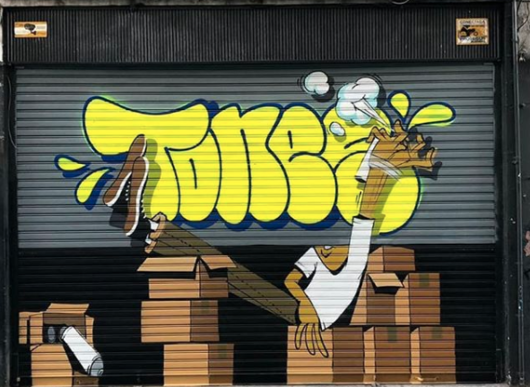 When Tones started out, there was no graffiti art school. He began by mimicking the bouncing Ts and the frenzied Rs of a veteran Genevan street artist, ReyOne, who had lived in New York, the Mecca of the urban art world. ReyOne became Tones' mentor, and made him spray paint the same letters over and over again to teach him the basics of graffiti composition, shape and size – and the codes of graffiti culture.  "He introduced me to a complex and not easily accessible world, where you develop a reputation by respecting the work of those who came before you."
A gift to his city
The American aesthetic of the 1980s and his encounters with some of the best New York graffiti artists were a major source of inspiration for Tones' style, which he describes as 'fun' and 'funky'. The wild and irrepressible energy of Tones' letters and the tall, broad-smiled characters he often incorporates into his art are a testament to his passion for illustration. Walk down the Rue des Eaux-Vives in Geneva and you will come across one of his works, spray-painted on the corrugated shutters of a tobacconist. Tones was commissioned to do this work under exacting conditions. "It was late December, the temperature hovered around 4 degrees and I was only allowed to work outside business hours, between 2 and 9am. But it was worth it, as the finished product now puts a smile on morning commuters' faces."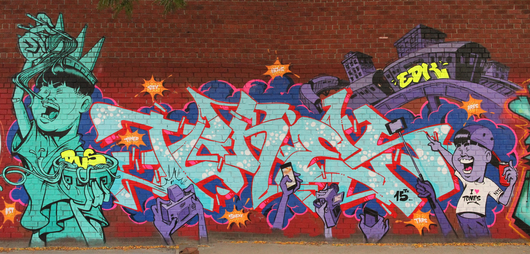 Tones' ambition is to breathe positive energy into the grey streets of the city. Today he mainly does work on commission for public and private spaces, but having also done 'illegal' graffiti in the past he does not understand why urban graffiti artists are demonised. "To me we're not defacing the city but giving something back to it. And it's just paint...which can't be worse than the visual pollution caused by advertising, can it?" Tones has long been travelling far from the surveillance cameras and raised eyebrows of Switzerland to the crowded streets of La Paz or the slums of Delhi in order to build bridges across cultures and generations with his spray cans. "The idea that a dilapidated wall no one had ever paid attention to suddenly catches a grandmother's or a child's attention is powerful."
Childhood dream
Tones has seen a great many changes over the almost twenty years he has spent living the life of a nomad. Graffiti art is now displayed in museums and on designer clothes and is steadily gaining recognition as a true art form. "In the old days we used to buy the tools of our trade in urban squats. It was an underground, clandestine community. Today, you can order anything you need in just a few clicks. There are even graffiti workshops and camps for children!"
Major companies are also getting in on the act: Tones has already been approached by Microsoft, Lays and Nike to carry out projects for them. Last year, Nike commissioned him to paint a wall at its world headquarters in Beaverton, Oregon. He produced a 3 by 6 metre scene of teenagers shooting hoops, inspired by the drawings he used to make in high school. "A childhood dream come true" for a Genevan graffiti artist – and proof that he is finally playing with the big boys.
Bio
1982 Born in Geneva
2000 Takes up his first spray can
2003 Meets his mentor, ReyOne
2009 First piece painted in his parents' home country, Cambodia
2017 Participates in the World Graffiti Project at Nike World Headquarters in Beaverton, Oregon
This article was first published in Le Temps
Photographer 

David Wagnières
Other recent stories from this category