Electric trucks herald breakthrough in electromobility
Environment-friendly electromobility solutions with increased battery capacity from Switzerland are sending a clear signal to the logistics industry.
With environmental concerns continuing to dominate the news and logistical headaches making headlines worldwide, it was high time for a breakthrough in transport and logistics. Electric trucks with an increased range of action are now enabling emission-free journeys, with far-reaching consequences for sustainable mobility. Here's how Swiss expertise in engineering and industrial design came together to develop a pioneering solution.
Unprecedented cooperation and synergies
This ground-breaking innovation involved the design and manufacture of two 40-tonne fully electric semi-trailer tractors, each with a battery capacity of 900 kilowatt-hours (kWh). They were produced by Futuricum – the e-truck brand of the Designwerk Group – in cooperation with Volvo Trucks. Their partners in this project were the haulage and logistics experts Galliker Transport and Friderici Special, as well as the transport leasing company Avesco Rent. As early adopters of the technology, the commitment of these companies was crucial in going forward to the manufacturing stage.
The project is an impressive example of how four progressive Swiss companies working closely together can achieve great things. Sharing a passion for sustainable transport and customised solutions, they were able to leverage important synergies.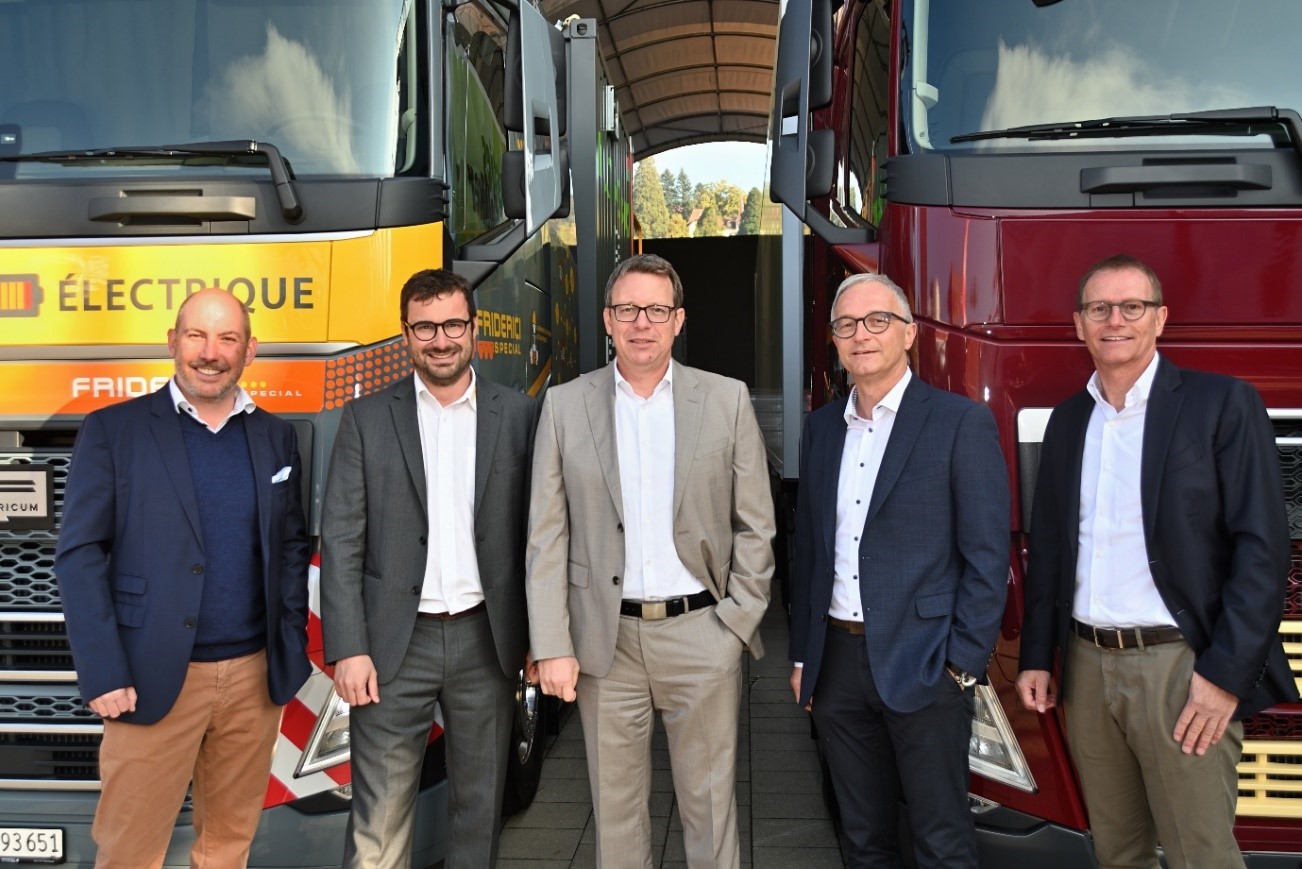 The two electric trucks left production in October 2021. Adrian Melliger, Managing Director of the Designwerk Group, is delighted. "With the completion of these vehicles, we have reached an important milestone. Thanks to the 900 kWh battery capacity, we are increasing the range of action in the logistics sector and enabling energy-intensive applications such as those found in heavy and specialised transport."
Competitive range of action
The new tractor unit has a range of up to 500 kilometres, which makes it competitive with equivalent diesel vehicles. Already in use at Galliker's headquarters, the truck is used to transport food and medicines. They have already ordered eight more electric trucks from Futuricum, some of which will be used to transport electric cars! 
Peter Galliker, CEO of this family-owned business, is enthusiastic about his new acquisition: "Futuricum has done a great job: the new e-truck meets our high standards in every respect. Even the refrigeration unit of the trailer is powered by electrical energy. It's generated by an axle-integrated dynamo and is therefore 100 percent CO2-neutral."
Award for energy-efficient garbage collection
Garbage trucks are very noisy and have an unpleasant diesel odour. Futuricum recognised that these trucks, with their 'stop-and-go' nature, are an ideal application for electric propulsion. In a three-year-long project with the Federal Office of Energy, they developed the 26-tonne Collect 26E electric truck, which won a 'Watt d'Or' (Golden Watt) award in 2020. When compared with diesel equivalents, this vehicle emitted on average only a fifth of the CO2 over a 500,000 kilometre life-cycle. Noise levels were also lower except when accelerating rapidly.
Quietly and with zero CO2 emissions, the Collect 26E model is currently being put through its paces in four cities in Switzerland. Although it is around twice as expensive as diesel equivalents, the trucks cost 80 percent less to run. Full-scale production has now begun and the intention is to develop further applications for electric commercial vehicles.
Looking to the future
These solutions are now also being rolled out in Germany, Austria and Scandinavia, a transfer of technology that will have positive and far-reaching consequences for the environment.
Now that the limited range of electric vehicles is no longer an obstacle, the focus is on providing an efficient and widely available infrastructure for these vehicles. Futuricum is continuing its research in this direction, in particular the installation of charging points and storage solutions. In the pipeline is the Megawatt Charger Project – a two-megawatt charging solution for electric trucks due to be unveiled at the Swiss Exhibition for Utility Vehicles in Berne.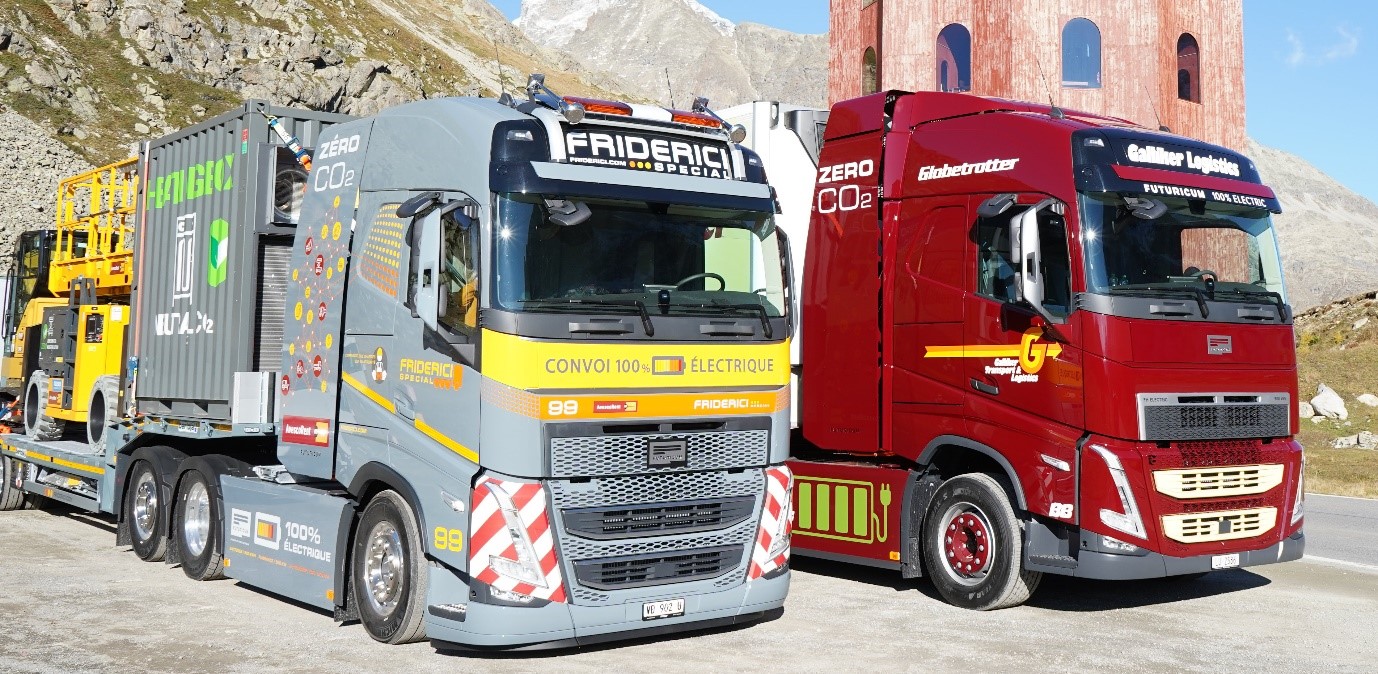 Thanks to electromobility solutions, the future is looking good for logistics!
 
Key statistics:
2 electric trucks
40 tonnes each    
4 partner companies
900 kilowatt-hours (kWh) battery capacity
Other recent stories from this category