The Swiss athlete who runs like a Kenyan
Julien Wanders from Geneva has been training in Kenya since his late teens. Now, at the age of 23, he is already on first-name terms with the world's top runners. This is his inspiring story.
At 18, just after completing his exams, Julien Wanders from Geneva decided to up sticks and move to Kenya, to train alongside the world's greatest runners. The goal he had in mind was to join the ranks of the global running elite. At the time, those around him looked on in bemusement. They didn't think he could pull it off.
Five years on, Julien still lives and trains for eight months of the year in the Kenyan highlands and is making a success of it. Last October, in Durban, South Africa, he set a new European 10km road record. He went on to achieve an even greater feat a few months later in February, in the half marathon in Ras Al Khaimah, UAE: with an exceptional time of 59:13, he beat the record of British athlete Mo Farah, multiple Olympic medallist in the 5,000 and 10,000 metres.
That day, the 23-year-old Genevan astounded the public by finishing close behind the best African runners. In his characteristically self-confident yet understated manner, he said: "I love to compete against the best. One day, I hope to beat the Africans in international championships. And that dream is getting closer by the day."
Accomplished Swiss coach Laurent Meuwly – who coaches Léa Sprunger, the 400m European champion – admires Julien's determination. "Too many young people here think they can become an Olympic champion without leaving their comfort zone. Julien has taken the bold step of changing his whole life to fit around his running."
Director of the documentary 'Free to Run', which has had considerable international success, sports historian Pierre Morath is similarly impressed: "Julien has a deep-rooted sense of conviction and is now reaping the benefits. He is living proof that when you truly believe, you can make your dreams come true."
200km per week
Julien now lives in a small, simple house in Iten, a Kenyan town at an altitude of 2,500m, where other Europeans have come to live alongside African runners. His programme includes some 200km per week. Twice a day, in the morning at 5am and at the end of the afternoon, he runs along the dirt roads that criss-cross the surrounding hills, in the heart of beautiful landscapes. He shares his life with Jepkorir, a young teacher from Iten. "She opens my mind to other things – it's good to not just talk about running all the time." Julien doesn't consider himself to be a workaholic so much as a perfectionist. "No matter what others might say or think, I am different – a little extreme, perhaps, always pushing the boundaries. I know what I want and I stick to it."
Nobody could have guessed he would end up where he is today, his family background being steeped in music: his father, André, who is a biochemistry teacher, is also a cellist with the Quatuor de Genève while his mother, Bénédicte, is a violinist with the Orchestre de la Suisse romande.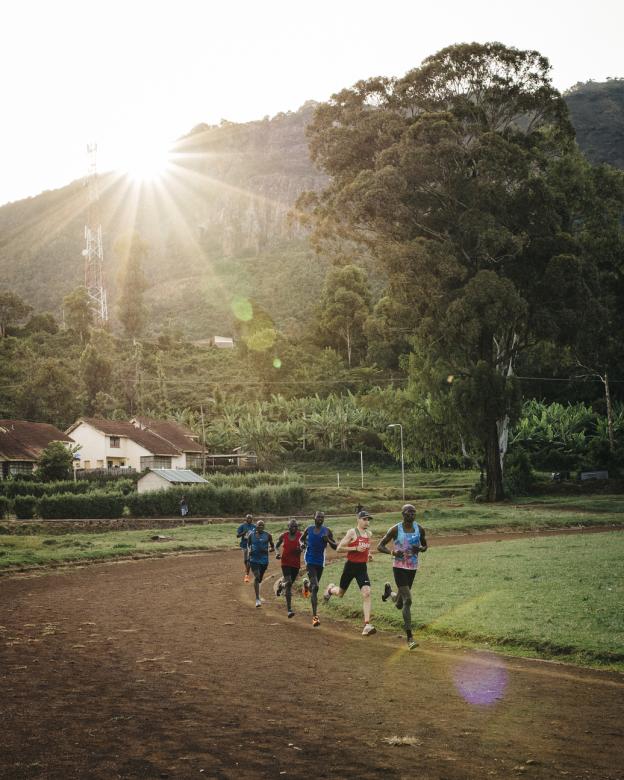 Parental misgivings
Despite their misgivings, Julien's parents couldn't stand in the way of his dreams. "We would rather he had continued his studies, but Julien was so determined that it was difficult to say no to him. We weren't very reassured at first and we wanted him to live at least the first couple of months with a local family," says André, happy now that his son is doing so well. "Julien is now getting to where he always wanted to be. He is set on a path. Rather than pride, I'd say we are very happy for him." Julien remembers his parents' reluctance when he decided to leave for Africa. "They weren't very keen but they knew they couldn't hold me back."
In Geneva, André manages his son's sponsors, such as Nike and Team Genève. Marco Jager, coach at the Stade de Genève, has been coaching Julien since he was 15 and still prepares his training plans from a distance. They are in regular contact via Skype. "Julien is fearless: he has always wanted to compete against the best. Everything he does, he does with passion – because he likes it. Maybe he will peak one day but for now he is still improving and no one knows where his limits lie."
Last December, the young Genevan was named most promising Swiss athlete, all sports combined, at the Swiss Sports Awards. This winter, he ran the legendary Swiss urban races: the Stadtlauf in Basel, the Corrida in Bulle and the Escalade of course, in his home town of Geneva, his special race which he entered for the first time at the tender age of five. This December, he smashed the record for the Escalade race in front of an ecstatic crowd, who carried him through the streets of the old town in celebration.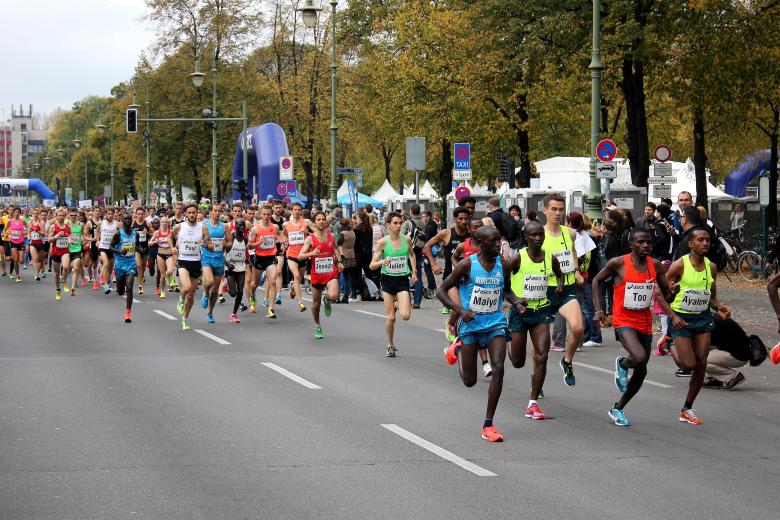 Marathon further down the line
For now, Julien performs better on road than on track, even though he did reach the finals of the 5,000 and 10,000 metres at the European Championships in Berlin last summer. For the rest of this season, however, it is the track that will be his main focus, with an eye on the World Championships in Doha, Qatar, in late September. But according to the experts, his greatest potential lies with the marathon. Says Laurent Meuwly, "Julien is a natural, instinctive runner, not so much at ease in races where tension, tactics, and changes of rhythm are in play. But in three or four years' time, he could well be one of the best marathon runners on the planet." Pierre Morath agrees entirely: "For the track, Julien lacks that last-minute spurt of acceleration to get him across the finishing line. But in the marathon he has a magnificent future ahead of him."
Driven by his ambition, the young Genevan champion sets no limits for the future: "I still have the same motivation, the same passion, the same drive to go as far as possible." 
Other recent stories from this category