Swiss sprinters: the women's dream team
Fourth at the last World Championships in Doha in 2019, the Swiss women in the 4 x 100 metres relay will be aiming for a medal at the Tokyo Olympic Games. They represent Switzerland and have roots in Côte d'Ivoire, Benin, Congo and Bosnia, which is also their strength.
The recent European champion in the 60-metre indoor event, Ajla Del Ponte from Ticino, has Bosnian roots through her mother. The father of Mujinga Kambundji, the first Swiss woman to win a world medal in sprints events – a bronze in Doha in 2019 – is of Congolese origin. Sarah Atcho from Vaud, a 200 metres specialist, has parents from Morocco and Côte d'Ivoire. Lastly, the semi-finalist in the 100 metres at the London World Championships in 2017, Salomé Kora from St Gallen, has a father from Benin.
Charismatic and dynamic, these four young women with such diverse backgrounds form the Swiss 4 x 100 metres relay, which has been shining internationally for several seasons. Already fifth at the London World Championships, they did even better in Doha two years later, taking fourth place only 8-hundredths of a second behind the Americans and smashing the national record with their final time of 42.18. They were also voted Swiss Team of the Year at the 2019 Sports Awards. Their achievement had thrilled the whole country. In a final burst of speed, Kora was back on the heels of the American. "I could see her, I felt her getting closer and closer in the last 50 metres," she says, adding that "it was the Americans, after all. It was great to beat the Swiss record on D-Day." The Swiss relay athletes know that they made a lasting mark that day. Del Ponte comments, beaming:
We proved that Switzerland is no longer a minor country in sprinting.
"We have been improving each season, but still, no one was expecting little Switzerland to pull off this feat," Kambundji adds, also noting: "We have shown that we can compete with the world's best." And the team's coach, Raphaël Monachon from the Swiss Jura region, is not about to forget it: "That lap will be forever etched in my memory."

At the Olympics Games in Tokyo this summer, the Swiss relay team will be in the running to stand on the podium. "Yes, that is clearly the goal we are aiming for," says Monachon, himself a former 110 metre hurdles champion. The athletes are also unabashedly confident: "We have finished 4th or 5th in the major meets so often; we are working for a medal," says Kora. And Del Ponte adds: "We got the medal in Doha, so why not?"
At the major meets, the relays are always scheduled at the end of the evening, as the highlight of the show. Pre-COVID, whether in Lausanne or Zurich, the excitement would grow during the Swiss relay. "Thousands of flags were unfurled, the spectators were on their feet to carry them, it was like a football match," says Laurent Meuwly from Fribourg, the architect behind the Swiss relay, who coached the team for six seasons. Monachon feels the enthusiasm of the Swiss people even in his small village of Sonceboz, in the Jura. He notes: "When people see me, they often tell me how proud they are – even if I tell them that I'm only the coach. People just like this team so much."
In football too, if the national team has been at the top for over ten years, it is also thanks to a generation of players with an immigration background like Xhakas, Shaqiris and Zakaria. Precisely the same thing is happening with the 4 x 100 metre relay team. "These women give Switzerland a magnificent image of integration and diversity," says Pierre Morath, former athlete and sports historian. In the eyes of Meuwly, these diverse backgrounds boost the athletes' performance: "They have this rather exceptional ability to get out of their comfort zones." Monachon agrees: 
Aside from the usual sources, they also draw their strength from their very diverse roots. Not to mention how deeply tolerant they are of each other.  
" Del Ponte also sees this as enriching: "Each one of us has her own traditions, a heritage to nurture, and we sometimes talk about them among ourselves."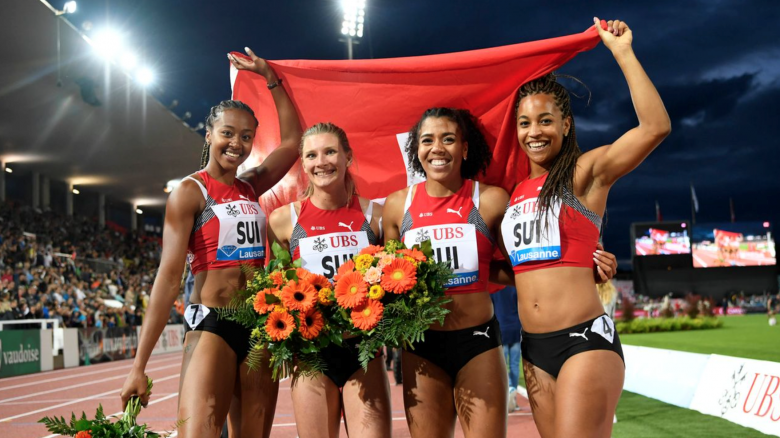 "We all have a very Swiss heart and are proud to lend such a positive image to the country where we grew up," says Kora, who, of the four athletes, is however the only one to have spent part of her childhood, from the age of six to eleven, in Benin, her father's country of origin. "My parents are both nurses, and my mother met my father in Benin. As part of a humanitarian project, they set off to take on responsibility for a healthcare centre in that country, far away in the great outdoors," she tells us. With emotion, she remembers running barefoot in the bush and playing with worn-out tyres, just like in films. "I am very happy to have been able to live in both countries; this allowed me to find out who I am. My family returned to Switzerland so that I could start secondary school there," she explains. For Del Ponte, it was the war in Bosnia that pushed her mother to move to Ticino, where she became a doctor. "My mother tongue is Bosnian," the champion points out. "I sometimes return to the country to see the progress of our house's reconstruction," she adds. Atcho has visited her two countries of origin, Morocco and Côte d'Ivoire, several times. "I wanted to see where my parents come from, where I come from. We represent Switzerland, while also bringing in other cultures. It's a lovely sign of openness," she comments. Kambundji, for her part, has never been to the Congo that her father left more than 40 years ago, but she certainly hopes to do so one day. "What I also like about this team is that it represents the four corners of Switzerland," she adds with a smile.
Kambundji, who holds the national records in the 100 and 200 metres (10.95 and 22.26), was for a long time the only Swiss sprinting star, voted Sportswoman of the Year in 2019. But during her absence last season, Del Ponte was the one who exploded onto the international scene, setting the fastest time in Europe in the 100 metres. "Today, we have two powerhouses," says Monachon. The Ticino native trains in Holland with Meuwly, who is in charge of the Dutch team. He believes that Ajla still has plenty of potential for growth: "This summer, she will be able to approach 10.90, which could mean making it to the finals or even landing an Olympic victory. She has clearly stepped into a new league." In addition, alongside athletics, this brilliant student of the University of Lausanne is completing her BA thesis on 16th century Italian poetry. Last year, the university awarded her its Annual Award in recognition of her major contribution to the institution's reputation. 
Her teammates are the first to applaud her achievements. "My friend Ajla has pulled off some amazing times," exclaims Kora. "Ajla has come out of her cocoon; she has gained confidence. Today, she is the one on top," Atcho adds. Without a whit of jealousy, Kambundji is delighted for Ajla: "What she's doing is really powerful. The more competition there is, the higher the bar is set. It's good for everyone." The two stars like each other a lot. Del Ponte comments: "Mujinga is a very calm and collected person. Like me, she likes to read and we sometimes chat together about what we are reading.
Having recovered from her injuries, Kambundji is very optimistic about the big goal of the season, the Olympic Games:
We are clearly going to the Olympics in the hope of winning medals.
Atcho, who was dealt a double blow by a knee operation and COVID-19, is also very confident: "Paradoxically, the three-week break that COVID-19 forced me to take did me good," says the 200 metre star, who has been training since September in Belgium with a group of athletes who are "all fired up". Ms Kora has been "surely and steadily" pursuing her own path; she just finished a master's degree in foreign languages at the St.Gallen University of Teacher Education.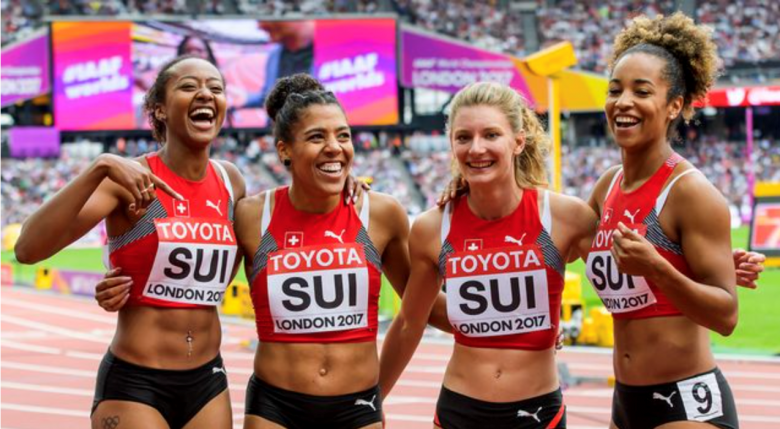 The four athletes transform from rivals in the individual races to teammates in the relay. "We manage to switch from one to the other very quickly," affirms Kora, who adds: "Ninety per cent of the time, we are competitors; sometimes we are rivals one day and teammates the next, which does not keep us from getting along very well. We have our little rituals within the team." "And there's nothing artificial about it; it's natural and that's our strength," points out Kambundji. Time and their achievements have brought them closer together. "We have got to know each other better and feel more and more connected," says Atcho. Del Ponte agrees:
Our team has a very positive atmosphere; we have built strong friendships
The four athletes are united by a shared ambition: "They know that the relay offers them a superb opportunity and that to seize it, they must continue to work together," stresses Meuwly. Monachon adds: "There is a very healthy spirit of competition between them. And behind their public personas, they are young people who are growing into full adulthood."
The team meets six or seven times a year to work on technique, those handovers that are often as crucial as the intrinsic speed of each sprinter. "A handover is successful when both women do it as fast as possible, both the one passing it on and the one receiving it," explains Meuwly. "Video is our main working tool," adds Monachon.
In Tokyo, the Olympic Games will be held for the first time without foreign spectators. Atcho is willing to adapt to this: "The Japanese deserve all our respect, because they are pulling off an incredibly daring feat." Is Pierre Morath, the sports historian, expecting a Swiss medal? "A relay is always full of uncertainties, but the Swiss have built up some very promising momentum. I think everything will depend on Mujinga's physical condition," he answers.
Other recent stories from this category