The Swiss cheese fondue with the Gault&Millau label
The only Swiss product with the Gault&Millau label is a fondue made with three cheeses.
Cheese might be a Swiss cliché, but then Swiss cheese is also a premium gourmet product. A fondue mix of Fribourg and Valais cheeses has seduced the Gault&Millau experts. Here is the story of two cheesemakers who became friends and business associates.
How they got into cheese
"I fell into a fondue pot when I was five," jokes Eddy Baillifard, whose father owned a farm. He remembers spending his childhood with his father's cows in the high-altitude chalet and the meadows. "I loved cows even before I loved cheese," he reminisces only half seriously. After completing an apprenticeship as an electrician, this native of the Alpine valley of Bagnes in the canton of Valais, trained as a cheesemaker. He then took over the dairy in his village of Bruson, where he made cheese until 2012. Today, Eddy is nicknamed the King of Raclette and manages a Raclette restaurant with his wife in the same village.
William Wyssmüller, whose father and grandfather were both farmers, was born and bred in rural Fribourg. He did his apprenticeship as a cheesemaker in the dairy in Vuadens, a village in the district of Gruyère. He discovered his vocation in cheesemaking when he was 21 and attending the cheesemaking school in Granges-Neuve. "I have always loved to watch the transformation of milk, through all the different stages that turns milk into Gruyère or Vacherin cheese. The idea came to me when I was learning chemistry and management. It was then that I realised cheesemaking was a field where I could develop all my skills," he confided. When he was 25 he took over the village cheesemaking dairy and turned it into a going concern. He is currently working on developing his own brand of fondue.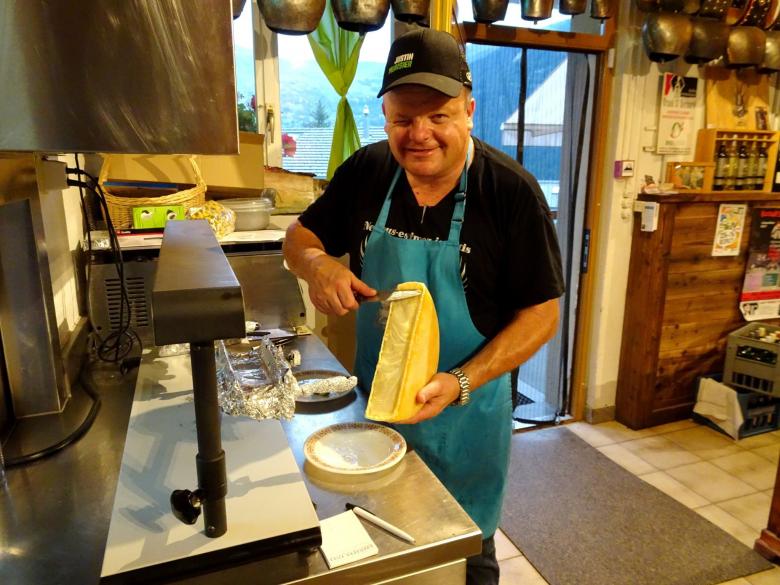 The two meet
The two men had heard of each other for some time, but it was in 2012 in Valais, at an event where they were both serving their cheeses that they shook hands for the first time. After a few exchanges on social media they agreed to meet up in Gruyère. It was at this meeting that their collaboration started to take form. Eddy recalls: "At that time I had taken over the dairy of the neighbouring village and my production had doubled. I was wondering what to do with this surplus and it was William who suggested that I use it to make a fondue. I thought to myself that he was not quite all there in the head to want to make fondue with Raclette," he confessed. "To do something gastronomically out of the ordinary, you sometimes have to forget what you think you know," explains William. "I asked Eddy to bring me some of his cheese so I could test it. I compared the way it melted with the way Gruyère and Vacherin melt. The best mix is a combination of a seven-month Bagnes with two other cheeses. We had our friends taste the mix and they liked it. Our association started at this point."
Their shared product
The two partners produce thirty tonnes of year of this Fribourg-Valais fondue mix (ten tonnes of each of cheese). It contains a twelve-month-old Gruyère, a Vacherin at least five months old, and a Bagnes that has matured for seven months. The two men sell their fondue both directly and through the county's two main cooperatives.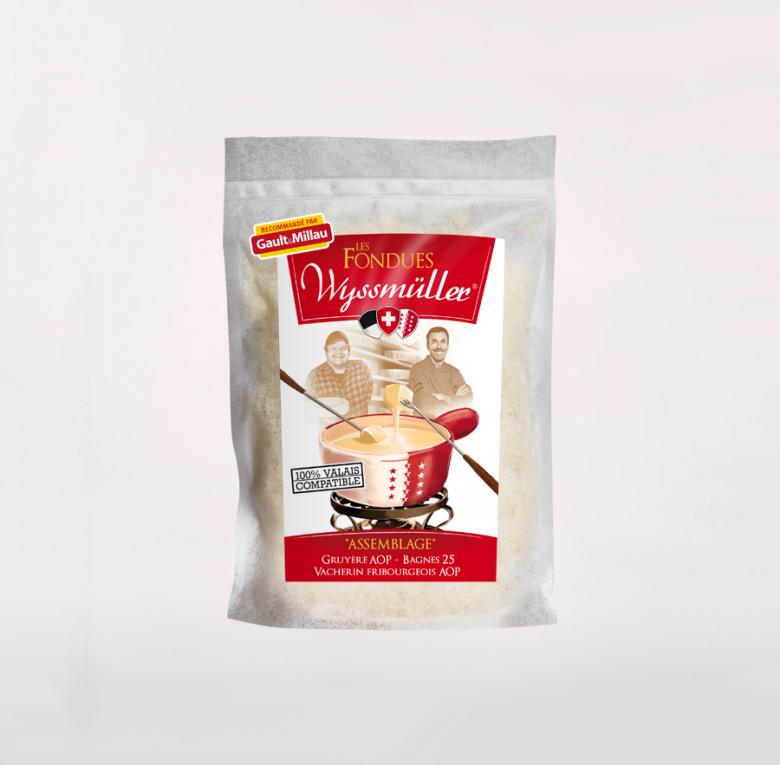 Their Gault&Millau distinction
"I wanted to make a gastronomic statement with fondue, and I was interested in the trends you see on social media. It was at this point that I discovered that Gault&Millau also award distinctions to locally made gourmet products," William explained. "In agreement with my business partner I approached Gault&Millau in 2016. They agreed to taste and assess our product." The meeting took place in Nyon, near Geneva. "It was a nerve-wracking experience. The experts tasted the cheese with a spoon, focusing on its effect on the nose and tongue. They identified the taste of hazel nut in our mix," Eddy proudly recalled. Gault&Millau then accepted to include the fondue in its range of locally produced gourmet products. The Baillifard-Wyssmüller fondue thus became the first and only Swiss product with a Gault&Millau label. "It was a proactive and audacious initiative to take, but this distinction put the cherry on the cake of our partnership," William concluded.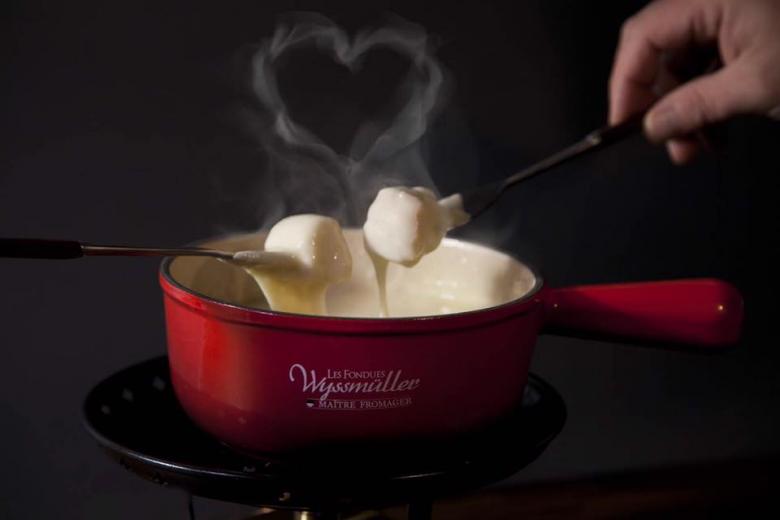 Good cheese according to Wyssmüller and Baillifard
"For me, cheese must be made from raw milk that has not been heat treated," says Baillifard. "In Switzerland, we are fortunate that the AOP certification guarantees that the production methods respect animals and the environment". According to him, a mature hard cheese has a more assertive and pleasant taste than a soft cheese. True to his reputation as King of Raclette, he especially likes a Bagnes that is "smooth and creamy, with a fruity and nutty flavour, and that does not become oily or clot when it is melted."
For Wyssmüller, the taste, the aroma and the maturation are the most important. "It is when they mature that cheeses made with raw milk stand out. A Gruyère must be twelve months old to be good and a Bagnes at least four months. You cannot mistake the taste of a good cheese," he explains. "Our job as craft cheesemakers is to produce high quality cheese so that people can discover, appreciate and recognise good products."