Winner of World Chocolate Masters is Swiss
For Elias Läderach, dreaming up new chocolate creations is about much more than just exquisite taste. It's also about art and innovation – from the initial design to tasting trials and the final hand-crafted creation. It's a process of regular self-scrutiny and a chance to use creativity to translate tradition into something new. Elias' win at the 2019 World Chocolate Masters in Paris proves how Swiss chocolatiers can reach even greater heights – in innovation.
Twenty of the world's best chocolatiers took part in this year's competition – Futropolis – to tackle the concept of the future megacity. In these cities, gastronomy will meet art and design, and sustainability will be a key issue. Elias loved the theme from the start. He conveyed his ideas about linking modern architecture and nature in his chocolate creations with great inventiveness, which – along with his determination and love of nature – most certainly helped him to reach the top spot in the competition.
Grandpa's Easter bunnies
This was the 7th edition of the annual World Chocolate Masters organised by French chocolate producer Cacao Barry. The 20 finalists were the national winners from previous rounds held in the individual participating countries. The jury consisted of leading experts in the patisserie and chocolate industry from these 20 countries. Elias Läderach is the first Swiss chocolatier to win this prestigious competition.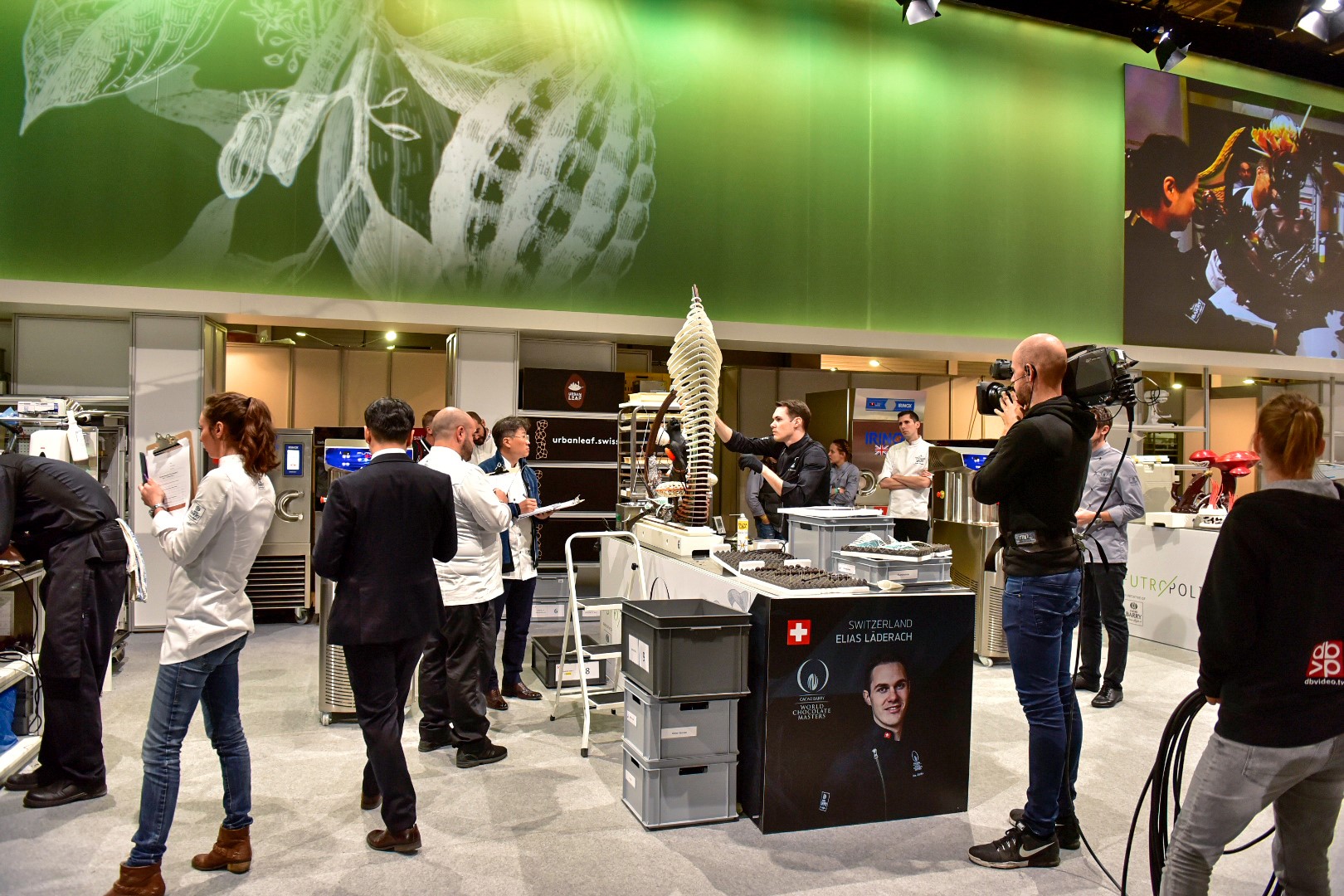 Elias comes from a long line of chocolatiers. It was his grandfather, Rudolf Läderach, who opened the company of that name in 1962 in the canton of Glarus. Although there's obviously some chocolate running through his veins, Elias says that at first he wanted to do something completely different. "When I was a kid I wanted to be a ranger and then a gamekeeper because I love animals and nature." And maybe that's exactly what he would have done, if it hadn't been for his grandfather's chocolate Easter bunnies. "Grandpa let us help him make the Easter bunnies when we were still quite little, and sometimes we baked with him too." But it was the Easter bunnies Elias loved to make best. "When grandpa did things like that with us we were all in heaven." Elias' father also took him and his five brothers and sisters to the chocolate factory from an early age. "Those visits to the factory were fascinating and sparked my curiosity."
Elias did an apprenticeship in baking and confectionery and then started working with well-known confectioners in the French-speaking part of Switzerland, as well as joining the product development team at Läderach. He also completed his business management studies at the same time. Today the 30-year old is a member of the family company's board and heads the section for innovation and production.
Creativity and practice
Elias already proved he can perform creatively under pressure during the 2008 World Pastry Cup in Nashville, US, when the Swiss team won bronze. But his main passion is in chocolate creations. Elias won the Swiss Chocolate Masters in September 2017, his ticket to the World Chocolate Masters in Paris. "It's something I've always wanted to do," he said. "But I also knew that the level of complexity would be immense. In Paris, the bar is set unbelievably high." Elias spent a whole year preparing himself thoroughly for the competition. He sketched his ideas for chocolate showpieces on paper; he tested flavour combinations for the edible creations, and tinkered with a number of recipes. He talked a lot with his team and his wife, who is also an artist. "At the end of day, all you can do is practise, practise and then practise some more – to make sure you can get everything done with the time, quantity and quality you've been given."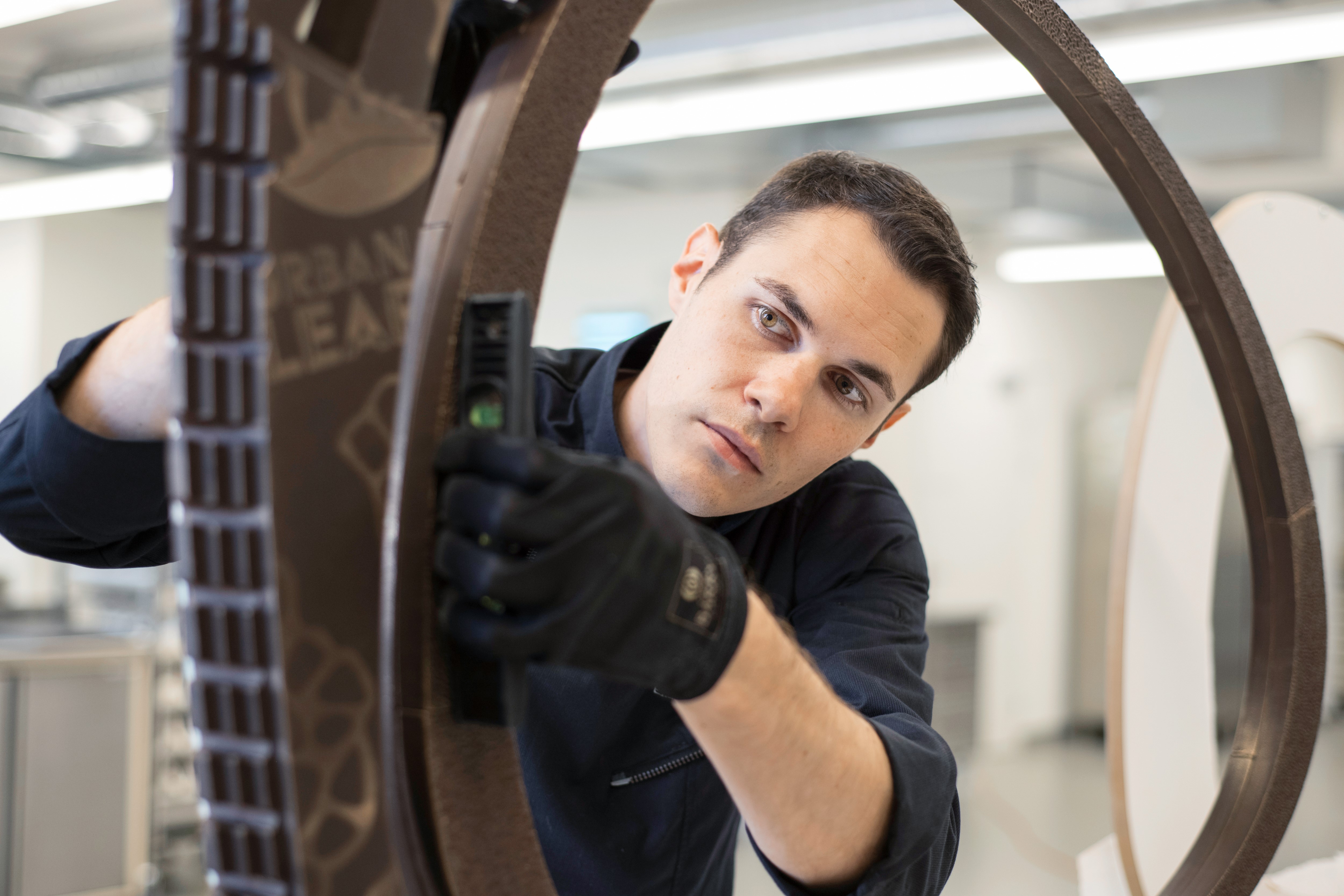 There are strict time allowances during the three-day competition where participants must produce two showpieces as well as additional creations for sampling, including a dessert, a praline and a chocolate bar. And all this live, on stage, surrounded by cameras and under the watchful eye of the jury. "Of course it takes nerve. As well as patience and ambition. If you want to take part in a competition like this and go all the way."
For his 'futropolis' theme, Elias chose the symbiosis between architecture and nature. One of his ideas was to use Voronoi patterns for his creations. "I see this as a very architectural design, but it is also one that you always come across in nature," Elias said about the intricate patterns – such as a giraffe's coat or when you look closely at an insect's wings or the patterns on a leaf. "For me it's the ideal symbol of the symbiosis between nature and architecture." Elias' main chocolate showpiece is indeed a veritable work of art, depicting a panther in the circle of life to represent creation and nature. Next to this is a curved building projecting upwards with the portrait of a woman on the building's facade. The woman and the panther are looking at each other. "There's an element of conflict between them. And that's my question: how will we live together in the future – the megacities alongside the natural world?"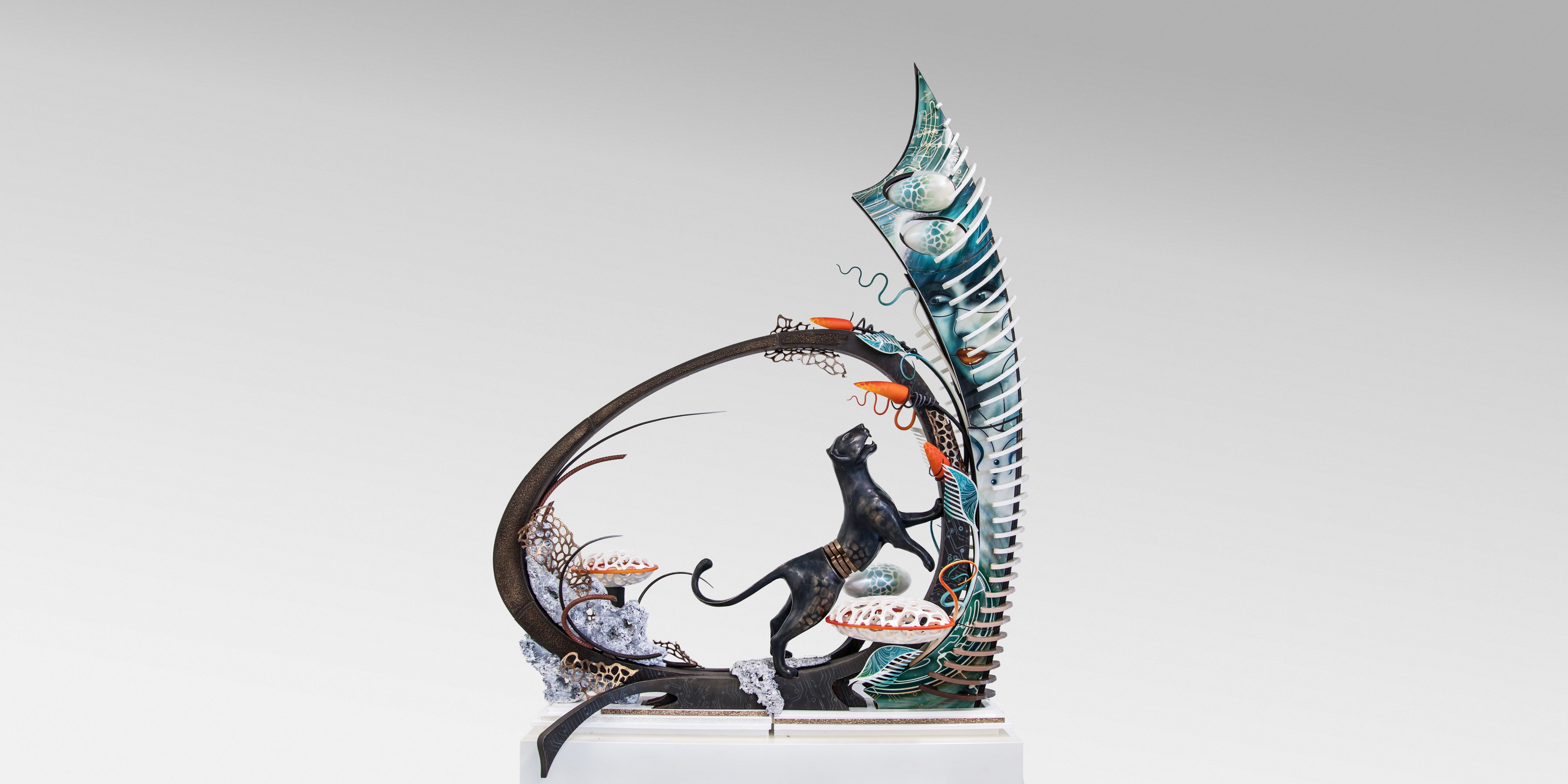 Simply delicious
For his edible creations at the competition Elias relied on a combination of traditional and exotic flavours, such as a praline made of classic ganache and a mandarin-lemongrass coulis. But this art of fusion is also part of the trend to create unique flavour combinations, says Elias. "I think people just want to eat simple things again; something they understand, but is still extremely good." Cakes with ten different fillings are not in demand any more. Today's chocolate connoisseurs prefer two or three clear flavours, but they must taste absolutely delicious," explains Elias. And this was the principle – what Elias calls 'back to simplicity' – that he had wanted to apply at the competition, even if the requirements for the edible creations were more complex. "That was my winning secret I think."
If Elias ever feels like a piece of chocolate, his favourite is Läderach's fresh milk chocolate with caramelised hazelnuts. But as a chocolatier he also tries out exotic flavour combinations on a regular basis, like the strawberry-pepper fresh chocolate variety. For Elias, innovation means regular self-scrutiny. "We don't need to reinvent the classics, but we should always analyse the recipes and see how we can interpret and present them in new ways."